Essential Guide
Essential guide to desktop and laptop solid-state drives
A comprehensive collection of articles, videos and more, hand-picked by our editors
SSD (solid-state drive, solid-state disk, solid-state storage drive)
Definition: Learn what a solid-state drive (SSD) is, why SSDs are replacing electromechanical hard drives and which form factors are approved by the Solid State Storage Initiative (SSSI).
FROM THE ESSENTIAL GUIDE:
An SSD (solid-state drive or solid-state disk) is a nonvolatile storage device that stores persistent data on solid-state flash memory.
Solid-state drives actually aren't hard drives in the traditional sense of the term, as there are no moving parts involved. A traditional hard disk drive (HDD) consists of a spinning disk with a read/write head on a mechanical arm. An SSD, on the other hand, has an array of semiconductor memory organized as a disk drive, using integrated circuits (ICs) rather than magnetic or optical storage media.
Development and adoption of SSDs has been driven by a rapidly expanding need for higher input/output (I/O) performance. SSDs have much lower random access and read access latency than HDDs, making them ideal for both heavy read and random workloads. That lower latency is the direct result of the ability of flash SSD to read data directly and immediately from a specific flash SSD cell location. High-performance servers, laptops, desktops or any application that needs to deliver information in real-time or near real-time can benefit from solid-state drive technology.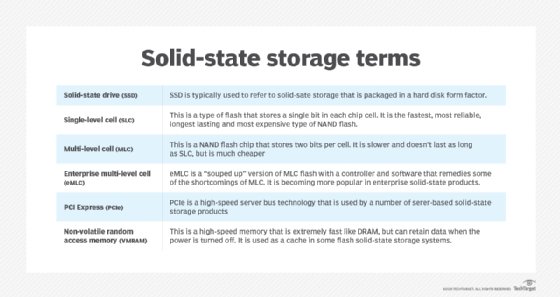 The following video offers advice on the most important things to consider before installing an SSD in your organization.
Glossary
'SSD (solid-state drive, solid-state disk, solid-state storage drive)' is part of the:
View All Definitions