MozyEnterprise
MozyEnterprise is EMC's subscription-based online data backup service for business. (Continued...)
Looking for something else?
MozyEnterprise is EMC's subscription-based online data backup service for business. Here's how it works: The network administrator pushes out Mozy software to his clients by using a deployment tool such as Microsoft's Systems Management Server (SMS). The new software installs itself, copies encrypted versions of each machine's files, and sends the encrypted files over the Internet to be stored at EMC data centers. The backup process is managed through a Web-based administrative console.
2015 Planning: The Top 10 Data Storage Definitions You Need To Know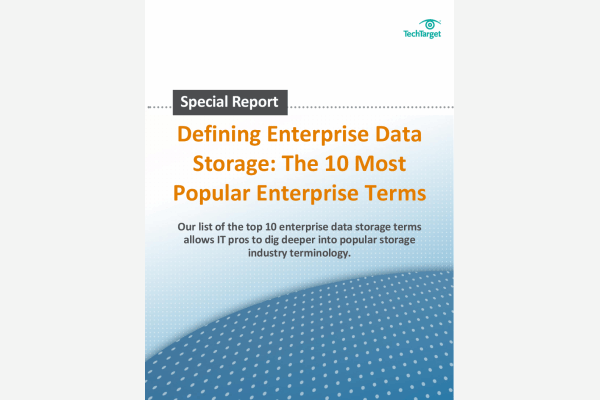 Whether you're a seasoned IT expert or a relative newcomer, the jargon surrounding data storage technologies can be overwhelming. Before you finalize your 2015 planning, refer to this Special Report to find out the top 10 most important storage terms you need to know today.
By submitting your personal information, you agree to receive emails regarding relevant products and special offers from TechTarget and its partners. You also agree that your personal information may be transferred and processed in the United States, and that you have read and agree to the Terms of Use and the Privacy Policy.

In addition to the 448-bit Blowfish and 128-bit SSL encryption built into MozyPro, a lower tier of service, MozyEnterprise includes:
key management services
RSA security authentication
integration with Active Directory
centralized deployment
"data seeding," which EMC describes as a means of uploading a hard drive directly onto hosted systems in order to save users time and bandwidth
the ability to restore multiple file versions up to 30 days old
restore options that include online, client-based, DVD, hard drive and virtual drives
Continue Reading About MozyEnterprise
Dig Deeper on Data Backup