Dell EMC now 'open for business'
Dell's $60 billion-plus acquisition creates a new storage behemoth, called Dell EMC, but it will take a while to address all lingering concerns about the new company.
The world's largest storage company is now officially known as Dell EMC following the completion of a $60 billion-plus...
Continue Reading This Article
Enjoy this article as well as all of our content, including E-Guides, news, tips and more.
acquisition of EMC by Dell Technologies.
The blockbuster deal closed today amid fanfare from both sides. The close marks an 11-month transition period that began last October when Dell first disclosed its bid for EMC.
Most of the details disclosed today were not new, and questions about overlapping products and technologies will linger over the coming months.
"Dell EMC is open for business," said David Goulden, formerly CEO of EMC's information infrastructure storage group and now the president of Dell EMC's infrastructure solutions group.
The new parent company, Dell Technologies, includes Dell client services, Dell EMC, VMware, Pivotal, RSA, Boomi, SecureWorks and Virtustream.
The Dell EMC brand includes EMC's information infrastructure and Dell's enterprise solutions group -- servers and networking -- along with RSA security and Virtustream public cloud offerings.
Dell Technologies is privately controlled, although VMware stock will still be publicly traded. Dell founder and CEO Michael Dell and investor Egon Durban join VMware's board of directors, replacing outgoing EMC Chairman and CEO Joe Tucci and John Egan, son of EMC founder Richard Egan and an EMC director since 1992. Durban, a partner at investment firm Silver Lake, has been a Dell director since the company went private in 2013.
"The formation of Dell Technologies is an industry landscape-changing event," Michael Dell said on a conference call to discuss the new company.
We don't have to cater to short-term thinking of the market. We can think in decades.

Michael DellCEO, Dell Technologies
Few of the changes to Dell or EMC were disclosed, other than the merger makes for a much larger company and takes EMC private as part of Dell Technologies. "We don't have to cater to short-term thinking of the market. We can think in decades," Dell said of the advantages of being privately controlled.
He said by avoiding being governed by short-term concerns, Dell Technologies will be able to grow parts of its business much quicker than a large company normally can.
Little mention of products, staffing
Executives on the call sidestepped most questions about products and layoffs. Goulden said the mission of Dell EMC will be to provide customers with a way to embrace cloud-native applications alongside their traditional apps. This will be done largely through a hybrid cloud strategy and emerging products, such as flash, hyper-converged, software-defined and scale-out NAS, and object storage.
When asked about product overlap, Dell CFO Tom Sweet said, "We are committed to our product families." He said the company will "think our way through" future product directions, but, "in the interim, we want to reassure our customers that we want to support all of our product families as we move forward."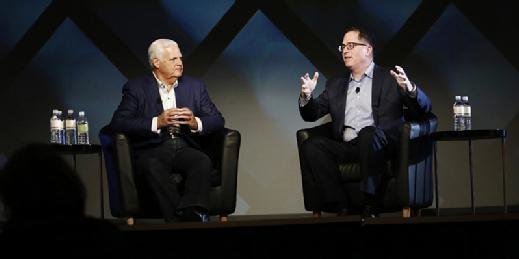 When asked directly, Dell said there were no plans to merge Virtustream with any of VMware's cloud technologies.
Much of the overlap between the two companies is with the storage products, and no product specifics were given on the call. But in a blog this morning, EMC's president of core technologies, Guy Churchward, wrote that Dell EMC is "100% committed to supporting both EMC Unity and the Dell SC Series (Compellent) going forward."
Churchward described the SC Series as a "value-oriented family" for small and medium businesses used largely by Dell server customers. He characterized Unity as general-purpose midrange storage for block, file and unified workloads for all-flash, converged, hybrid and virtual deployments. He wrote that Unity will add all-flash data services in "a few weeks."
Churchward did not mention the Dell PS (EqualLogic) or EMC VNX midrange storage.
Another interesting area of overlap is hyper-convergence. Dell and EMC both sell systems running VMware's Virtual SAN hyper-converged software, and Dell also sells appliances running software from VSAN rival Nutanix.
Between Dell, EMC and VMware, the deal affects a large percentage of the IT customer base. Attendees at VMworld last week said they were looking for clarity from Dell Technologies on the future of its expanded product portfolio.
Brad Tompkins, CEO of the VMware User Group, cited the Dell deal as one of the biggest concerns among VMUG members.
"It's obviously got people talking," Tompkins said. "It's just the uncertainty. What is it going to mean?"
Tompkins said he was happy to see Michael Dell at VMworld, especially because Dell talked about keeping VMware's open ecosystem.
"Dell has said VMware is one of the crown jewels in this acquisition," he said. "He's a lot smarter than I am, and he knows what he's doing. But it will be nice once that gets behind us. ... If customers do have a little uncertainly, you always have that FUD [fear, uncertainty and doubt] out there. Once that gets behind us, people will say, 'OK, this is what they said and they're doing it now, and that's how things are going to go.'"
Michael Noone, senior system architect of VMware customer Sugar Creek Packing Co., based in Cincinnati, said he is looking for as little change as possible in the way VMware is run.
"I'm not sure how to feel about [the acquisition]," he said. "Hopefully, it's status quo and things will keep going the same way. But there's always potential for it to go wrong, for something to happen. I can't imagine VMware is going to change much. I'd be more nervous if I were an EqualLogic or Compellent [customer]."