Share this item with your network:
Managing and protecting all enterprise data

kovaleff - Fotolia
Unified storage array offers best of both worlds
With both file and block protocols supported, unified arrays provide configuration flexibility to handle a variety of applications.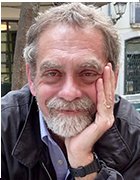 By
File or block? Why not go for both in a unified array that can support both types of storage. These systems offer the ultimate in flexibility and, as our TechTarget Research survey indicates, one third (33%) of respondents considering a storage array purchase plan to buy a unified array to handle both block and file storage requirements. The flexible configuration of a unified array means you can divvy it up just about any way you want, but most of our prospective buyers -- 75% -- anticipate an even split between file and block; only 15% say their usage will be primarily block and even fewer respondents (10%) will focus most on file storage.
The motivating factors for new unified purchases are about the same as they are for dedicated SAN or NAS buys: by far, the main reason why storage pros are unified array shopping is to haul home more capacity -- cited by 70%. Nearly half (46%) said kicking up performance for existing applications was their motivating factor.
The average unified system size by capacity that's in our buyers' sights is a relatively modest 181 TB. But 14% of respondents said their new systems would be bulging with 500 TB -- or more -- of capacity. Most of these system shoppers also have their eye on the future and expected their unified storage capacity needs to grow by 21% annually -- at least for the foreseeable future.
Looking under the hood, survey respondents plan a mix of various hard disk types and solid-state storage. More than half will include at least some flash in their media mix; for the more traditional spinning side of the equation, our users leaned toward high-performance disks (49%) rather than high-capacity drives (32%) or middling performance disks (25%). The mix of flash and high-performance hard drives suggests that our users will be doing some caching or tiering in their new arrays.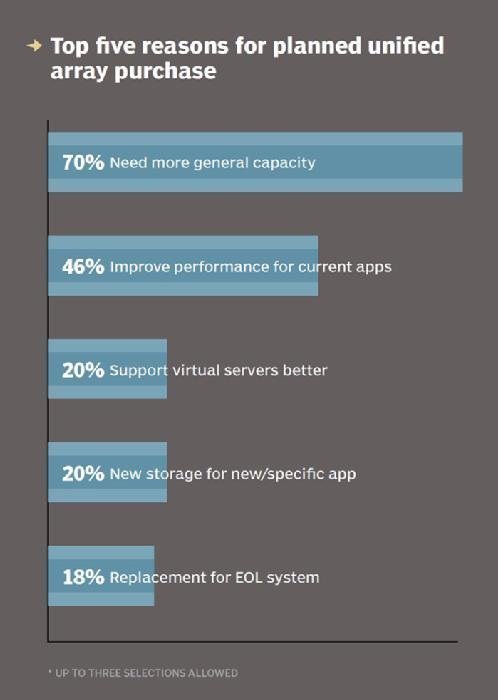 On the feature front, unified array buyers are keenest on systems that can scale performance and capacity independently (37%). File system size is also a concern for 36% of potential purchasers, as well as support for all the popular file protocols (19%) -- NFS, CIFS/SMB 3.0.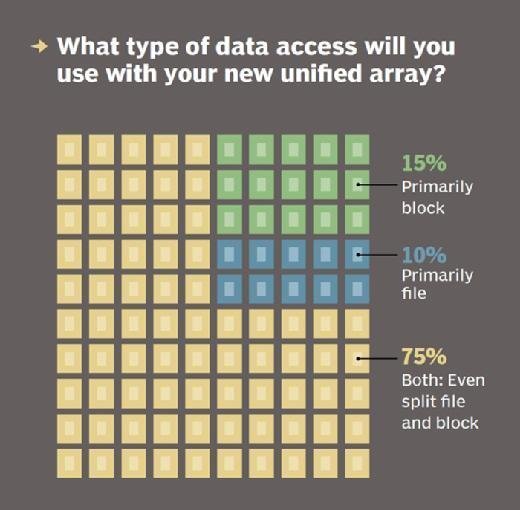 The speed and capacity theme continues with our respondents intended network hookups: for block, 43% need 16 Gbps FC and 69% are eyeing 10 Gig Ethernet. 10GigE dominates on the file side, too, with 56%, but 38% are revving things up with 40 Gigabit Ethernet.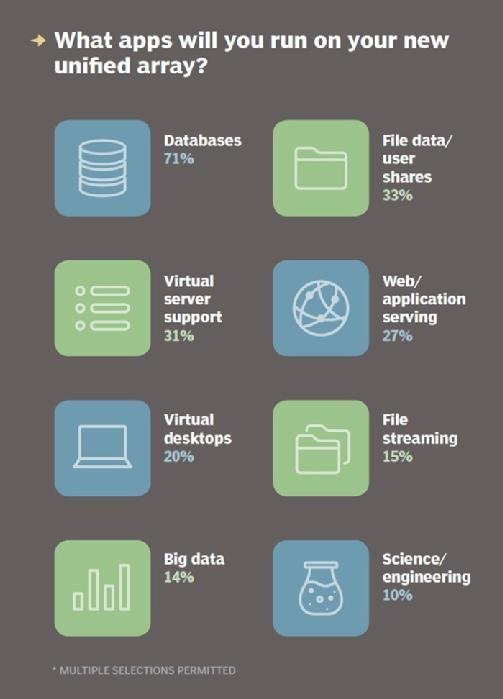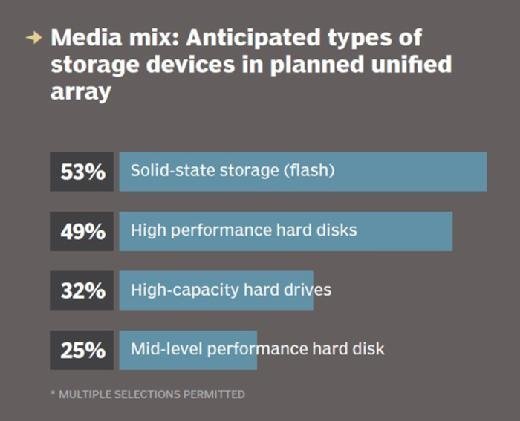 Dig Deeper on Storage market research reports