Storage Area Network School: Table of contents
What is a storage area network? What are the benefits and pitfalls of installation? How can a SAN fit into your organization? These questions and more are answered in our Storage Area Network School.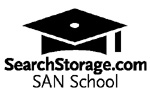 Continue Reading This Article
Enjoy this article as well as all of our content, including E-Guides, news, tips and more.
Storage-area networks (SANs) have the ability to save a company money, hasten backups and help consolidate the data center. But a SAN is not to be left alone. It's a complex, growing, breathing entity that constantly needs to be tweaked and upgraded.
So what is SAN School? If this is the first time you are asking yourself, "What's a SAN?" then SAN School is for you. If you are implementing your first SAN and need implementation and migration help -- SAN School is for you. If you are far along in the SAN process and need to extend your SANs or connect SAN islands -- SAN School is for you. The authors of Storage Area Networks for Dummies, Christopher Poelker and Alex Nikitin, are your SAN School professors. In each of these lessons they'll walk you through what a SAN is, all the way through connecting those last nodes for optimal performance. School is in session, so enjoy!
Part I: The storage-area network
Lesson 1: The Storage-area network
Do you need a SAN? Lesson one explores what a SAN is, the basic benefits of a SAN and which applications are best suited for a SAN.
Read about Lesson 1
Sponsored by: StorageTek
Lesson 2: SAN building blocks
Now that you know why you may need a SAN, this lesson explains the parts of a SAN. Chris also talks about modular versus monolithic, enterprise versus departmental, and takes a look at RAID levels and LUNs.
Read about Lesson 2
Sponsored by: StorageTek
Lesson 3: What makes a SAN go
Understanding the performance aspects of a SAN can help you begin to see where the benefits lie. This lesson is devoted to the inner workings of a SAN, such as latency issues, Fibre Channel protocols, World Wide Names and how the SAN fabric works.
Read about Lesson 3
Sponsored by: StorageTek
Lesson 4: What makes a SAN stop
Because SANs need to be tailored to one's environment, choosing the right gear can make all the difference between a successful SAN implementation and a dud. Take preventive steps to make sure your SAN isn't doomed from the design phase. This lesson looks at avoiding poor SAN design, and choosing the right hardware and software for the job.
Read about Lesson 4
Sponsored by: StorageTek
***TEST YOUR KNOWLEDGE OF PART 1 -- TAKE OUR QUIZ***
Once you've viewed lessons 1-4, test your skills by taking the SAN School Quiz
Part II: Designing and building a SAN
Lesson 5: SAN loops and the SAN fabric
This lesson aims to help you design your SAN for maximum performance and availability. It uncovers SAN network topology, designing for high availability, zoning basics and using fault-tolerant connections.
Read about Lesson 5
Sponsored by: StorageTek
Lesson 6: Disaster recovery planning
Many IT folks implementing SANs are using them for backup. This lesson delves into disaster recovery planning and the costs associated with downtime, how to use a SAN for recovery and choosing a remote site. It also looks at remote copy techniques, using clusters and the importance of testing your plans.
Read about Lesson 6
Sponsored by: StorageTek
Lesson 7: Putting it all together
If you are ready to implement your SAN, this lesson is for you. Learn how to choose which applications/servers belong in your SAN, installing HBAs, loading firmware, starting drivers, setting the topology, testing for connectivity and zone types.
Read about Lesson 7
Sponsored by: StorageTek
***TEST YOUR KNOWLEDGE OF PART 2 -- TAKE OUR QUIZ***
Once you've viewed lessons 5-7, test your skills by taking the SAN School quiz
Part III: Using advanced SAN features
Lesson 8: Tying your SANs together
To create a full-scale network you will probably have to tie your SANs together. Lesson 8 looks at how to extend the SAN, connectivity between SANs and SAN islands, IP storage, virtualization (in-band, out-of-band) and SW/HW pooling.
Read about Lesson 8
Sponsored by: IBM TotalStorage
Lesson 9: SAN backup: The killer app
The killer app for implementing a SAN has been and will continue to be backup. In lesson nine, professor Christopher Poelker discusses the merits of backup over the SAN. Chris will discuss the options associated with SAN backup, including backups over a dedicated LAN, tiered backups, LAN-less backup, serverless backup and more. He'll also touch upon snapshots and give you exact formulas to calculate backup windows. This lesson also offers tips and tricks on how to find and rectify backup bottlenecks.
Read about Lesson 9
Sponsored by: IBM TotalStorage
Lesson 10: Booting into your SAN
Why should you boot from a SAN? In lesson 10 Christopher Poelker gives you a number of different reasons why booting from a SAN is beneficial. He also looks at which HBAs are available and might be the right fit for your organization. This lesson walks you through the nine-step process for booting a SAN -- complete with code and screen shots.
Read about Lesson 10
Sponsored by: Cisco
Lesson 11: Using point-in-time copies
What are point-in-time copies? What types of point-in-time copies are there? Lesson 11dissects point-in-time copies and snapshots. Alex Nikitin explores some real-world examples of where point-in-time copies should be used and how. He'll also show you the process for setting up the most efficient point-in-time copy environment.
Read about Lesson 11
Sponsored by: Storage Decisions
***TEST YOUR KNOWLEDGE OF PART III -- TAKE OUR QUIZ***
Once you've viewed lessons 8-11, test your skills by taking the SAN School Quiz
Part IV: SAN management and troubleshooting
Lesson 12: Approaches to SAN management
There are lots of management considerations you need to be aware of when running your SANs. Who is in charge of the SAN? How do you properly document your cables, managing tools and fabrics? This is a top-down look at SAN management.
Read about Lesson 12
Sponsored by: Brocade
Lesson 13: Storage outsourcing
Trusting your mission-critical data to a third-party provider isn't a decision you can take lightly. In Lesson 13, Alex Nikitin takes a look at your primary SAN management options. One, to completely manage all your data in-house. Two, to completely outsource all your data. And, three, to use consultant or vendor partners to accomplish data management. Alex states the pros and cons of each method.
Read about Lesson 13
Sponsored by: Brocade
Lesson 14: Troubleshooting your SAN
"If anything can go wrong, it will." We all know this to be Murphy's Law, and when it comes to SANs it applies 100%. At some point, trouble will arise with your storage-area network. Alex Nikitin will help diagnose the problems you may want to look for first, such as checking for connectivity problems, and using system error logs and switch logging.
Read about Lesson 14
Sponsored by: Brocade
***TEST YOUR KNOWLEDGE OF PART IV -- TAKE OUR QUIZ***
Once you've viewed lessons 12-14, test your skills by taking the SAN School quiz, part four