Q
Get started
Bring yourself up to speed with our introductory content.
NAS vs. SAN architecture: How do the two storage systems compare?
Compare SAN and NAS architectures and learn what to keep in mind when using each storage system format. The rise of object storage and the cloud is also affecting storage choices.
Editor's note: This Ask the Expert was updated in February 2017.
Continue Reading This Article
Enjoy this article as well as all of our content, including E-Guides, news, tips and more.
A SAN is storage connected in a fabric, usually through a switch, that allows many different servers to easily access the storage. From a server application and operating system (OS) standpoint, there is no visible difference between accessing data storage in a SAN or storage that is directly connected. A SAN supports block access to data just like direct-attached storage.
NAS is a method of remote file serving. Rather than using the software on your own file system, file access is redirected to another device using a remote protocol, such as CIFS or NFS -- operating as a server of some type with its own file system -- to do the file I/O on your behalf. This enables file sharing and centralized data management.
From a NAS vs. SAN system standpoint, NAS is for file I/O and SAN is for block I/O. One additional thing to remember when comparing NAS vs. SAN is that NAS eventually turns the file I/O request into block access for the storage devices attached to it.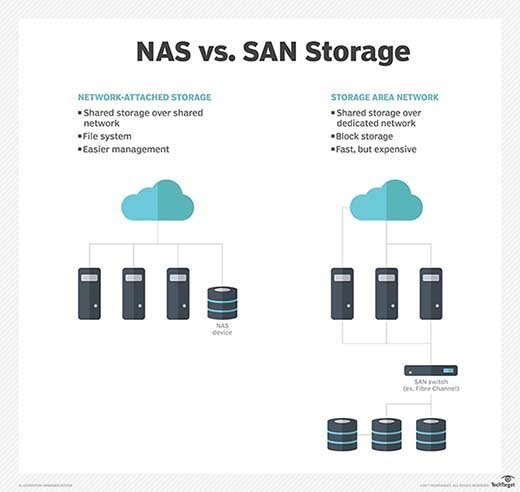 Now that object I/O for storage has become more prevalent, thanks mainly to its overwhelming use in cloud storage, the clear divide between SAN being used with block storage and NAS with file storage is becoming blurred.
As vendors move from block or file to object I/O for their storage needs, users still want to access data in the way they are used to: block storage for SAN or file storage for NAS. Vendors are now beginning to offer systems with front ends that present a NAS or SAN experience, while the back end is based on object storage.
File vs. block vs. object
File I/O storage reads and writes data in the same manner as the user does on a drive on a computer -- using a hierarchical structure with files inside folders that can be inside more folders. This is commonly used by NAS systems, and the approach has a number of benefits.
When used with NFS and CIFS, the most common NAS protocols, a user can copy and paste files or entire folders just like they can on their local drive.
It makes for easy management by IT.
Block I/O storage treats each file or folder as various blocks of smaller bits of data, and distributes multiple copies of each block across the various drives and devices in a SAN system. The benefits of this approach include:
Greater data reliability. Data can still be accessed if one or a number of drives fail.
Faster access. Files can be reassembled from the blocks closest to the user and don't need to pass through a hierarchy of folders.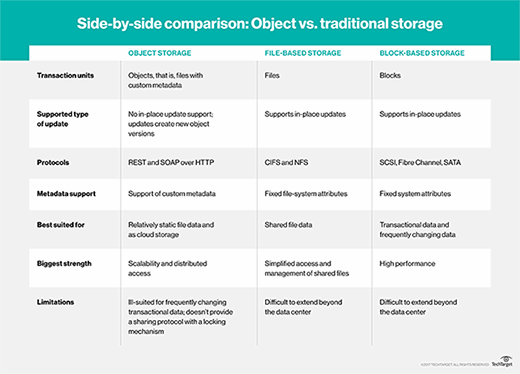 Object I/O storage treats each file as a single object (like file I/O), and doesn't have a hierarchy of nested folders (like block I/O). With object storage, all files or objects are put into a single, enormous data pool or flat database. Files are found based on the metadata that is already associated with the file or added by the object storage OS.
This has meant that object storage has been the slowest of the three methods, mainly used for cloud file storage. But recent advances in the way metadata is accessed, and increased use of speedy flash drives, have narrowed the speed gap between object, file and block storage.
Using a NAS and a SAN
The main difference with NAS vs. SAN is reflected in how each type of storage appears to the user.
Because it is attached to a network via a standard Ethernet connection, a NAS system or device looks like any other network-connected device to a user. The user connects to the NAS to work on it, and like any other network-connected device, it has its own OS. In the case of a NAS device, that OS handles the writing and reading of data requested by the user's computer.
Once it has been mounted on a user's computer, a SAN will appear as a local drive. That means it will function as a local drive, and the OS on the user's computer will handle the commands to read or write data. This allows the user to treat it like any other local drive, including the ability to install software onto it.
NAS vs. SAN connections
A NAS system is a single server or a collection of drives or servers contained in a single device. It connects directly to the network, typically using an Ethernet cable into an Ethernet switch.
A SAN system is a pool of drives, devices or servers, all of which are connected together using a network fabric, such as iSCSI or Fibre Channel.
While Ethernet and fabric have been in a speed war for years, fabric has always had the advantage of being a more direct connection because it doesn't have to go through the TCP/IP handling of an Ethernet connection. So, data speeds being equal, fabric has had the advantage in I/O speed simply because the data is touched less often between storage and the user.
Motherboards may have given birth to the future
The greatest amount of action and excitement today comes from extending the nonvolatile memory express (NVMe) protocol over fabric.
The NVMe protocol is the fastest way to connect a flash storage device directly to a computer's motherboard, communicating via the PCI Express bus. And it greatly outperforms a solid-state drive connected via Serial ATA. Imagine if you could extend that speedy NVMe connection across the fabric that knits together a SAN system.
To be fair, NVMe can't be used to transfer data between the remote end user and the storage array, so a messaging layer needs to be used. This makes NVMe seem more like an Ethernet-connected NAS system, which uses Ethernet's TCP/IP protocol to handle data movement. But NVMe over fabrics developers are working on using Remote Direct Memory Access (RDMA) to make that messaging layer have the least impact on speed. Among the various types of RDMA being proposed are RDMA over Converged Ethernet, internet wide area RDMA protocol and InfiniBand, which is currently in use in high-performance computing systems.
Read more in this tip on integrating NAS and SAN.
Dig Deeper on Primary storage devices
Have a question for an expert?
Please add a title for your question
Get answers from a TechTarget expert on whatever's puzzling you.