A terabyte (TB) is a measure of computer storage capacity that is 2 to the 40th power, or approximately a trillion bytes. A terabyte is more precisely defined as 1,024 gigabytes (GB). The prefix tera is derived from the Greek word for monster.

Download this free guide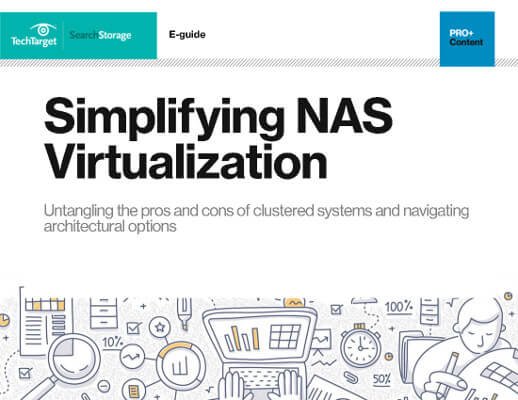 PDF: Simplifying NAS Virtualization
This complete guide untangles the pros and cons of clustered NAS systems, simplifying NAS virtualization, and confronting the dangers of NAS sprawl.
A 1 TB drive can hold the following:
472 hours of broadcast-quality video.
150 hours of hi-definition recording.
2,000 hours of CD-quality recording.
Enough words that it would take every adult in America speaking at the same time five minutes to say them all.
According to futurist Ray Kurzweil in The Singularity is Near, the capacity of a human being's functional memory is estimated to be 1.25 terabytes.
The following chart illustrates some of the more common data storage measurements: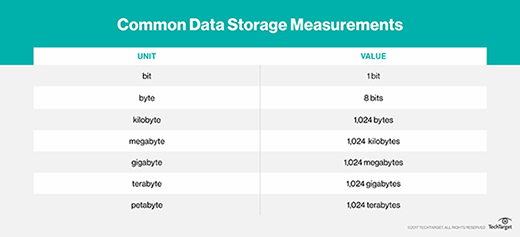 History
Hitachi began selling 1 TB hard disk drives (HDDs) to consumers in 2007. Prior to that, HDDs were relatively small and expensive. For example, when the IBM Personal Computer XT -- the successor to the original IBM PC -- was released in 1983, it was the first PC to include a built-in hard drive as a standard feature. At the time, HDDs were available in 10 megabyte (MB) or 20 MB capacities. It was not until 1991 that 1 GB disks were available to consumers, and even then a gigabyte of storage cost nearly $3,000.
The cost of a terabyte HDD
Like any other computer component, the cost of HDDs decreases over time. When 1 TB HDDs were first introduced in 2007, a consumer-grade drive cost approximately $375. Today, consumers can purchase a 4 TB external hard drive for approximately $150 (four times the capacity for less than half the cost). Eight terabyte drives are available for about $600, with some archive-grade drives priced as little as $300.
Continue Reading About terabyte (TB)
Dig Deeper on Storage management and analytics
PRO+
Content
Find more PRO+ content and other member only offers, here.