Definition
storage area network (SAN)
A storage area network (SAN) is a dedicated high-speed network or subnetwork that interconnects and presents shared pools of storage devices to multiple servers.
A SAN moves storage resources off the common user network and reorganizes them into an independent, high-performance network. This enables each server to access shared storage as if it were a drive directly attached to the server. When a host wants to access a storage device on the SAN, it sends out a block-based access request for the storage device.
Content Continues Below

Download this free guide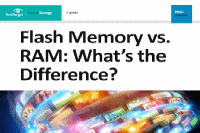 Download Now: Flash Memory vs. RAM: What's the Difference?
In this guide, explore the differences between flash memory and RAM. Plus, discover how quad-level cell (QLC) and triple-level cell (TLC) NAND flash memory are coexisting in the data center.
A storage area network is typically assembled using three principle components: cabling, host bus adapters (HBAs), and switches attached to storage arrays and servers. Each switch and storage system on the SAN must be interconnected, and the physical interconnections must support bandwidth levels that can adequately handle peak data activities. IT administrators manage storage area networks centrally.
Storage arrays were initially all hard disk drive systems, but are increasingly populated with flash solid-state drives (SSDs).
What storage area networks are used for
Fibre Channel (FC) SANs have the reputation of being expensive, complex and difficult to manage. Ethernet-based iSCSI has reduced these challenges by encapsulating SCSI commands into IP packets that don't require an FC connection.
The emergence of iSCSI means that instead of learning, building and managing two networks -- an Ethernet local area network (LAN) for user communication and an FC SAN for storage -- an organization can use its existing knowledge and infrastructure for both LANs and SANs. This is an especially useful approach in small and midsize businesses that may not have the funds or expertise to support a Fibre Channel SAN.
Organizations use SANs for distributed applications that need fast local network performance. SANs improve the availability of applications through multiple data paths. They can also improve application performance because they enable IT administrators to offload storage functions and segregate networks.
Additionally, SANs help increase the effectiveness and use of storage because they enable administrators to consolidate resources and deliver tiered storage. SANs also improve data protection and security. Finally, SANs can span multiple sites, which helps companies with their business continuity strategies.
How a SAN works
The following is a breakdown of how SAN works:
When a host wants to access a storage device on the SAN, it sends out a block-based access request for the storage device.
SCSI commands are encapsulated into FC packets. The host HBA accepts the request and it's converted from its binary data form to the optical form necessary for transmission on the fiber optic
Simultaneously, the request is packaged according to the rules of the FC protocol.
The HBA transmits the FC request to the SAN.
Depending on the connectivity between the HBA and the fabric switch port, one of the SAN switches receives the request and sends it to the storage processor, which then sends it to the storage device.
Setting up the storage area network
To integrate all components of the SAN, an enterprise first has to meet the vendor's hardware and software compatibility requirements, including:
Host bus adapters (firmware version, driver version, patch list)
Switch (firmware)
Storage (firmware, host personality firmware, patch list)
Then to set up the SAN:
Assemble and cable together all the hardware components and install the corresponding software.

Check the versions.
Set up the HBA.
Set up the storage array.

Change any configuration settings that may be required
Test the integration

Test all the operational processes for the SAN environment, including normal production processing, failure mode testing and backup

Establish a performance baseline for every component as well as for the entire SAN.
Document the SAN installation and operational procedures.
SAN architecture
SAN architecture is composed of:
Host layer: The servers and host bus adapters, as well as all the software that runs on the server and allows the HBA to communicate with the fabric layer.
Fabric layer: All the hosts connect to the storage devices on the SAN through the SAN fabric. The network portion of the SAN is made up of the following fabric components:
SAN switches; data routers; cables; communications protocol (fabric components communicate via the Fibre Channel communications protocol).
Storage layer: The storage arrays, including the storage processors.
Understanding SAN switches
SAN switches connect servers and pools of shared storage devices. A SAN switch's only job is to move storage traffic. SAN switches are often Fibre Channel switches that are compatible with the FC protocol on which many SANs are based. The switch checks the data packet and identifies its origin and destination. Then, the switch directs the packet to the right storage system. FC switches are meant to be used with high-performance networks.
SAN switches can also be Ethernet based. Such switches should only handle traffic on an IP SAN to keep performance predictable. Ethernet switches deliver traffic to an IP address; they view iSCSI storage targets as IP addresses.
Organizations can combine many switches to build large SAN fabrics that connect many servers and storage ports.
Virtual SAN
A virtual storage area network (VSAN) is a software-defined storage offering that is implemented on top of a hypervisor, such as VMware ESXi or Microsoft Hyper-V. Virtual SANs yield a number of benefits, such as ease of management and scalability.
For the most part, VSANs are hardware-agnostic. As long as the hypervisor recognizes and supports the storage hardware, the VSAN can use it, although each vendor has its own requirements.
Unified SAN
Unified SAN is based on the concept of unified storage, which exposes file storage and block storage through a single storage device, usually a modified network-attached storage appliance (NAS appliance).
A unified SAN takes this concept a step further by exposing not only dedicated logical unit numbers (LUNs) -- like any other SAN -- but file system-based, NAS-like storage.
Converged SAN
Storage area networks are normally kept separate from Ethernet networks. A converged SAN uses a common network infrastructure for network and SAN traffic to eliminate redundant infrastructure and to reduce cost and complexity.
SANs often make use of Fibre Channel, whereas data networks are usually based on Ethernet. Converged SANs adopt Fibre Channel over Ethernet (FCoE), which encapsulates FC payloads into Ethernet frames. Converged SANs are almost always based on 10 gigabit Ethernet, and multiple network ports are sometimes bonded together to increase throughput.
SAN pros and cons
The main benefit of using a SAN is that raw storage is treated as a pool of resources that IT can centrally manage and allocate on an as-needed basis. SANs are also highly scalable because capacity can be added as required.
The main disadvantages of SANs are cost and complexity. SAN hardware tends to be expensive, and building and managing a SAN requires a specialized skill set.
SAN vs. NAS
The terms SAN and NAS are sometimes confused with one another because the acronyms are similar. Network-attached storage (NAS) consists of a storage appliance that is plugged directly into a network switch. Although there are exceptions, NAS appliances are often used as file servers, whereas SANs are used for structured data stored in databases.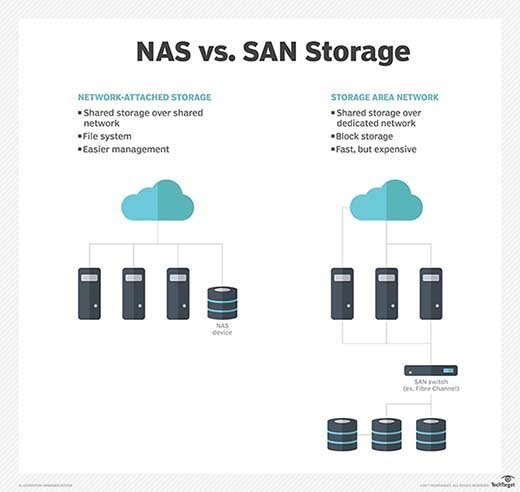 A SAN is far more complex and costly than NAS. A SAN consists of dedicated cabling -- usually Fibre Channel, but Ethernet can be used in iSCSI or FCoE SANs -- dedicated switches and storage hardware. SANs are highly scalable and enable storage to be exposed as LUNs.
In contrast, NAS storage usually exposes storage as a file system, although some NAS appliances support block storage.
Major vendors and products
There has been much consolidation in the SAN vendor market, and it is now dominated by some of the largest IT companies.
In September 2016, Dell completed a $60-billion-plus acquisition of EMC in what was the largest IT acquisition ever. EMC was the storage array market leader, and Dell EMC now generates the most revenue and has the broadest storage systems portfolio. Dell EMC storage now includes VMAX, Unity and XtremIO SAN arrays from the old EMC and Compellent from Dell.
Dell's server rival, Hewlett Packard Enterprise (HPE), has also filled out its SAN product portfolio with acquisitions. HPE acquired Nimble Storage in 2017 for $1.2 billion, which followed HPE's $2.35 billion purchase of 3PAR in 2010. The 3PAR and Nimble product lines are now HPE's major SAN array platforms.
NetApp is the largest storage-only vendor remaining following Dell's merger with EMC. NetApp began as Network Appliance in 1992, and it was among the early NAS vendors. It added block storage capabilities to its FAS (Fabric-Attached Storage) platform in 2002, and FAS arrays are now available with FC, iSCSI or NAS connectivity, or any combination of the three.
IBM and Hitachi Vantara -- previously Hitachi Data Systems -- are the other major SAN array vendors. IBM and Hitachi focus mainly on large enterprises and mainframe-attached storage, although they have broadened their portfolio with flash arrays for open systems. Hitachi Vantara positions its storage arrays to focus on internet of things (IoT) data.
Switching and HBA vendors have also consolidated. Broadcom completed its $5.9 billion acquisition of FC switch vendor Brocade in November 2017. Brocade's major FC rival is Cisco, which is also the leader in Ethernet networking.
The Brocade deal came two years after Broadcom -- then known as Avago -- acquired HBA vendor Emulex Corp. for $606 million in 2015. Cavium acquired Emulex's major HBA rival QLogic for $1 billion in 2016, and it runs QLogic as a wholly owned subsidiary.
SAN technology standards
Several industry groups have developed standards related to SAN technology, including the Storage Networking Industry Association (SNIA), which promotes the Storage Management Initiative Specification (SMI-S). SMI-S is intended to facilitate the management of storage devices from multiple vendors in storage area networks.
The Fibre Channel Industry Association (FCIA) also promotes standards related to SAN, including the Fibre Channel Physical Interface (FC-PI-7) standard, supporting deployments of 64 GFC and Gen 7 solutions for the SAN market, the fastest industry standard networking protocol that enables storage area networks of up to 128 GFC.
This was last updated in
August 2019
Continue Reading About storage area network (SAN)