storage
In a computer, storage is the place where data is held in an electromagnetic or optical form for access by a computer processor.
Looking for something else?
TECHNOLOGIES
In a computer, storage is the place where data is held in an electromagnetic or optical form for access by a computer processor. There are two general usages.
2015 Planning: The Top 10 Data Storage Definitions You Need To Know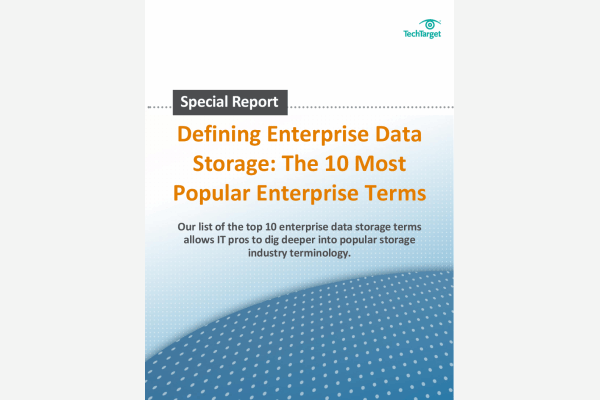 Whether you're a seasoned IT expert or a relative newcomer, the jargon surrounding data storage technologies can be overwhelming. Before you finalize your 2015 planning, refer to this Special Report to find out the top 10 most important storage terms you need to know today.
By submitting your personal information, you agree to receive emails regarding relevant products and special offers from TechTarget and its partners. You also agree that your personal information may be transferred and processed in the United States, and that you have read and agree to the Terms of Use and the Privacy Policy.

1) Storage is frequently used to mean the devices and data connected to the computer through input/output operations - that is, hard disk and tape systems and other forms of storage that don't include computer memory and other in-computer storage. For the enterprise, the options for this kind of storage are of much greater variety and expense than that related to memory. This meaning is probably more common in the IT industry than meaning 2.
2) In a more formal usage, storage has been divided into: (1) primary storage, which holds data in memory (sometimes called random access memory or RAM) and other "built-in" devices such as the processor's L1 cache, and (2) secondary storage, which holds data on hard disks, tapes, and other devices requiring input/output operations.
Ask your storage questions at ITKnowledgeExchange.com
Primary storage is much faster to access than secondary storage because of the proximity of the storage to the processor or because of the nature of the storage devices. On the other hand, secondary storage can hold much more data than primary storage.
In addition to RAM, primary storage includes read-only memory (ROM) and L1 and L2 cache memory. In addition to hard disks, secondary storage includes a range of device types and technologies, including diskettes, Zip drives, redundant array of independent disks (RAID) systems, and holographic storage. Devices that hold storage are collectively known as storage media.
A somewhat antiquated term for primary storage is main storage and a somewhat antiquated term for secondary storage is auxiliary storage. Note that, to add to the confusion, there is an additional meaning for primary storage that distinguishes actively used storage from backup storage.
Continue Reading About storage
Dig Deeper on Enterprise storage, planning and management
PRO+
Content
Find more PRO+ content and other member only offers, here.