Definition
Serial ATA (Serial Advanced Technology Attachment or SATA)
Serial ATA (Serial Advanced Technology Attachment or SATA) is a new standard for connecting hard drives into computer systems. As its name implies, SATA is based on serial signaling technology, unlike current IDE (Integrated Drive Electronics) hard drives that use parallel signaling.
Hot data storage market technology trends for 2016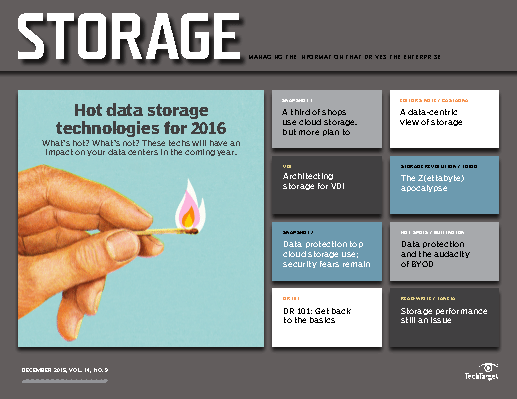 Download the December edition of Storage Magazine Online to check out our Hot Techs for 2016! For the past 13 years, we've honored the best and brightest technologies for the upcoming year. As always, we are proud to present a batch of technologies we believe will make a big impact on data storage market technology.
By submitting your email address, you agree to receive emails regarding relevant topic offers from TechTarget and its partners. You can withdraw your consent at any time. Contact TechTarget at 275 Grove Street, Newton, MA.
You also agree that your personal information may be transferred and processed in the United States, and that you have read and agree to the Terms of Use and the Privacy Policy.

SATA has several practical advantages over the parallel signaling (also called Parallel ATA or PATA) that has been used in hard drives since the 1980s. SATA cables are more flexible, thinner, and less massive than the ribbon cables required for conventional PATA hard drives. SATA cables can be considerably longer than PATA ribbon cables, allowing the designer more latitude in the physical layout of a system. Because there are fewer conductors (only 7 in SATA as compared with 40 in PATA), crosstalk and electromagnetic interference (EMI) are less likely to be troublesome. The signal voltage is much lower as well (250 mV for SATA as compared with 5 V for PATA).
This was first published in
August 2005
Continue Reading About Serial ATA (Serial Advanced Technology Attachment or SATA)
Dig Deeper on Disk drives
PRO+
Content
Find more PRO+ content and other member only offers, here.