iSCSI essentials: A practical guide to iSCSI storage
Our E-Guide will help data storage pros cut through the hype surrounding iSCSI storage by examining the infrastructure and security factors associated with iSCSI and weighing the benefits of iSCSI against Fibre Channel.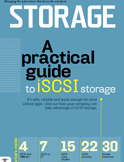 When iSCSI first arrived five years ago, there were plenty of people who hopped on the bandwagon—and even more who rolled up their sleeves to give it a good push. This new way of doing block storage using ordinary Ethernet seemed almost too good to be true. What was too good to be true was all the hype surrounding iSCSI—and, I have to admit, I was one of those "hipsters."

Everything looks different when you acquire the perspective that the distance of a few years affords, along with a little context called reality. So while the predictions that iSCSI storage was so simple, so inexpensive and so easy to use that it would steamroll Fibre Channel into the annals of history were, let's say, a little too exuberant, it's clear now that iSCSI storage is here to stay.

Of course there were naysayers back at iSCSI's dawn. They said it's too slow, it's not reliable and what about security? All of those cavils were true to some extent, but the iSCSI systems of today have moved well beyond most of those original criticisms.

With 1TB disk drives—and larger ones that are here already—and some tinkering under the hood, along with speedier Ethernet connections, iSCSI storage systems can stand up to most of what any small, medium or big business can throw at them. As such, they've found a niche in many of those companies, as primary storage, secondary tiers and effective disk-based backup systems.

In some of Storage magazine's surveys, there is compelling evidence that iSCSI storage has gained more than a mere foothold. For example, in our Spring 2008 Purchasing Intentions survey, 40% of respondents said they had already deployed or planned to deploy iSCSI storage. And the number of those companies planning to use iSCSI for mission-critical applications has grown dramatically, with 42% saying that iSCSI will suit their key apps just fine.

This eZine is intended for fence-sitters who may still have lingering doubts about iSCSI, for those who are already sold and are looking for new ways to deploy iSCSI systems, and for those who are weighing the relative merits of Fibre Channel and iSCSI storage. iSCSI might not be the proverbial elephant in the room just yet, but it's too compelling to ignore.

--Rich Castagna, Editorial Director of the Storage Media Group

TABLE OF CONTENTS FOR A PRACTICAL GUIDE TO iSCSI STORAGE
iSCSI and VMware: The marriage of virtualized servers and iSCSI SANs is turning out to be a happy one for many users. Since VMware announced support for iSCSI SANs in June 2006, virtualization users have embraced iSCSI's lower cost and reduced complexity.
iSCSI vs. FC: The landscape of storage-area networks (SANs) is changing, and the established boundaries of Fibre Channel vs. iSCSI SANs are blurring rapidly. There are no absolute rules on what you can and can't do when it comes to Fibre Channel and iSCSI. However, there are pros and cons to each approach that you'll need to consider.
iSCSI case studies: IP SAN adoption is growing among users who want storage that's easy to install, configure and manage, and also comes at a price considerably less than that of Fibre Channel SANs.
iSCSI security: If you're thinking about implementing an iSCSI storage network, as sure as the sun sets each day, someone will ask about security. With a little planning, your iSCSI storage network can be even more secure than a legacy Fibre Channel storage network.