Manage
Learn to apply best practices and optimize your operations.
Storage networking: Technology advancements decrease complexity and improve performance
This guide tells you how technology advancements in SAN infrastructure,10 GbE, and Fibre Channel (FC) switches and iSCSI switches can help your company decrease complexity, lower costs and improve performance.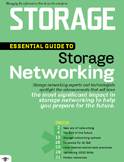 There was a time when storage networking was little more than an afterthought. You started at the array and worked back toward the servers; if you needed high performance, you got a Fibre Channel (FC) array or, if you were serving files, network-attached storage (NAS) was the choice. So the type of storage dictated the type of network you'd use to string it all together. And if that connective tissue you put in place didn't quite do the job, you got more of it or speedier parts.
Times have changed -- in fact, they're on the verge of being turned inside out. The "inside" is the network, and pretty soon it's likely that it will be the starting point when designing shared storage systems. This might seem like a revolutionary change, but it's really more a case of evolution. Today, a good-sized shop may have several FC fabrics, a few IP networks dedicated to NAS filers and, of course, a LAN to link hosts and clients to all that storage. It's a lot to manage, and managing it often crosses the boundaries of two or more IT disciplines.
Wouldn't a single network make more sense? It not only makes more sense, it's here now. Fibre Channel over Ethernet (FCoE) makes it possible to link these previously disparate networks, promising simpler administration, less complexity and lower costs. Any one of those would be irresistible to most IT shops.
Storage networking guide: Free download
But this doesn't suggest that you'll necessarily want to link all of your networks. In some cases the costs may outweigh the conveniences, or it simply may not be necessary. Still, it's prudent to take a fresh look at your installed networks, with so many protocol upgrades and new products available now or coming soon.
-- Rich Castagna, Editorial Director of the Storage Media Group
Table of contents for the storage networking essential guide
Dig Deeper on SAN technology and arrays