Networked storage for small businesses: A guide to SMB storage networking
In this essential guide, learn about the best options and the latest trends in storage networking for SMBs. Download it for free.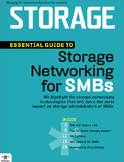 Data storage is often a matter of scale and perspective. While a very large company's storage requirements might call for massive, high-performance arrays, small business storage needs logically are more modest. But when perspective comes into play, the importance of an efficient storage infrastructure to support business operations is equal -- regardless of the number of people on the payroll, or the square feet of office space.

That's because data fuels businesses of all sizes these days, and how well you manage, protect and use that data is likely to affect a company's success or failure. So while smaller businesses might deal with smaller amounts of data, their storage concerns and interests aren't any smaller than those of a large enterprise.

For some time, there was a gap among storage offerings. Most major storage vendors focused their efforts on creating enterprise-class products, while at the low end of the storage spectrum consumer-oriented vendors offered basic networked storage products intended for very small businesses. As a result, many small- to midsized businesses (SMBs) fell through the cracks. But today, the needs of SMBs are better recognized, with the gap being filled by both high- and low-end storage vendors. That's the good news.

The much broader selection of SMB storage products also brings a new set of challenges. While the data storage needs of SMBs may parallel those of large enterprises, their available IT resources and expertise typically don't. Yet SMBs still need many of the same sophisticated tools and features in their networked storage that enterprises require. This is being addressed as storage vendors endeavor to remove some of the operational complexities from their SMB products with innovations like configuration wizards, easy-to-use management interfaces and hot-swappable hardware components.

Newer options like online (or cloud) storage services provide even more alternatives for SMBs. An online backup service, for example, can help a resource-strapped business by providing effective, inexpensive data protection for backups and disaster recovery. Other services offer the advantages of networked storage without having to actually install and maintain the hardware onsite. These services are convenient, scalable and offer some services that may otherwise be out of the reach of a smaller company.

This guide will help you make the critical decisions in your choice of a storage system for you company. It also provides some of the expertise that a smaller organization may lack. The special selection of articles on the following pages will give you a head start in selecting, operating and maintaining your company's storage.

--Rich Castagna, Storage Media Group Editorial Director

NETWORKED STORAGE FOR SMALL BUSINESSES TABLE OF CONTENTS:
DAS still has a role to play in networked storage: Like their enterprise counterparts, SMBs are under tremendous pressure to throw out their direct-attached storage (DAS) architecture in favor of a consolidated storage-area network (SAN). Still, some users are finding DAS is a good networked storage solution in many cases. These include:

Where putting the application on the SAN would require too much expansion of the SAN with little to no return on investment
Where the legacy nature of the application and its storage won't allow for integration with the SAN's iSCSI or Fibre Channel data fabric
Where the application or server data has a low enough recovery time objective (RTO) or business value that it's not worth the money or time to move the data over to the SAN, such as a testing and development environment
In this article, learn about where DAS may make sense in your company.
Seven steps for better storage support: Whenever data storage technical support comes up in discussions with users, eyes roll, heads shake and frustration levels become tangible. Dissatisfaction appears to be universal, regardless of the brand. The causes are many: system complexity, lack of tech support training, outsourcing, vendor interdependencies, strategic alliances, insufficient testing, mergers and acquisitions. Standards are often too loose or too proprietary, and diagnostic software often provides root cause analysis that is too limited. In this article, learn how to improve your data storage vendor's technical support.
RAID primer: Although there are half a dozen or so officially recognized RAID levels, and a number of combinations, there are only a few that are commonly used in smaller businesses. This article looks at the most common RAID levels used in data storage shops today. Learn how to choose the best RAID level that offers the best data protection for your applications.
Storage area network options for SMBs: While many SMBs are increasingly looking to deploy a storage-area network (SAN), many experts agree that a full-scale deployment could be overkill. "Just like not everyone needs a four-wheel-drive vehicle, not all companies need a full-scale SAN. It's important to align your storage technology with the tasks you have at hand," said Greg Schulz, founder and senior analyst at StorageIO Group. In this article, lean how to decide if a SAN is the best networked storage option for your small business
Click here to download the Small business storage networking essential guide.