Evaluate
Weigh the pros and cons of technologies, products and projects you are considering.
Implementation choices for solid-state storage devices
Learn how implementation choices for solid-state storage devices have exploded in the past year. Download the essential guide for handy reference.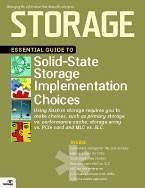 Our research shows that deployments of solid-state storage devices have more than doubled in the year and a half we've been tracking this technology. Today, we see that more than 16% of companies have taken the plunge -- an impressive figure when you consider that enterprise-grade solid-state has been widely available for only a few years and the cost of NAND flash is still approximately 10 or more times that of traditional disk media.
And that may just be the tip of the iceberg, as another 11% of respondent firms say they'll implement solid-state this year, while one-third plan to evaluate it. All told, only 40% of organizations don't have any plans to move on solid-state storage in the immediate future.
As you probably know -- or will learn in the following pages -- solid-state storage comes in a variety of forms for servers, arrays or specialized appliances. At this point in its evolution, approximately 75% of solid-state users are opting to use flash storage in a SAS or SATA form factor that plugs right into a traditional data storage array. Still, nearly one-third of surveyed companies are tapping into solid-state directly at the server, in the form of storage devices that neatly slot into a server's PCI Express (PCIe) bus. So why is relatively untested, extremely expensive storage so popular? Users with the need for speed will tell you there's nothing comparable to solid-state storage available today. It runs circles around hard-disk drives but uses a fraction of the power spinning disks require while barely warming the air around it.
Because it's still something of a luxury item for most data storage shops' budgets, users have found very specific use cases for solid-state storage, reserving it for only the most critical IOPS-hungry applications. The need to be selective when using solid-state has also spawned (or at least stimulated) the development of automated techniques to move data and apps in and out of solid-state storage as needed. Those dynamic tiering apps are rapidly finding their way into storage systems, whether or not they include solid-state components. Besides the choice of where to deploy solid-state, you'll have to make other decisions, such as whether to opt for single-level cell (SLC) or multi-level cell (MLC) NAND flash, the enhanced version of MLC called eMLC (where the "e" stands for enterprise) or even the much costlier non-volatile random access memory (NVRAM).
All these issues and decision points are covered in this guide. Read it, and you'll be one step closer to 21st century storage.
--Rich Castagna, Storage Media Group Editorial Director
Essential guide to solid-state storage implementation choices table of contents
Making a case for SSDs: Interest in solid-state storage is high and, with a variety of solid-state implementations available and newer technologies emerging, it's time to take a serious look at how solid-state could enhance your storage environment.
App needs dictate where to use SSDs: Solid-state storage technology can be used in different ways. IT must decide whether to use technology in disk arrays, as cache, in appliances or in servers. This series of case studies can help you learn the best approach for your organization's needs.
MLC vs. SLC: The type of SSD you choose depends on the performance you need and the price you want to pay, but the differences aren't as great as you may think. However, if you are buying SSDs based on flash memory technology, it's worth learning about the differences between multi-level cell (MLC) and single-level cell (SLC) flash.
Using MLC flash memory in enterprise arrays: Find out how enterprise MLC flash can be the right solid-state storage option for IT organizations looking for a measurable increase in performance without the cost of SLC-based flash.
SSD technology making inroads with SMBs: Among users, solid-state is gaining ground as a sensible option to protect against data loss and to reduce power consumption. As a result, companies of all sizes are evaluating the technology.
Implementing SSD in a cache appliance: Learn about the benefits of using solid-state storage in a cache appliance, how the appliance compares with other SSD implementations and why storage VARs should pay attention to this approach.