Hybrid cloud solutions for nearline storage
Learn how hybrid cloud solutions are becoming a viable option for nearline storage. Download the essential guide for handy desktop reference.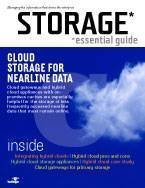 Cloud storage is firmly entrenched for data protection applications like backup and disaster recovery (DR), and it's beginning to make some serious inroads into providing an alternative home for nearline storage or "semi-active" data. But a limiting factor has been the bandwidth of the pipe between the data center and the cloud service -- trying to squeeze a lot of data through (even on an occasional basis) typically yields unacceptable performance for most applications.
That's the bad news about cloud storage for nearline data, but it's far outweighed by good news in the form of hybrid cloud solutions. These hardware and software products help bridge the gap by working as a kind of middleman between on-premises primary and secondary storage systems and cloud storage service providers.
You can think of these hybrid devices as tunable caching appliances with ample internal storage to maintain data on site while it's still hot or warm and likely to be needed before shipping it off to the cloud as it's needed much less frequently.
That kind of setup effectively turns cloud storage into another tier in your data storage infrastructure with a lot of the same characteristics of tape: it scales up and down easily, its cost is relatively low, it's off-site and accessing the data requires a little patience.
It's a neat solution, but there are plenty of issues to resolve when considering an implementation, such as security, the reliability of cloud storage providers and the reasonableness of the inherent access latencies. In this guide, we address each of these issues, and provide implementation suggestions and best practices, as well as some tales of companies that have successfully implemented hybrid cloud storage environments.
-- Rich Castagna, Editorial Director of the Storage Media Group
Table of Contents: Essential Guide to Cloud Storage for Nearline Data
Hybrid cloud pro and cons: As many storage professionals know, there are pros and cons to every data storage decision, and hybrid cloud solutions are no exception. While hybrid clouds offer an off-site storage option that can reduce costs, they can open your organization to security risks and the complexity associated with managing a third-party relationship. Learn how to properly analyze hybrid cloud storage solutions.
Hybrid cloud storage appliances: Despite the belief that cloud storage should be reserved primarily for data backup and disaster recovery, hybrid cloud storage appliances have a handle on many of the concerns -- including network outages, security fears, latency issues and data transfer fees -- that IT pros have. Find out why hybrid clouds are more than capable of nearline storage.
Hybrid cloud case study: California State University Channel Islands (CSUCI) had a growing amount of static data, but was having trouble getting budget approval to fix the issue. Nasuni's virtual network-attached storage (NAS) appliance, and it's promise of low startup costs, had the university delving into hybrid cloud storage despite a software option that requires an on-premises storage system for local cache.
Cloud gateways for primary storage: Cloud gateways are another appliance making cloud storage accessible beyond just archiving or backup options. Learn how gateway appliances employ caching or tiering that prioritizes data sets and makes nearline storage possible for IT departments.