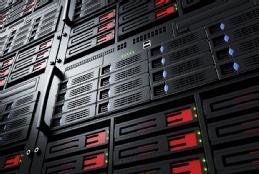 BACKGROUND IMAGE: i3D_VR/iStock
E-Handbook:
The advantages of SAN technology in an HCI world
Article 3 of 4
Evaluate
Weigh the pros and cons of technologies, products and projects you are considering.
Top 5 storage area network applications for the enterprise
Find out why a SAN makes sense for enterprise applications such as databases, server virtualization, business applications, VDI, and development and testing.
Today's enterprises have more storage options than ever, from cloud platforms to hybrid systems to hyper-converged infrastructures, yet many organizations continue to turn to SANs to support their enterprise workloads. The reasons for this are many. IT teams might have performance and scalability concerns. Or they may need to meet security and compliance requirements. Alternatively, they could be sticking with SANs because they've invested heavily in the technology.
Regardless of the reason, SANs continue to be an important storage resource in the data center, with several predominate use cases. According to a recent TechTarget survey, the top five storage area network applications are databases, server virtualization, business applications, virtual desktop infrastructures (VDIs), and development and testing. Although SANS aren't required to support these use cases, there are many good reasons why organizations continue to use them.
1. Databases and database management systems
Databases and database management systems are commonly cited as one of the top storage area network applications because these systems often support mission-critical workloads that process large numbers of transactions. For some applications, the database system might need to handle hundreds of thousands of transactions per second, requiring a storage product that can deliver high IOPS and low latency rates, while providing the necessary reliability, availability and scalability.
If a storage system can't meet a database system's demands, application performance suffers, which, in turn, impacts user experience. SANs are well known for being able to meet throughput and latency demands, especially when they use the latest Fibre Channel (FC) technology, which can support multilane throughput speeds of as much as 128 Gbps.
SANs are built from the ground up to deliver high performance and availability. They offer parallel processing, short disk queues and a high degree of reliability, with support for technologies such as RAID and hot swappable drives, all of which are critical for optimal data management.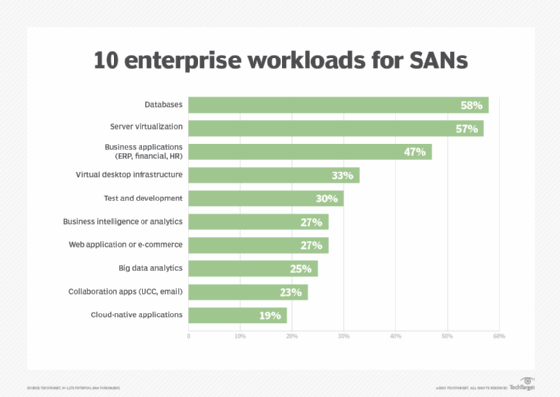 2. Server virtualization
Organizations are running more enterprise workloads than ever on virtual servers. They might host database systems, business applications, websites, productivity applications or any number of other products or services. A virtual server can also be used for development and testing. A virtualization platform, along with its hosted virtual machines and the applications running in those VMs, all require storage that's fast, reliable and flexible enough to accommodate what are often highly dynamic environments. This is especially true when the VMs start adding up into the thousands.
Virtual servers work well as storage area network applications because SANs are built to remove any single point of failure, making them highly resilient and reliable. They can accommodate a broad range of OSes and applications and can be shared by multiple hosts, no matter how they're distributed throughout the network.
SANs are also highly scalable and flexible enough to handle a virtualization platform's dynamic nature, without the SAN infrastructure having to be redesigned every time something changes. SANs can also accommodate technologies such as VMware vMotion, which makes it possible to move a running VM from one server to another without incurring downtime.
3. Business applications
Many organizations are turning to SANs to support critical business applications such as ERP or CRM applications. One reason for this is that many of these applications use databases on the back end to manage the large volumes of transactional data that the applications process. As a result, they require the performance and availability SANs offer.
Given the cost of a SAN investment, it's important that an organization assess its requirements and circumstances, and then decide whether a SAN is the right choice for its storage needs.
However, a business application doesn't need a relational database to require high data transfer and low-latency rates. For example, an organization might use a video editing application that continuously moves and shares large video files across the network.
SANs provide organizations with the storage they need to support even the most demanding business applications, including mission-critical systems such as billing, sales, reservations and financial management. SANs can also deliver the security and data protection these systems often require, while making it easier to consolidate storage resources and reallocate them among servers. In addition, a SAN can be configured with redundant components throughout the storage infrastructure to ensure reliability, while supporting high-volume enterprise workloads with minimal contention.
4. Virtual desktop infrastructure
Storage I/O is a critical factor in a VDI environment when it comes to the user experience. This is especially true during a VDI boot storm, which can occur when thousands of users try to log onto their desktops at the same time.
A VDI platform also requires storage that's highly available, reliable, scalable and secure, while being able to accommodate VDI hosts distributed across the network. The VDI platform shares many of the same storage considerations as server virtualization, but with the added complexities of supporting virtual desktops.
A VDI platform makes a good storage area network application because a SAN, especially one based on FC technology, delivers the high throughput and low latencies VDI storage environments require. Because a SAN provides a dedicated network, it avoids contention with other network traffic, while providing a secure fabric for protecting the virtual desktops and their data. Organizations can also add capacity to their SANs to meet increasing desktop demands. And SANs include redundant components throughout the storage infrastructure to ensure high reliability, so users can always access their desktops when they're needed.
5. Development and testing
Many organizations use SANs for development and testing, which can have highly variable storage requirements, depending on the type of application being built and the stage it's at in the application lifecycle. Development teams might require storage that works with different OSes and different types and amounts of data. For example, developers and testers often work in different environments and on different platforms, with their numbers and locations varying depending on the project.
Essentially, development and testing require flexibility and reliability. Few development teams can afford to have their work come to a sudden halt because the storage system can't meet their demands.
Many development groups also require highly secure storage that can protect application source code and related data, even when working entirely in-house. A SAN offers a storage infrastructure that meets these development and testing requirements, all while providing a dedicated network for separating development traffic from other network traffic. This helps speed development efforts while ensuring security.
Running your enterprise workloads on SANs
In addition to the five storage area network applications described here, the TechTarget survey also showed that organizations are using SANs for other types of workloads, such as business intelligence, big data analytics, and e-commerce and collaboration applications.
Even so, SANs aren't necessarily suited to all enterprise workloads. Given the cost of a SAN investment, it's important that an organization assess its requirements and circumstances, and then decide whether a SAN is the right choice for its storage needs.