Manage
Learn to apply best practices and optimize your operations.
IT data storage priorities 2012: Virtualization, dedupe and cloud
A TechTarget survey of IT data storage priorities has managers and staff claiming a growing interest in storage virtualization, data dedupe and cloud storage.
Trying to squeeze as much technology as possible out of generally flat budgets, IT management and staff have set IT data storage priorities that align closely with those of previous years, with a heavy emphasis on data protection. More than one-third of the respondents (38%) to TechTarget's 2012 IT Priorities survey who have storage responsibilities cited disaster recovery/business continuity (DR/BC) as their top deployment priority for 2012. In a similar survey last year, 38% also ranked disaster recovery as one of their "top three" priorities for 2011.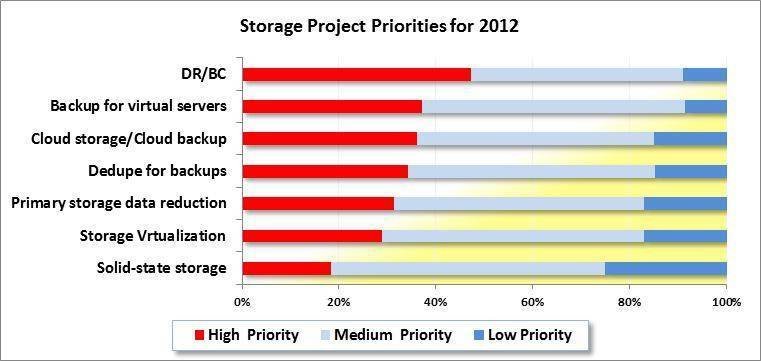 Forty-two percent expect their IT budgets to rise somewhat in 2012; among those looking forward to a budget boost, approximately half predict a modest increase of less than 5%, while the other half looks forward to a 5%-plus hike. But 46% of those surveyed expect to have less to spend or say they'll have to make do with what they got last year.
Indeed, 25% of survey takers feel as if they're still bogged down by the recession, while 41% say they're slowly climbing out of it. A lucky 20% report that they never really felt the sting of the downturn, and a fortunate 14% say their shops are back to normal.
Server and storage virtualization share attention
Following DR/BC, backing up virtual servers (35%) and virtualizing storage systems (31%) are the next two key storage deployment initiatives. Virtual machine (VM) backup continues to be a challenge for many companies even as the number of useful tools in that sphere grows. All the major backup application vendors have added VM-specific features, but it's still somewhat of an uphill battle for storage managers who are struggling to implement those new capabilities while the systems side of the shop spins up more and more VMs and data storage growth continues to spiral.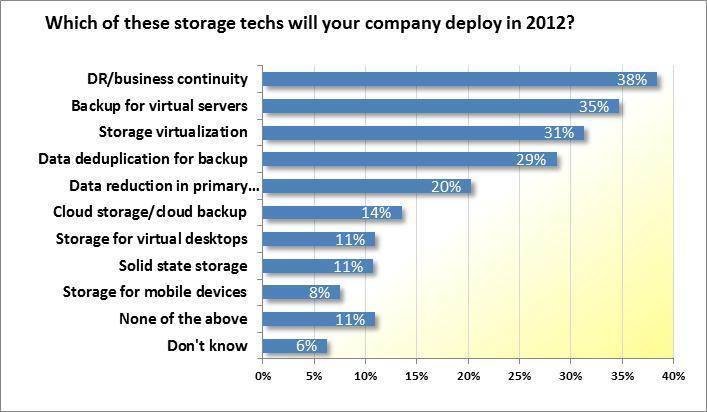 As we've seen in some of our other survey research, interest in storage virtualization is growing -- not so much in leaps and bounds, but in a more incremental way, which isn't surprising given that a storage virtualization project can be a major undertaking. As the server environment leverages virtualization to become more nimble, data storage shops are looking for complementary technologies, especially to provide adequate flexibility for disaster recovery scenarios. Appliance- or array-based storage virtualization has emerged as the preferred method of storage virtualization.
Data deduplication still top of mind
Backup data deduplication products have been available for years, but our research shows that only approximately 30% of companies have deployed the technology. That explains why there's still considerable interest in backup dedupe and why 29% of this survey's respondents say their companies plan to implement deduplication this year. Asked to rate how importantly backup dedupe looms as an IT data storage initiative in 2012, 34% call it a "high" priority and 51% give it a "medium" rating.
Data deduplication and other data reduction technologies for primary storage have neither the longevity nor the track record of their backup cousins. So far, the hope for data reduction products and services has outstripped the reality, as only a handful of products are available. Despite the dearth of deployable products, 20% of respondents list primary storage data reduction as one of their planned IT data storage deployments for 2012. Thirty-one percent note that primary dedupe is a high priority, while 52% state it's a medium priority. Storage vendors will have to substantially step up their data reduction product rollouts or demonstrate the efficacy of current products if they're to meet those expectations.
Cloud still looms over storage
No discussion of IT data storage priorities would be complete without considering how organizations plan to integrate cloud storage services into their ongoing data storage operations. Fourteen percent of our respondents have cloud storage deployment plans on the drawing board and ready to deploy; 36% of those implementers rate cloud storage and/or cloud backup as a high priority for 2012.
Survey respondent profile
The average annual company revenue for survey respondents was $2.2 billion, with an average of approximately 16,000 employees. A broad range of industries were represented, with government (13%), financial/banking (12%), healthcare/pharmaceutical (11%) and education (9%) representing the largest contingents.
Those numbers jibe fairly closely with other data we've gathered related to cloud storage adoption. In those surveys, we found that non-backup cloud storage users had an average of nearly 17 TB stored in the cloud. The number was the same for cloud backup users. But the current survey suggests that adoption is set to accelerate: respondents expect that 29% of their storage (on average) will wind in the cloud in 2012.
That number may seem surprisingly high given current levels of adoption, especially since so many of the original apprehensions related to cloud services persist today. Asked to name their biggest concerns regarding external cloud service providers, respondents to TechTarget's 2012 IT Priorities survey listed security, protecting company data and reliability as their top three. So while interest is high, it appears that users are still approaching cautiously.
Dig Deeper on Data center storage