Manage
Learn to apply best practices and optimize your operations.
Google Anthos vs. AWS Outposts vs. Azure reduce complexity
See how Google Anthos, AWS Outposts and Microsoft Azure Stack are making it easier for businesses to manage hybrid cloud storage and other infrastructure.
IT has a complexity crisis. Architecting, deploying and maintaining digital services for a business has always been difficult, and now more than ever. Nearly two thirds (64%) of IT managers that Enterprise Strategy Group recently surveyed indicated IT is more complex now compared with just two years ago.
No surprise, it's digital organizations -- businesses poised to reap the rewards of the digital economy -- at the forefront of the complexity crisis. ESG found organizations that have mature digital transformation initiatives are three times more likely than those with no digital transformation initiatives (29% versus 9%) to consider IT to be significantly more complex.
One factor fueling this complexity: Modern IT environments include both on- and off-premises storage and other infrastructure. The hybrid cloud is the de facto standard of modern IT, and public cloud providers are stepping up with on-premises offerings, including:
AWS Outposts. A fully managed on-premises cloud service.
Google Anthos. A software-based application platform that simplifies and speeds the modernization of existing applications and new application deployments across multiple on- and off-premises infrastructure options.
Microsoft Azure Stack. A portfolio of products with Azure Stack Edge, Azure Stack HCI and Azure Stack Hub that extend Azure cloud services on premises.
From a storage standpoint Google Anthos vs. AWS Outposts vs. Azure Stack offer a range of options. Google Anthos supports a variety of heterogenous storage offerings both on- and off-premises. AWS Outposts uses an on-premises version of its Elastic Block Store but has announced S3 support will be available later this year. And Microsoft Azure Stack users can choose from a variety of on-premises hardware options, but the storage technology is an extension of Microsoft Azure with support for Azure Blob, Table and Queue storage.
IT decision-makers are looking to these public cloud provider offerings to address the mounting complexities of hybrid cloud environments. In the ESG study, 77% of respondents said they believe on-premises hybrid cloud services from the public cloud providers can help them accelerate their hybrid cloud strategies.
Those percentages stay consistent across organizations of different ages, with the percentage increasing to 82% for organizations less than 10 years old and only decreasing down to 72% for organizations more than 50 years old. Younger organizations are typically more bullish on cloud technologies than their more established counterparts, but that difference is hardly present when it comes to these hybrid cloud offerings.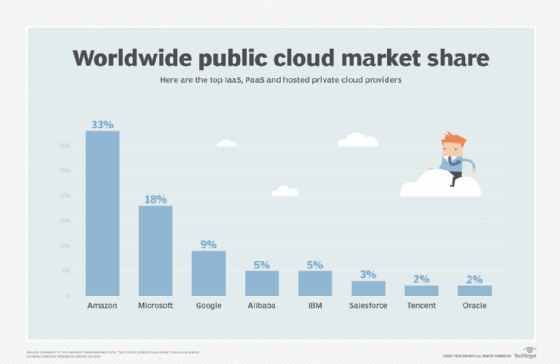 What's behind Google Anthos, AWS Outposts and Azure Stack interest
Using disparate storage and infrastructure architectures with different management interfaces and paradigms, APIs, protocols and operational procedures across locations has a multiplier effect on the complexity of IT administration. Managing diverse on- and off-premises infrastructure has become, at best, a costly hindrance, and at worst a business inhibitor.
Google Anthos, AWS Outposts and Microsoft Azure Stack are providing simpler, more flexible ways to manage hybrid clouds, as part of overall effort to reduce complexity and risk.
To address that complexity, organizations must have enough trained people to keep pace with the ever-increasing digital demands. But finding talented personnel is the new bottleneck for data center and storage operations. Businesses report multiple skill shortages affecting a variety of IT roles, including both cloud and data center architecture and planning. There isn't enough talent to handle all the administration work demanded by today's modern hybrid cloud IT environments. IT organizations need help from technology providers to address the demands, and the public cloud providers have responded with Google Anthos, AWS Outposts and Microsoft Azure Stack.
While these offerings vary in technology and functionality, they do offer similar benefits, including:
Simplifying hybrid cloud planning and architecture. The ability to use the same technology on and off premises simplifies application management and data storage. The ability to more easily modernize applications often centers on being better able to move data and applications across the on- and off-premises environments. Improved flexibility makes planning easier. IT can deploy new workloads quickly on the most readily available platform and data stored, knowing that if needs change, the application can be moved on site or to another cloud service. And that helps to ensure that the infrastructure remains optimized, while meeting data compliance and sovereignty requirements. Similar flexibility applies to data storage.
Expediting and simplifying application development. Google Anthos, AWS Outposts and the Azure Stack also help optimize and expedite application development, a key business driver for digital organizations. If developers can more easily build modern containerized applications, knowing that the infrastructure will be consistent on and off premises, their job gets much simpler: The risk of having to rework an application is reduced. The result is an accelerated application development schedule, fueling more digital business opportunity.
Reducing the risk, cost and personnel burden. These three offerings simplify application modernization with containers and extend off-premises infrastructure technology on premises. Those abilities make it easier for IT to scale resources across a hybrid cloud environment to meet increased demand as needed or decrease resources as demand drops. This ability can also make it easier to tier applications and move data to where it's needed most or move it to a storage or an archive layer off premises.
Google Anthos, AWS Outposts and Microsoft Azure Stack are providing simpler, more flexible ways to manage hybrid clouds, as part of overall effort to reduce complexity and risk. With these offerings, public cloud providers are making hybrid cloud storage and other infrastructure easier to navigate.