Problem solve
Get help with specific problems with your technologies, process and projects.
Fujitsu Softek and DataCore Software announce its "Softek Storage Virtualization"
This is a joint annoucement by Fujitsu and DataCore announcing they have entered into a strategic OEM agreement.
In a joint announcement, Fujitsu Softek and DataCore Software announced they have entered into a strategic OEM agreement. Under terms of this agreement DataCore will act as the OEM (Original Equipment Manufacturer) to Fujitsu Softek for its storage networking and storage virtualization technology. Concurrent with this joint announcement, Fujitsu Softek introduced its "Softek Storage Virtualization" solution. The Softek Storage Virtualization solution is 'Powered by DataCore' which is an integration of the DataCore SANsymphony software running on a standard Intel-based server.
Evaluator Group note:
The DataCore SANsymphony is a symmetrical pooling storage abstraction solution which allows heterogeneous server attachment to a common storage pool. A detailed analysis of the DataCore SANsymphony solution is located in the SAN Management Section of the ESOL Data Base.
DataCore overview
DataCore Software provides a SAN management solution which provides a virtualization of storage. The software is designed to run on Intel-based processors connected to a Storage Area Network. The features that the SANsymphony software enables include the following:
Virtualization of storage controlled by the SANsymphony software,
Attachment of heterogeneous servers to storage with no server software required,
Volumes may be shared between cooperating servers by assigning read and write privileges,
Centralized administration through a centralized management console,
Security control for attached storage,
Attachment of heterogeneous storage devices,
Enables advanced storage management functions such as snapshot and data caching,
Enables the flexibility of booting any server from a SAN virtual disk,
Allows various attachment options for storage systems.
The DataCore software, SANsymphony, runs on an Intel-based server called the Storage Domain Server. The Storage Domain Servers will have ownership of particular storage devices and present virtual logical units (LUNs) to the servers attached to the storage network. Multiple Storage Domain Servers may exist with each having distinct storage devices under their control. Security of access to LUNs is accomplished by explicit source-destination validation and repudiation using the World Wide Name of the server. Specific LUNs may be mirrored between Storage Domain Servers to provide for fault tolerant operation. Data flows through the Storage Domain Server when it is being transferred between the storage devices and the servers. Caching is done in the Storage Domain Server for performance considerations. The following figure is a general picture of the Storage Domain Server Configuration.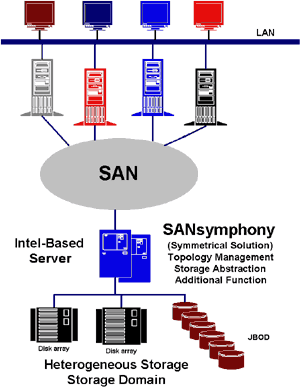 Evaluator Group comments:
DataCore was one of the first companies to deliver a solution for SAN management that offered storage abstraction. The DataCore solution is a very stable offering that has demonstrable value in the reduction of administrative costs. We believe there are more advantages that can be delivered with additional software functions particularly in the area of policy management. The challenge for DataCore was in the marketing of the solution.
With this joint agreement, DataCore gains a partner with proven enterprise deployment skills and worldwide service and support. While Softek will initially sell the SANsymphony as a software package only, we believe it makes sense for Fujitsu Softek to package the SANsymphony software with hardware (server and storage) and offer it as a total solution. This is a Win-Win-Win announcement; it is good for Fujitsu Softek, good for DataCore and good for users as a major company introduces a SAN abstraction solution into the market. =================================================
To view another analysis and commentary in this month's review series from the Evaluator Group, go to https://searchstorage.techtarget.com/tip/Network-Appliance-introduces-new-solutions =================================================
Dig Deeper on Storage virtualization