Problem solve
Get help with specific problems with your technologies, process and projects.
Data protection for virtual server environments
The loss of a physical server that supports multiple virtual machines can have a very significant impact on SMBs and all of the applications supported on those servers. Check out this tip to learn how your business can re-architect its data protection plan with virtual and real solutions.
There are many issues and options pertaining to protecting data and applications for virtual server environments. In a non-virtualized server environment, the loss of a physical server would have an impact on the applications running on that server. However, in a consolidated environment, the loss of a physical server supporting many virtual machines (VMs) would have a much more significant impact, affecting all of the applications supported on the virtual servers.
Virtual server environments often provide tools to facilitate maintenance and basic data protection, while lacking tools for complete data protection. For example, solutions from Virtual Iron Software Inc. and VMware Inc. include APIs to support pre- and post-processing actions for customization and integration with VMware Consolidated Backup (VCB), VMware VMotion or LiveMigration from Virtual Iron.
Just as there are many different approaches and technologies to achieve server virtualization, there are many approaches for addressing data protection in a virtualized server environment. The table below provides an overview of data protection capabilities, characteristics and descriptions, along with some examples to address various aspects of data protection in a virtualized server environment: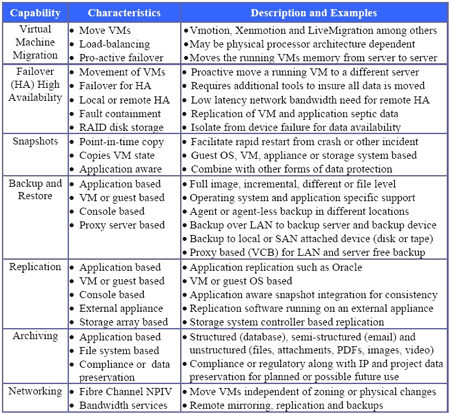 Agent-based backups, also known as LAN-based backups, are a common means of backing up physical servers over a LAN. The main drawback to agent-based data backup is that they consume physical memory, CPU and I/O resources, causing contention for LAN traffic and impacting other VMs and guests on the same virtualized server.
VCB is not a backup package; rather, it's an interface to VMware tools and enables third-party backup and data protection products to work. Thus, to provide data protection using VCB, third-party backup tools are required to provide scheduling, media and backup management. They also make copies of data or redirect data to other storage devices, such as virtual tape libraries (VTL) and disk libraries, that are equipped with compression and data deduplication to reduce data footprint.
Many vendors provide support and integration from a hardware and software perspective for small to midsized business (SMB) environments looking to improve their data protection capabilities for virtual environments. Examples include Asigra Inc., CA Inc., CommVault, Data Domain Inc., Dell Inc., Double-Take Software Inc., EMC Corp., Falconstor Software, Fujitsu, Hewlett-Packard Co., IBM Corp., Imation Corp., Iomega Corp., Microsoft Corp., NetApp Inc., Quantum Corp., Symantec Corp., Tek-tools, Vizoncore Inc. and VMware.
When migrating to virtual server environments, a good opportunity presents itself to rethink and re-architect how data protection is done with virtual and real solutions.
About this author: Greg Schulz is founder and senior analyst with the IT infrastructure analyst and consulting firm StorageIO.
Dig Deeper on Storage for virtual environments