Evaluate
Weigh the pros and cons of technologies, products and projects you are considering.
Compaq reiterates its Open SAN strategy and ENSA-2 architecture
Compaq makes a series of software, services and hardware announcements
The Enterprise Storage Group of Compaq Computer made a series of software, services and hardware announcements to its Enterprise Network Storage Architecture (ENSA-2). Compaq reiterated its Open SAN strategy and ENSA-2 Architecture by announcing its ENSA-2 Storage Utility, new functionality to its SANworks Management Software Suite, and the SANworks SUM Executor Installation and Startup Service.
Announcement highlights
Compaq's Storage Group unveiled extensions to its Enterprise Network Storage Architecture (ENSA) in August, 2001 when the ENSA-2 Architecture was introduced. ENSA-2 provided a visionary roadmap of Compaq's networked storage infrastructure. Today's announcement introduces the Compaq ENSA-2 Storage Utility and the SANworks Storage Utility Management Suite (SUMS). The ENSA-2 Storage Utility is a strategy to provide a modular, scalable, "Executor-based" architecture for storage management. The SANworks SUMS Executor was previously called the SANworks Management Appliance.
The SANworks SUMS Executor is a computing element attached to the SAN that integrates and automates storage and network management. Applications available today on the SUMS Executor (Management Appliance) include the following: Open SAN Manager, Network View, Resource Manager, Storage Allocation Reporter, and various Element Managers. In this announcement Compaq provided a statement of intent to add additional function to the SANS Executor. SUMS function in Compaq's SOI included the following:
- Executor-Based management interfaces for existing solutions
Secure Path Management Interfaces
Data Replication Management Interfaces
- SANworks Automation Manager will add script-scheduling capabilities and enable user-definable, policy-based storage administration
- SANworks Storage Resource Manager functionality will be delivered as an integrated, Executor-based SUMS application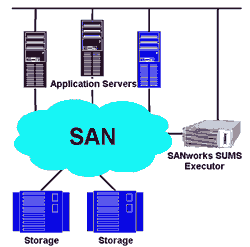 Evaluator Group note:
The SUMS Executor is an Intel-Based server running the Microsoft Windows 2000 Server Appliance kit. It is a SAN Management approach we have referred to as a SAN Manager. The SAN Manager can centralize network management functions and many storage management functions. The SAN Manager approach can also be a step towards an asymmetrical pooling solution for storage abstraction. We expect Compaq to integrate its VersaStor virtualization software into the SUMS Executor or via a separate appliance working cooperatively with the Executor.
Additionally, Compaq announced new functionality for its SANworks software suite running on the SUMS Executor. The following products were announced:
SANworks Network View Version 2.0 - Network View is a topology management tool that provides switch zone viewing, SAN device grouping and Fibre Channel switch link and device array monitoring. Compaq has added additional platform support and performance management for EMC Symmetrix, IBM ESS, and McDATA Director devices.
SANworks Enterprise Volume Manager Version 2.0 - The Enterprise Volume Manager is a subsystem-based (Compaq HSG80 controller arrays) point-in-time copy solution. The EVM manages the creation, movement, and utilization of snapshots and clones via low-level scripts. EVM Version 2.0 is now resident on the SUMS Executor with individual agents loaded on each application server. Compaq has additionally extended host platform support. The EVM 2.0 is licensed by server and host. The EVM starter kit includes (1) server and (5) host licenses.
Evaluator Group note:
The EVM 2.0 today will launch only copies based on HSG80 controllers. We expect Compaq to extend the EVM to launch PIT copies from Symmetrix (TimeFinder), IBM ESS (FlashCopy), and other subsystem-based PIT copy features.
Compaq Proactive Services for SANworks SUM Executor - The Proactive Services is an application that runs on the SUMS Executor. It monitors the hardware and network topology for device failures. It can automatically alert a Compaq Customer Support Center (Call-Home) in the case of a failure. If required, Compaq Global Services dispatches service personnel to facilitate repairs. The SUM Executor Proactive Services is a no-charge feature for customers with storage hardware services contracts.
SANworks SUM Executor Installation and Startup Services - Compaq introduced a new service with this announcement to assist users in installation, configuration, and operational verification of the SUMS Executor hardware and SANworks Open SAN Manager core applications.
SANworks SUMS Platform Support Availability
| | Tru64 | VMS | NT/2000 | AIX | HP/UX | Solaris | Netware | Linux |
| --- | --- | --- | --- | --- | --- | --- | --- | --- |
| SANworks SUM Executor | X | X | X | X | X | X | X | X |
| SAN & Device Management | X | 4thQ | X | 4thQ | 4thQ | X | X | - |
| Storage Resource Management | X | X | X | X | X | X | X | X |
| Data Replication | X | X | X | 4thQ | 4thQ | X | X | - |
| Core Storage Management | X | X | X | X | 4thQ | X | X | 2002 |
Evaluator Group comments:

This is a good announcement for Compaq and is in line with their overall SAN implementation roadmap. The SUMS Executor (formally the SAN Appliance) is a cost effective, efficient vehicle for both the topology management and SAN device management. The next step for Compaq is the introduction of its VersaStor virtualization software. We believe that VersaStor will be an addition to the SUMS Executor or run on a separate appliance executor that will work cooperatively with the SUMS Executor.

================================================
To view all Storage Evlauator analyses and commentaries, go to https://searchstorage.techtarget.com/
================================================

The Evaluator Series and Evaluator Series On-Line (ES/OL) are trademarks of Evaluator Group, Inc.