Evaluate
Weigh the pros and cons of technologies, products and projects you are considering.
Product Roundup: E-discovery
Here's a look at some of the vendors and products that make up the e-discovery market.
E-discovery has become the buzzword on everyone's lips this year, thanks largely to the new Federal Rules of Civil Procedure (FRCP), which revised guidelines for producing electronic evidence last December. The revision means that companies that fail to produce electronic evidence in court may be granted leniency if they show a good faith effort to both preserve and produce the electronic data.
Until precedents are established by actual court cases, it remains unclear just what exactly good faith means, but in the meantime, most enterprises are trying to ensure they have documented practices in place for e-discovery purposes.
Meanwhile, there's no shortage of vendors out there that are more than happy to sell companies a product to help with some aspect of e-discovery. According to George Socha, founder of Socha Consulting LLC, there are more than 600 products already on the market targeted at some phase of the e-discovery process.
One roundup article can't possibly address all these products, but Socha and other experts, including Enterprise Strategy Group (ESG) analyst Brian Babineau, have established guidelines for categorizing and evaluating the companies and products that have already become well-known in this space.
The Electronics Discovery Reference Model
The Electronic Discovery Reference Model (EDRM) project was launched in May 2005 in an attempt to bring some order to the chaos around e-discovery products. Most experts agree that the model of the e-discovery process remains the most complete one and can come in handy when it comes to identifying and evaluating products. The model has six main phases: records management, identification, preservation/collection, processing/review/analysis, production and preservation.
As in the data storage industry, there are few tools that do only one categorized action. Most tools fit into at least two categories, and generally, tools fit the identification and preservation/collection categories or the review and production categories, according to Babineau.
Identification, preservation and collection tools
Most of the products storage professionals will already be familiar with fall into this segment of the market, including data classification tools, archiving products and enterprise search interfaces. Identification tools find data in the general storage environment for e-discovery, collection tools pull that data together and preservation tools keep it in a repository, often with special features, such as content-addressed storage (CAS) algorithms in place to keep data from being lost, altered, deleted or corrupted.
Below is a sampling of some of the products in these categories.
Identification

Preservation -- Email archiving systems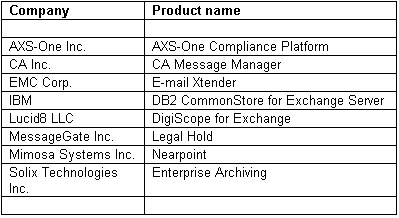 Preservation -- General archiving systems
Collection
Review and production tools
Review and production tools are fairly self-explanatory. These are the products, generally software, that further cull the preserved store of data to determine relevance to the case, and often offer assistance for producing that data in court-mandated formats, whether as a hard copy or .tif file.
The best known review and production tools among legal professionals are not likely to be familiar to storage administrators, or managed by them. According to Babineau, most firms that are heavily invested in day-to-day e-discovery management engage with legal service providers (LSP), some of whom also provide identification, preservation and collection services, as well. Some of the best known LSPs and their products are listed below.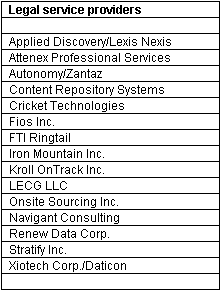 While LSPs are popular, sticker shock is common among newcomers to their services. Hosted review processes can cost as much as $2,000 per gigabyte of data, and "every month that data's there, there's a hosting fee, and cases in civil courts can be very long," Babineau said. Thus, even if an LSP is to be used for the final review and production process, it can behoove users to reduce the amount of data they send over in the first place for processing.
If you decide to go it alone, or engage a legal pro who is not an LSP, there are a few review and production products you should be familiar with:
Review/production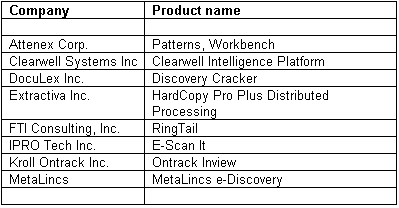 Dig Deeper on Data storage compliance and regulations