Purchasing Intentions 2004 Disk
2004 PURCHASING INTENTIONS SURVEY RESULTS
DISK STORAGE
How much storage do you expect your company or business unit to purchase in 2004 (both internal server storage and external storage)?
22.50% <1TB
42.90% 1-10TB
24.50% 11 - 50TB
6.70% 51 - 100TB
3.40% 100TB
What percentage of your 2004 disk subsystem purchases have been or will be in each of the following categories?
23.96% High-end (Symmetrix, Lightning, Shark or equivalents)
37.79% Mid-range (FC or SCSI disk in Clariion, Thunder, FastT or equivalent)
32.86% Low-end (ATA or Serial ATA arrays, or SCSI JBOD)
5.4% Other
What will be your primary expenditure for disk storage in 2004?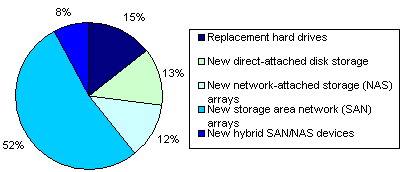 Which best describes your plans for file storage in 2004?
36% Continued use of conventional file server direct-attached storage
27.90% Increased use of multiple network-attached storage devices
32.60% Increased consolidation of network-attached storage
21.30% Increased use of dedicated NAS gateways to store files on the SAN
29% Increased use of virtualization servers to store files in a common storage pool
8.20% None
Who is your primary vendor for disk subsystems in 2004? Who is your primary vendor for disk subsystems in 2005?