Evaluate
Weigh the pros and cons of technologies, products and projects you are considering.
Keep tabs on the following data storage startup vendors in 2017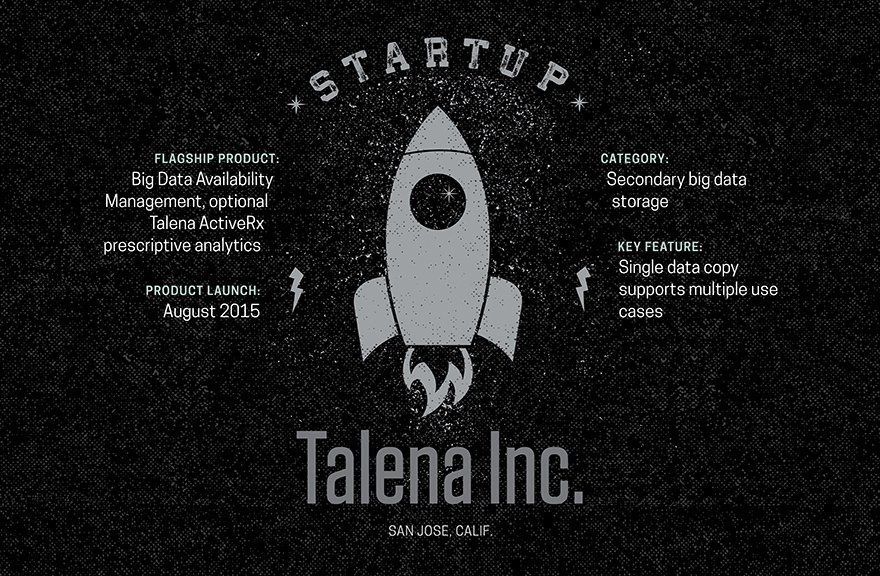 Talena came to market with a big idea for big data. The vendor's software-defined big data analytics architecture uses a single copy of data to support multiple use cases, encompassing archival storage, development and testing, and disaster recovery.
The Talena Big Data Availability Management data-aware platform provides dedicated software-defined secondary storage for Hadoop, NoSQL databases and enterprise data warehouses. The product is available as a consumption-based annual subscription based on the capacity under management.
Customers may choose to run Talena on commodity boxes, inside VMs or in a public cloud object store with Amazon S3, Amazon Elastic Block Store and Amazon Glacier.
Another software component, Talena ActiveRx, forecasts how rapidly data is growing to aid capacity planning. The predictive intelligence performs data analytics on passive backups in Amazon. Talena ActiveRx is available as a separate software license.
The Talena Big Data Availability Management agentless software deeply scours each storage node in a big data cluster. It uses a distributed file system to pool direct-attached and networked storage. Distributed block-level data deduplication and multiple point-in-time snapshots are supported to optimize storage capacity and reduce overhead. Erasure coding is applied as a safeguard against multiple node failures.
Talena FastFind is a distributed metadata catalog that supports full recovery of individual files or databases. Application-specific data movers provide a mechanism to pull data and restore storage to and from big data repositories, including Hadoop Distributed File System, Cassandra and other NoSQL databases.
Talena's policy engine allows workflows to be flexibly configured for each use case, including frequency of execution, workflow priority and specific attributes for archiving criteria, backup and long-term retention.
CEO Nitin Donde founded Talena following a brief stint at EMC after it acquired e-discovery software startup Kazeon in 2009. Donde also previously served as vice president of engineering for data storage startups Intransa and Aster Data Systems.
View All Photo Stories