Evaluate
Weigh the pros and cons of technologies, products and projects you are considering.
Keep tabs on the following data storage startup vendors in 2017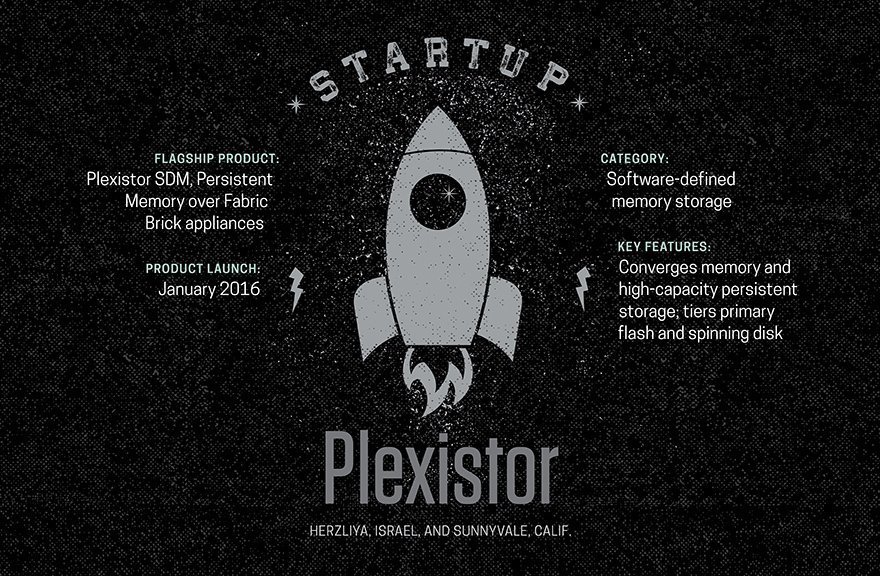 Plexistor wants to capitalize on falling RAM prices by converting persistent memory to scalable storage.
Plexistor SDM is a software-defined memory product that delivers high-capacity nonvolatile storage at near-memory speed. The target is big data analytics and in-memory database processing.
SDM bypasses the operating system to talk directly to a physical memory device. Dynamic RAM and persistent storage are presented in a single namespace.
The SDM layer uses nonvolatile dual-inline memory module (NVDIMM) memory cards, SATA or NVMe flash for scalable storage, backed by a tier of spinning disk to cold or warm data. The Plexistor file system moves data between primary and secondary storage. Persistent memory storage comes from flash-based NVDIMMs or commercially available SSDs.
Requested files appear as local storage to the user, although Plexistor SDM is actually transferring data in at high speeds across a network.
High data throughput, large memory and ultralow latency are defining characteristics of the product. SDM allocates resources to an application based on its consumption requirements. Traditional enterprise applications see Plexistor SDM as a file system, but it appears as byte-addressable storage to in-memory applications.
When first launched, Plexistor SDM was available only as a server-side installation on commodity hardware. The Israel startup has since introduced Persistent Memory over Fabric Brick (PMoF Brick), which allows disaggregated persistent memory to be shared across clusters of servers.
A PMoF Brick scales to 50 TB with bundled Plexistor SDM software on 2U servers and NVDIMM devices from Micron Technology. It uses DRAM as a primary tier, with a secondary tier of flash storage. Qualified PMoF hardware includes the Hewlett Packard Enterprise Persistent Memory ProLiant DL380 Gen9 line and Supermicro X10 servers.
Plexistor uses memory semantics to allocate memory ranges, mirroring data from servers to subsystem memory via Remote Direct Memory Access and 100 GbE switching technology.
View All Photo Stories