Evaluate
Weigh the pros and cons of technologies, products and projects you are considering.
Keep tabs on the following data storage startup vendors in 2017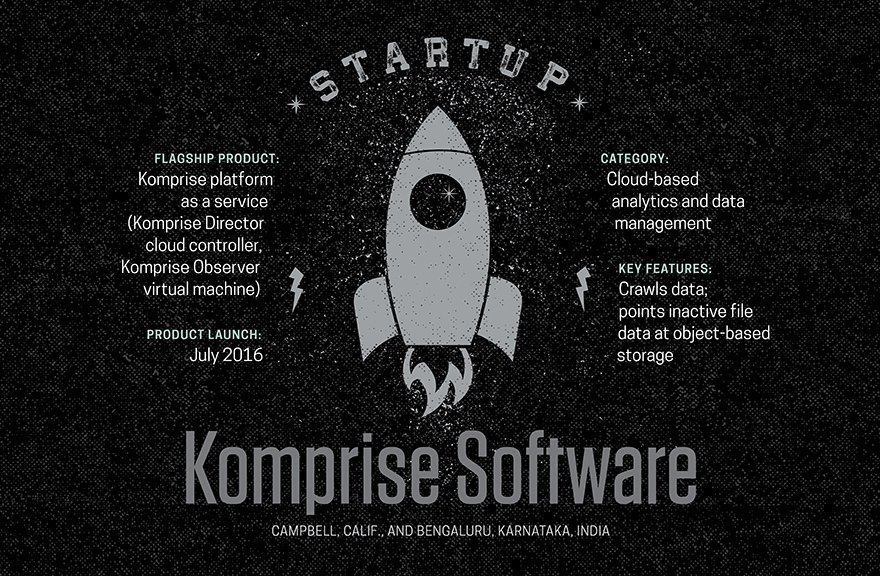 If you're launching a data storage startup, getting the attention of established storage hardware vendors can be a challenge. Komprise seems to have found a niche during its first year of commercial production, forging integration deals with major cloud and object vendors.
Komprise provides analytics related to data management, allowing you to extend primary file storage with a NAS interface to secondary storage. The platform analyzes file storage across siloes to identify inactive data and recommend a course of action. The analytics projects costs savings or performance improvements of moving files to an object store, either on premises or in the public cloud.
Komprise's estimated cost is $750 per terabyte, inclusive of primary storage, backup software and disaster recovery capacity.
Komprise data management moves files to object storage in Amazon Web Services, Cloudian, EMC, Google Cloud Platform, Microsoft Azure, NetApp, Quantum Corp., Scality and Spectra Logic tape.
The Komprise data analytics platform as a service sits outside the active data path to observe file data and metadata. It discovers seldom-used file storage, the type of data, access patterns and users. There are two components: Komprise Observer and Komprise Director.
The Komprise Observer virtual machine runs locally in a hypervisor to gather information on storage. Komprise Director is a cloud-based controller that oversees data collection and suggests optimal data placement.
Installing Komprise does not require application changes or agents. The hosted data management appears to users as a primary NFS or SMB client.
This is the third startup for Komprise's co-founders. CEO Kumar K. Goswami, President and COO Krishna Subramanian and CTO Michael Peercy previously teamed on scale-out desktop virtualization infrastructure vendor Kaviza, now part of Citrix Systems, and software-as-a-service-based application lifecycle management provider Kovair.
View All Photo Stories