Evaluate
Weigh the pros and cons of technologies, products and projects you are considering.
Keep tabs on the following data storage startup vendors in 2017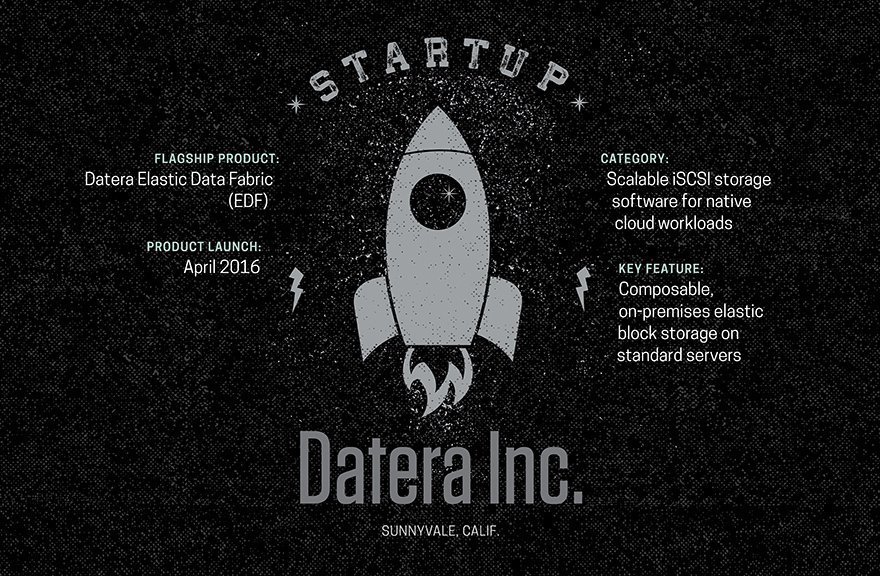 Providing elastic block storage on premises? Newcomer Datera Inc. hopes that concept isn't a stretch.
Fueled by $40 million in funding, the Mountain View, Calif., data storage startup in 2016 took the wraps off its Datera Elastic Data Fabric (EDF) iSCSI block software. The product attempts to provide locally managed block storage that resembles the Amazon Elastic Block Store cloud.
The vendor wants to tap into the growing demand for self-service provisioning of storage tuned for cloud and containers. The challenge will be establishing itself in a market with no shortage of competing elastic block storage products.
Datera's selling point is a hyperscale architectural design, including a symmetric control plane for uniform latency and performance across clustered nodes. Elastic block storage is used to quickly deploy cloud-native applications.
EDF is billed as composable infrastructure that treats underlying storage as a service. Datera fabric knits together commodity hardware nodes, which are available from resellers. The nodes capture writes at memory speed before eventually flushing the data to flash or SAS disk.
Datera nodes include 50 TB models that bundle NVMe flash and Supermicro 2U servers. All-flash Datera nodes scale to 100 TB with Dell PowerEdge servers, enabling customers to mix and match flash and hybrid storage.
The key to Datera is its EDF software for intelligent, policy-based data placement. Application profiles help determine access patterns to ensure data is mapped to the appropriate elastic block storage media.
Role-based multi-tenancy allows customers to run discrete workloads in isolation on the same cluster. Datera EDF supports at-rest encryption, data compression, clones, instant volume resizing, multifactor replication, thin provisioning and zero-overhead snapshots.
Development teams can design customizable application templates or use built-in templates for Cassandra, Hadoop and MySQL databases. They also may choose Apache Mesos, Docker Swarm and Google Kubernetes to orchestrate large deployments of containers.
View All Photo Stories