Share this item with your network: BACKGROUND IMAGE: iSTOCK/GETTY IMAGES
Managing and protecting all enterprise data

iSTOCK/GETTY IMAGES
SANsymphony-V and my virtual summer vacation
A storage hypervisor comes to the rescue, as the elements wreak havoc in my test lab.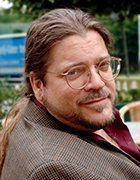 By
DataCore Software's SANsymphony-V storage hypervisor comes to Jon Toigo's rescue as the summer elements wreak havoc in his Florida-based on-premises test lab.
In the Tampa Bay area of Florida, where I live and mostly work, we haven't been in the direct path of a significant hurricane for nearly 90 years. We've picked up a lot of collateral damage from legendary storms that have either churned their way up the Gulf of Mexico or made landfall on the East Coast over the last few decades, but we've missed the direct hit. That record holds true as I write this column.
However, that fact shouldn't be viewed as a boast. A few months ago, a tropical storm system (precursor to a hurricane) came ashore within 70 miles of my office and home bringing high winds and torrential rains that showed me it was time for a new roof. Water found its way into eight different parts of my house, including my on-premises storage lab where a rack of Dell servers (not virtualized) and a variety of storage systems from different vendors (all virtualized using DataCore Software Corp.'s SANsymphony-V) were under the spray. Electricity and water don't mix; damage was done.
The good news was that most of my data was protected via a combination of tape-based and disk-based replication. Key to my data's survival was storage virtualization technology, which lets me consolidate all my disk-based protection policies in one place -- in a "storage hypervisor" that is, though the use of that term is likely to cause acid reflux for the VMware fan boys reading this month's column.
But I believe "storage hypervisor" is a correct way of describing the functionality of SANsymphony-V (SS-V). Using the software, which I run on a pair of clustered Windows 2008 R2 servers, I collectivize my storage capacity for ease of allocation in the form of virtual volumes -- a process that ignores the brand names on the rigs themselves. It doesn't matter one whit whether my box of Seagate hard disks says EMC, HDS, IBM, NetApp, Promise Technologies, Sun, X-IO or whatever on its bezel plate. Disk is disk.
What might matter to some folks are the "value-add" services that vendors insist on joining at the hip to commodity gear so they can charge more for it. The bulk of these "services" -- software functions running on the most commodity storage hardware controller of all, an x86 PC motherboard -- can, as VMware likes to say, be abstracted away from their commodity host hardware (read "virtualized"). That's exactly what SS-V does. It's a software-based controller that runs on a server and competes well with appliance-based approaches such as IBM SAN Volume Controller or Hitachi Data Systems' latest variation on its Universal Storage Platform. Those vendors just include the server with the software for those who like to sniff the tin.
Anyway, I call SANsymphony-V a storage hypervisor because it's just that: A software abstraction layer that allows me to pool and allocate/deallocate hardware resources on demand while dynamically associating the right set of value-add services with a virtual volume created to support workload data. If the data from one application is mission-critical, I can allocate continuous data protection (CDP), mirroring and even remote replication services to it by clicking on checkboxes as I create the volume and entering a few specifics (how frequently I want to make a CDP snapshot or where I want the mirrored or replicated data to go). I don't have to worry whether the gear beneath the volume has EMC or IBM or HDS on its faceplate, which is a huge improvement over the all-too-common mirroring lock-in that requires the same vendor's brand name on every participant in the replication scheme. Most importantly, all my data protection policies (except for my tape processes) can be managed from one place and tested on an ad-hoc basis.
The big problem from my lab's water damage and the subsequent havoc created by a waterspout a few days later that took out our local power substation (a story for another time), was the loss of physical gear. I was running on my redundant cluster components and wanted to get back to my fully redundant and highly available storage infrastructure. But I couldn't afford to replace all the damaged gear in the current economy.
Instead, I decided to put the hypervisor theory to the acid test. From StarTech, I acquired some generic enclosures with eSATA connections and built a server with a bunch of external eSATA ports and SATA III internal drive bays. The bays and enclosures were then fitted with 4 TB SATA drives from Seagate. In the end, for a fraction of the price of a name-brand array, I had built a very sizable storage rig, which I then virtualized and added to my DataCore pools. SS-V uses DRAM and flash in the server to front end all the disk devices, so I receive very respectable performance even out of high-capacity, slow-speed drives.
It took a lot longer and was much more expensive to replace the roof, a task just completed. So, how was your summer?
About the author:
Jon William Toigo is a 30-year IT veteran, CEO and managing principal of Toigo Partners International, and chairman of the Data Management Institute.
Dig Deeper on SAN technology and arrays