News
Stay informed about the latest enterprise technology news and product updates.
Users: Stop the squabbling and give me something I can use
SearchStorage.com users want to be able to integrate both SAN and NAS technology into the infrastructure of their organizations but are frustrated by the lack of vendor cooperation, which could help them get there.
Users say the convergence of storage networks is the future of the data center, but they don't see how this future will be realized if vendors won't quit all their useless squabbling over storage-management standards and technologies.
Of the 353 storage professionals who responded to an exclusive SearchStorage.com survey on industry issues, nearly 70% agreed that a combination of storage area network (SAN) and network-attached storage (NAS) technology will define the architecture of the future.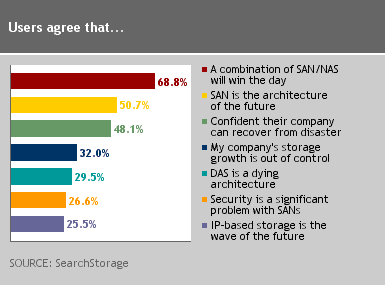 However, they say that if the technology is there without the tools to manage it, it's useless. And there won't be any tools without vendor cooperation.
Bruce Breidall, a respondent who didn't want his company name used, said that vendors are lying when they say they're creating "strategic partnerships."
"Just for [competition's] sake alone, vendors are making it very difficult for components to be managed equally," he said.
One of the biggest gripes survey respondents have is with the lack of interoperability, caused in part by the lack of API-sharing. APIs (application programming interfaces) allow vendors the ability to manage other vendors' systems. With the pervasiveness of best-of-breed technology in the data center, it is essential for all of the hardware and software to be able to "talk" for effective storage management, experts say.
API-swapping agreements have been reached by several vendors, including Hitachi Data Systems, Hewlett-Packard Co., EMC and IBM Corp.
Tim Hicks, senior storage engineer for Seattle-based Washington Mutual Inc., is managing more than 25 SANs. He says that managing a multi-vendor SAN shop is problematic and, without a doubt, his biggest technology woe. He points to IBM and the fact that it doesn't share proprietary APIs.
Despite concerns about vendors' inability to come together, SearchStorage.com users say they believe strongly that SANs will be the larger part of that future technology.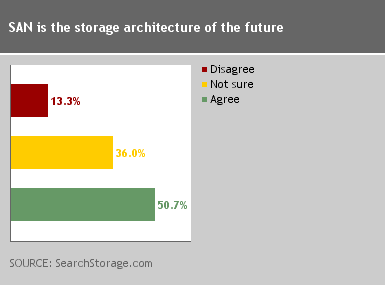 "I think SANs will always outweigh NAS, until the pipes get so big it won't matter anymore," Breidall said. "Our infrastructure consists mainly of SAN. NAS is making its way into our picture, but only for specific applications where it makes sense."
Also employing SAN technology today, with visions of growing the SAN farm, is Craig Gleason, systems administrator for Beaverton, Ore.-based Tektronix. Gleason is in charge of an environment that uses both SAN and DAS technology.
If money were no object, here are the technologies SearchStorage.com users said they'd plunk down money for -- today.
"iSCSI. If, and only if, vendors deploy it as a low-cost solution." -- Karl Lewis, CAEN Service and Support group

"Virtualization. I think this would help us achieve higher performance." -- Craig Gleason, Tektronix

"iFCP. We are currently researching this technology." -- Tim Hicks, Washington Mutual Inc.
"SRDF or some form of remote data replication. There are so many benefits in being able to do that, but it is also so expensive." -- Bruce Breidall, SearchStorage.com user
"NAS is good for a system that doesn't require a lot of I/O," Gleason said. "SAN and NAS will merge, and management will be easier when it's all on one network."
Analysts also agree that the convergence of SAN and NAS will happen, but it will be more of a management-level merger.
"There is going to be an artificial distinction between block and file," said Mike Karp, senior analyst at Westborough, Mass.-based Enterprise Management Associates. "What I think you'll see happening is all file services will be virtualized. Administration NAS and SAN will cease to be important and will be all be handled by management software."
Users are also looking for the ease of manageability that NAS offers, and they have faith in the NAS "head" as a means to an end in the short term.
"I believe companies will still deploy NAS in workgroup settings, where large amounts of data are used by small pools of workers," said Karl Lewis, a computer systems specialist at the University of Michigan in Ann Arbor. "SAN vendors will continue to develop 'NAS heads' to deliver data via IP from FibreChannel SANs."