News
Stay informed about the latest enterprise technology news and product updates.
Users on virtualization: Hold on, I'm not ready yet
While virtualization deployments are on the back burner for many SearchStorage.com users, they have confidence that viable solutions are yet to come.
Storage pros may not be considered an optimistic bunch, but when it comes to the future of virtualization technology, they see a glass that's half-full.
Of the 353 storage professionals who responded to an exclusive SearchStorage.com survey, 63% said they have no plans whatsoever to deploy virtualization solutions. However, 46% of those surveyed believe that it's a technology that will eventually make its way into mainstream storage infrastructure.
Respondents said that while they may not be ready to deploy this technology now, they're sure it will be a viable solution.
Bottom line: The tools just don't fit the needs -- yet.
"If I thought I could get something that would give me a single view on my storage across all my platforms and storage solutions (DAS and NAS), I would probably work very hard to get it in-house," said Kenneth Trant, director of security for OIC Inc., Fremont, Calif. "But I just don't believe the solutions available today are worth the effort."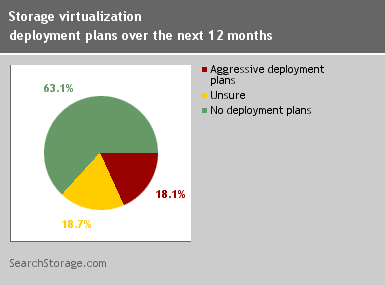 The promise of virtualization is that it will improve storage manageability by separating the presentation of storage to the server operating system from the actual physical devices. But a lack of consistent industry-wide terminology and the absence of proven solutions from big-name vendors has kept many users from pursuing the technology, according to Randy Kerns, a partner with the Evaluator Group of Greenwood Village, Colo.
All but one of the major vendors have announced their virtualization intentions, Kerns said, adding that the one that hasn't, EMC, has referenced potential virtualization offerings.
While many vendors try to sell virtualization as a way to simplify the management of large heterogeneous storage networking environments, new products in this area tend to generate more questions than answers -- and it usually takes about a year for users to begin having confidence in them, Kerns said.
Some questions Trant said he would ask a virtualization vendor include: Who benefits from the technology? Will new hardware, file systems or formats need to be installed to use the tool? And where does the virtualization occur -- at the block, file or system level?
"While there are some tools out there that claim to have the solution, I don't see any proof yet that they're real," Trant said.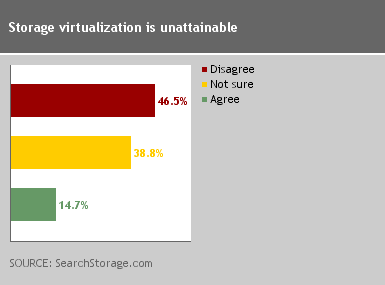 Richard Browne, a strategic architect for Shell Oil, is also awaiting tools that live up to their promises. He said that virtualization should mirror and stripe across technologies to pool older legacy storage devices into a centralized managed environment.
"I do not believe there is a robust technology to do this yet," Browne said.
In other words, storage pros just want products that work.
"[Users are] skeptical because everybody is risk-averse. You're putting your job on the line, and confidence comes with putting big names behind it," said the Evaluator Group's Kerns. "That caution is well founded. I would probably be hesitant as well. Are small [virtualization] companies going to be funded by VCs? Are they going to be around?"
Still, Trant is one of many survey respondents who is confident that vendors will have something to offer soon.
"The forecasted growth in storage is huge, and the technologies are vastly different," Trant said. "The company that markets the 'first' virtualization product to capture the market will have the best leg up on selling more storage."
Trant, who works for a relatively small company, said he believes that "the solution" will not necessarily come from an IBM, HP or EMC, but rather from a start-up that isn't invested in pushing a particular model. Conversely, Browne, an enterprise data center user, said he thinks the solution will result from the cooperation of big-name vendors.
"EMC is looking to get there, but they need multi-vendor cooperation, which is hard to obtain in a competitive environment," Browne said. "StorageTek has the finest example today with their ContinuStor Director but, sadly, it has too many limitations for our shop. In essence, it does not adequately scale."
"[Virtualization] will happen," added Kerns. Just like virtual memory, storage virtualization is inevitable, he noted. "Thirty years ago, [virtual memory] was a big deal. Today, every PC you buy has it."