News
Stay informed about the latest enterprise technology news and product updates.
Finally, users loosen their belts a bit, invest in better technology
Businesses have increased their storage spending and are looking to technologies such as Fibre Channel, backup and recovery and storage management software. They're not likely to spend it on additional staffing, however.
His organization's budget was cut $3.5 million, but Martin Bourque says his storage spending will actually go up next year.
"There isn't a lot to go around, but we are spending our money on storage, replacements for aging servers, and infrastructure wiring on the hardware side," said Bourque, a Unix administrator for Montana State University. The university serves about 14,000 students and 3,000 staff members, and it manages more than a terabyte of storage data.
Regardless of the increase he anticipates in storage spending, money is still tight. And Bourque, like many of his colleagues, is thinking hard about where he spends those extra funds.
"On the storage side, I am trying to get away from buying traditional monster servers with lots of direct-attached storage and go more with lean, very fast servers attached to a SAN with clustering," Bourque said. "The SAN storage will allow me to add space faster, cheaper, and give me more scalability."
His approach to storage spending jibes with the results of an exclusive SearchStorage.com survey of 353 storage professionals. Contrary to a number of other industry reports that say spending is down, nearly 70% of respondents to our survey said that they plan to increase spending on storage in the next 12 months.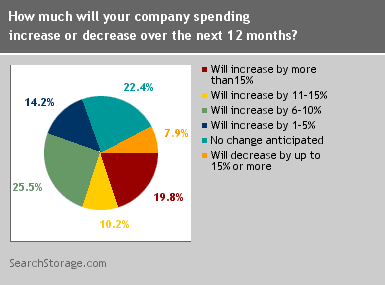 Less than 8% said their budgets would be decreasing. And more than 22% said there would be no change to their budgets.
The survey, conducted this summer, measured respondents' attitudes toward a variety of storage issues. While the results were not earth-shattering, they do mirror what we've heard from users during the past year. Budgets are tight. Storage management is a problem. Backup and recovery is a major concern. Technologies are confusing. And while virtualization may be a cool concept, users still aren't biting.
Hot ticket items: FC SAN, management software
Where's that money going? Respondents said they will put storage dollars toward advanced technologies that will help users on a number of fronts where they see major problems, such as storage management. Nearly 50% of people who responded to the survey said they have aggressive plans to deploy Fibre Channel SANs.
But the findings also suggest that not every manager is ready to go all the way. More than 68% said that a combination of SAN and NAS technology will "win the day," but a plurality, 44.5%, do not have any NAS deployment plans. It seems that despite the fact that a SAN/NAS combo is the way to go, most users are bullish on SANs, but not on NAS.
Nearly 50% also said they would invest in storage management software next year. Other investment areas include high-availability servers, tape drives and automated tape libraries, as well as backup and recovery software.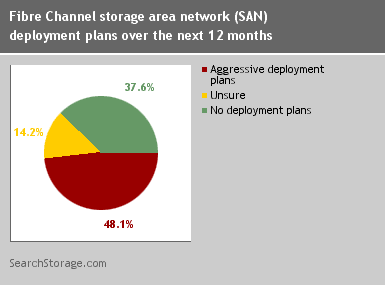 Arun Taneja, a senior analyst with Enterprise Storage Group in Milford, Mass., said he's not surprised that users say their budgets are increasing -- but he is surprised it has taken this long.
"Incoming data rates all during the last year and half have indicated that while buying is restricted, [the amount of data growth] is unchanged," he said. "Well, how long could that imbalance last? It lasted longer than it should have."
Taneja said that the majority of the IT community has been buying software tools that allowed them to hold off on investing in additional storage equipment.
"They've applied better operational principles," he said.
Little money for staffing
While companies clearly have a need to better manage storage, it's doubtful much money is going toward hiring.
Instead, more companies are relying on management tools. Nearly 50% of respondents said they plan to deploy storage consolidation or storage management products in the coming year. Many of these decisions stem from not only the runaway explosion of data but also from cutbacks in staffing. Simply put: no one's around to manage the stuff.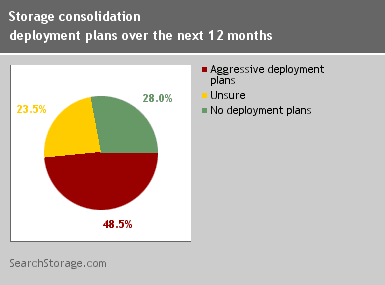 Dean Taylor, systems resources analyst for the Workers' Compensation Board of Alberta in Edmonton, said it is a struggle to manage the growth of storage within his environment without corresponding staffing increases -- and the complications snowball from there.
"In an ongoing environment of budget cutbacks, personnel increases remain very difficult to justify from a storage management perspective," Taylor said. "As the amount of data to manage continues to grow, the potential for storage inefficiencies to develop increases when staffing levels do not increase accordingly."
The problem, Taylor said, is exacerbated significantly with the introduction of new technologies, subsystems and platforms in an integrated storage environment, as each piece of hardware and segment of the storage environment requires its own set of specialized skills and management approaches for proper implementation and performance.
Backup and recovery a priority, too
In addition to technologies that have the potential to streamline operations, backup and recovery continues to be an ongoing issue and an area where users say they'll invest. Despite a recent report that suggested IT pros are forgoing disaster recovery plans, SearchStorage.com's survey indicates that storage professionals plan to greatly increase their spending on backup and recovery in 2003. While backup and recovery doesn't necessarily mean a disaster recovery plan, users are definitely thinking about backup.
In fact, 47.3% of users said they're investing in backup and recovery software, 46.2% said they're investing in high-availability servers and software, and 44.2% said their money was going toward tape drivers and automated tape libraries.
Dig Deeper on SAN technology and arrays