News
Stay informed about the latest enterprise technology news and product updates.
Blow those bells and whistles elsewhere, users want reliability
As budgets get tighter and storage gets more expensive, IT pros get tough with vendors.
Warning to storage vendors: Your product can have all the bells and whistles of an Amtrak train passing through a small suburban downtown, but it's your reputation for reliability that's going to determine whether you get the business.
And when you come a-honking, you better know what you're talking about.
Too much is at risk for the IT decision makers of the world to mess around with businesses that fail to produce, who bull their way through sales presentations and who, ultimately, don't have a product that's 100% guaranteed to meet a client's needs.
According to the findings of an exclusive SearchStorage.com survey of 353 storage professionals, there are very few buyers out there willing to make a buying decision without putting the vendor and the products through the ringer.
"We have felt that sting already of a vendor not following through," said Dennis Kondro, senior systems analyst at the Greenbay-based Wisconsin Public Service Corp. "Hopefully, we learned something from that experience."
Kondro's concern is felt by pretty much all users who responded to the survey. In fact, 93.8% of the respondents said that reliability is the most important factor in selecting a hardware vendor. The survey also indicated that those same decision makers have increased their budgets on average between 10% and 15%. Vendors: Take note. They're buying, but you better have something worthy to show them.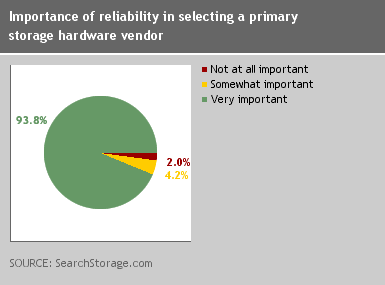 The survey, conducted this summer, measured user attitudes toward a variety of storage issues, including storage professionals' top priorities when buying storage software and hardware.
Respondents cited four others factors, which they described as being nearly equal to reliability in importance: hardware performance, interoperability, scalability and cost.
Martin Bourque, a Unix administrator at Montana State University, said that for him it's reliability, scalability, performance -- and in that order.
"The only explanation is 'duh!' It costs us thousands an hour to be down, and four nines is [the] goal for uptime," he said. "The faster I get storage available for users, the less time I'm down and the less it costs the university. If performance isn't there, I hear about it."
These findings aren't surprising to Doug Chandler, an analyst with Framingham, Mass.-based International Data Corp., who says that as a whole, storage buyers are conservative.
"I find that storage customers don't change vendors lightly," he said. "They don't even try new vendors. The situation has to be pretty serious to switch. They want to hook up with a supplier that is reliable, that's going to be around."
Chandler said that this tendency makes it extremely difficult for new companies to break into the enterprise storage arena.
"New companies really have to prove their case," he said.
Still, while users rated cost as less important than reliability, their biggest problem in selecting a vendor they can trust is being able to cost-justify the purchase.
Problems justifying the costs associated with new hardware and software were cited by 41.6% of the respondents. Twenty-eight percent said the biggest buying challenge is the rapidly changing nature of the technologies, while 27.2% said that insufficient independent data about vendors creates the most problems.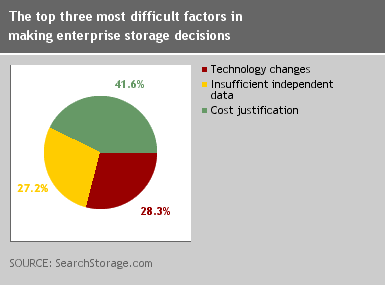 "Cost justification is typically a concern of upper management that takes on added emphasis whenever there is a period of budgetary restraint," said Dean Taylor, systems resources analyst for the Workers' Compensation Board of Alberta in Edmonton. "This one is rather tricky to address, as costs for storage per se would need to be compared against the costs of not storing data, expressed as either lost efficiency or lost business opportunity."
Sometimes there are too many cooks in the kitchen.
"We have many different committees looking at what is being purchased," Kondro said. "One prime example has been trying to get [the] TrelliSoft SRM tool. We have spent five months [trying] to get this approved. It included having webcast demonstrations of vendor product, Power Point presentations, multiple meetings and spreadsheets on savings."
The IDC's Chandler says that the IT purchasing process has become much more exhaustive because of the current economic climate.
The general trend with storage professionals seems to be to stretch the resources as far as they can go, Chandler said. There's also much more price comparison.
Dig Deeper on Data storage strategy