sumetho - Fotolia
News
Stay informed about the latest enterprise technology news and product updates.
Acronis Storage signals vendor's software-defined push
Acronis, known for its backup and recovery offerings, has unveiled a software-defined storage product to the public for the first time, including blockchain integration.
Data protection vendor Acronis is diving into the software-defined storage market with a new stand-alone product that features blockchain technology and provides redundancy through CloudRAID.
Acronis Storage launched last week unites block, file and object workloads using commodity hardware. The software will be sold by service providers and OEMs.
Marcelo Andrieu, product marketing director at Acronis, said Acronis Storage was developed to help manage petabytes or more of data.
Acronis describes the product as the first integration of blockchain into software-defined storage (SDS) and data protection. Acronis Notary with blockchain generates a time-stamped fingerprint of protected data and stores it in Ethereum, a public blockchain-based distributed computing platform. By comparing two fingerprints of the same data, Acronis Storage can verify authenticity and integrity of stored data.
Blockchain is a technology behind Bitcoin cryptocurrency. It is a distributed ledger that encrypts data with the goal of storing permanent tamper-proof records.
Acronis Notary use cases include intellectual property assets, property registry documents, medical files, chain-of-evidence for court documents, police or security camera footage and long-term archiving subject to audit.
Acronis CloudRAID uses erasure coding technology to reconstruct protected data from data chunks and parity information stored elsewhere in the storage cluster.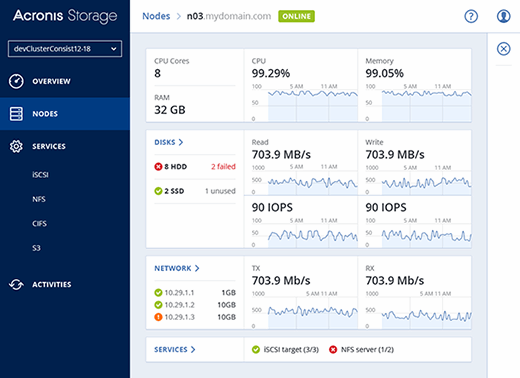 Use cases for CloudRAID include object-based cloud storage, distributed storage applications, archiving and hot storage, and replacement of traditional RAID systems with faster data recovery.
While Acronis Storage moves the vendor outside of its data protection roots, it also demonstrates how software-defined storage is in flux, said analyst Jon Toigo, founder of the Data Management Institute.
"Originally conceived as a way to move value-add software from array controllers to a server-side hypervisor-controlled software stack, Acronis is showing that SDS has a potentially much broader role to play -- in data protection with cloud RAID functionality, and even in the enablement of data management and workflow management functions like blockchain," Toigo wrote in an email.
"Acronis needed to innovate, given that most SDS stacks were encroaching on the third-party backup software vendor space. This latest offering gives Acronis at least a temporary lead over many competitors."
Acronis Storage has been running for more than five years at the vendor's data centers. It has also been used as a back end for Acronis Cloud products including Acronis Backup Cloud and Acronis Backup 12.
"This is a battle-tested product," Andrieu said.
Acronis Storage, which is based on the Acronis Hybrid Cloud Architecture, is scalable from gigabytes to petabytes. It offers fast performance through solid-state drive caching, auto load balancing, auto data distribution and parallel replication. Acronis Storage includes an operating system, storage services and a web-based management console.
"It contains everything that is needed," Andrieu said. "You install it, you are good to go."
Dig Deeper on Cloud storage management and standards