svedoliver - Fotolia
News
Stay informed about the latest enterprise technology news and product updates.
New high-density IBM DeepFlash 150 targets big data
New IBM flash storage product is a high-density JBOF system designed to work with Spectrum Scale software-defined storage to target big data.
IBM's newest flash system is dense, dumb and cheap -- although, the right software can turn it into a storage array for unstructured data.
The IBM DeepFlash 150 is just a bunch of flash (JBOF) in a 3U chassis that customers can use as a standalone or with IBM's Spectrum Scale storage software. DeepFlash 150 has a starting capacity of 128 TB and a maximum capacity of 512 TB. Spectrum Scale is based on IBM's General Parallel File System, and can run on separate server hardware to give DeepFlash 150 a file system and storage management.
"Without Spectrum Scale, it's just a dumb box of densely packaged flash that's optimized for cost and density," said Alex Chen, director of storage systems and offering executive for file and object storage at IBM. "When you combine [DeepFlash 150] with the software, it becomes an array in terms of all the storage functions, [such as] snapshots, replication [and] compression. Even encryption is provided at the Spectrum Scale software layer."
Early enterprise adopters often used block-based flash storage to accelerate I/O-intensive workloads, such as databases and critical business applications. With DeepFlash 150, IBM hopes to extend the use of solid-state storage to file and object workloads with "a new class of flash" that has a lower acquisition cost and higher density, according to Chen. Other vendors have also started down this path with flash for unstructured data. Pure Storage's FlashBlade and EMC's Project Nitro -- an all-flash version of Isilon storage due to start beta stage soon -- are examples of flash-based systems designed to store petabytes of unstructured data.
"This particular class of flash is meant to be deployed at petabyte scale [and] provide incredible bandwidth in terms of read and write," Chen said. "It's about gigabytes per second or terabytes per second of throughput."
DeepFlash uses custom flash cards
This particular class of flash is meant to be deployed at petabyte scale [and] provide incredible bandwidth in terms of read and write. It's about gigabytes per second or terabytes per second of throughput.

Alex Chendirector of storage systems and offering executive of file and object storage at IBM
Instead of using standard SAS or SATA solid-state drives, DeepFlash 150 is equipped with 64 multilevel cell (MLC) flash cards. The cards come from Western Digital's SanDisk division through an extension of a partnership with IBM. Chen said IBM expects to move to even lower cost triple-level cell flash in the future.
IBM's FlashSystem product line -- based on technology that IBM acquired in 2012 from Texas Memory Systems -- uses different IBM custom-designed flash modules than DeepFlash 150. FlashSystem's FlashCore technology is designed to provide microsecond latency and high endurance for block storage workloads at the "core of the data center," Chen said.
Chen acknowledged the MLC flash in DeepFlash 150 has lower write endurance than IBM's FlashCore technology. But he said users generally don't need to overwrite pictures, videos or medical images. "You write it once and you read it many times," Chen said. "What [customers] really need to know is the overall system-level endurance limits instead of individual underlying technology. We mask a lot of that at a higher level when we combine it with our software."
Analytics use case
One key use case Chen said he envisions for DeepFlash 150 is in-memory analytics, such as Apache Spark and SAP HANA, where the system needs to quickly load and read a massive amount of data. The system then needs to dump the data out of memory to storage quickly as well, with the storage handling protection and replication, he said.
Chen said other potential benefits of using high-performance, high-density IBM flash storage over hard disk drives with file and object workloads include simpler management, lower power consumption, and reduced rack and floor space, given the bandwidth the DeepFlash 150-based system can provide.
The list price for DeepFlash 150 is about $550,000 for 128 TB and $2 million for 512 TB, or roughly $4.30 per GB, according to Chen. But Chen said IBM expects the discounted street price to be less than $1 per GB before data reduction is factored in. Licensing for Spectrum Scale is socket-based, but IBM said it would introduce additional capacity-based license options this quarter.
Eric Burgener, a storage research director at IDC, said, although DeepFlash is "certainly not on par with the kind of latency you would get" from IBM's FlashSystem, "it's clearly much better and more predictable than you get out of hard disk drives."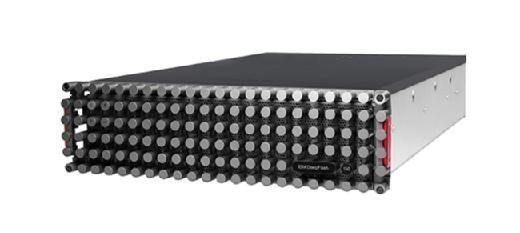 Chen said he expects most clients to use DeepFlash 150 with Spectrum Scale. He said customers who buy the IBM flash device as a standalone JBOF might use it as a web cache or for scratch space. He said the product could support up to eight servers.
Chen said there are more than 4,000 Spectrum Scale customers, and they could replace their old disk-based storage with DeepFlash 150 to get a performance boost. New customers would buy the DeepFlash 150 JBOF, bring their own server and software, and IBM's service team would put it together at the client site, he said.
Spectrum Scale can enable customers to manage the DeepFlash 150 as a flash tier. Chen said customers could keep hot data on flash and tier less frequently accessed data to HDDs, tape or cloud storage, such as IBM's SoftLayer or Amazon.
IBM plans to eventually ship an integrated version with the software preinstalled and preconfigured, according to Chen. He said IBM has a target street price of $1.50 per GB uncompressed for the integrated JBOF, server, software and rack.
"We have a software-defined storage solution that scales out to manage even petabytes of data," David Hill, principal at Mesabi Group LLC, wrote in an email. "The question that arises, however, is that many potential customers are not in the PB range, so, realistically, what is the minimum size that preserves the necessary economic benefits?"
Scott Sinclair, a senior analyst at Enterprise Strategy Group Inc., in Milford, Mass., said DeepFlash 150 is part of a larger industry trend to drive down the cost of flash, increase density and get closer to making the all-flash data center a reality.
"When you think about flash storage, you think about transactional databases: 'I need low-latency transactions, and I'm willing to pay more money for them,'" Sinclair said. "If you think about DeepFlash and some of the higher-density arrays, you start thinking about extending to other workloads -- to content, analytics, cloud, application development, digital media, all the things that originally required just simply too much capacity for flash storage."