.shock - Fotolia
News
Stay informed about the latest enterprise technology news and product updates.
New Brocade director supports Gen 6 Fibre Channel
Brocade ships new 32 Gbps Gen 6 Fibre Channel directors and extension blades targeting faster flash storage systems, and it adds new IO and VM Insight monitoring capabilities.
Brocade Communications Systems Inc. launched new 32 Gbps Gen 6 Fibre Channel director switches and extension blades, targeting enterprises craving more bandwidth for faster flash storage systems.
The new Brocade X6 Director family features eight-slot and four-slot models. The larger 14U chassis -- called X6-8 Director -- has eight vertical blade slots and supports up to 384 ports, all at the 32 Gbps line rate. The 8U X6-4 Director, aimed at midsize enterprises, has four horizontal blade slots and up to 192 ports of 32 Gbps Fibre Channel (FC).
"Flash is the one technology that will drive bandwidth and speed utilization more than anything else out there," said Scott Shimomura, senior director of product marketing for storage networking at Brocade.
Brocade and its FC switch rival, Cisco, are racing to get 32 Gbps gear into the market, although storage arrays do not yet support 32 Gbps connectivity. Cisco earlier this year launched a 32 Gbps-ready MDS 9718 FC director. Cisco said customers would be able to upgrade with software and 32 Gbps line cards once they become available.
The X6 Brocade director is the vendor's second Gen 6 product. On March 1, Brocade shipped its G620 fixed-port switch, providing 48 ports of 32 Gbps and four Q-Flex ports of 128 Gbps connectivity. Each Q-Flex port has a quad small form-factor pluggable (QSFP) transceiver to condense four 32 Gbps connections.
"You'll continue to see us releasing additional Gen 6 products over the next several quarters," Shimomura said.
Gen 6 FC storage networking technology supports up to 128 Gbps through four lanes of 32 Gbps, but the X6 devices currently support 128 Gbps only with inter-chassis link (ICLs) between Brocade directors.
The new Brocade directors will support 128 Gbps connectivity in a future port blade, Shimomura said.
The X6-8 Director has 32 additional UltraScale ICL ports, each with a QSFP optical transceiver to consolidate four 32 Gbps connections over a single cable. The smaller X6-4 model has 16 extra 128 Gbps ICL ports.
A new SX6 extension blade gives Brocade customers the option to replicate storage over FC, IBM's Fibre Connection for mainframes and Internet Protocol. Each blade has 16 ports of 32 Gbps FC connectivity, 16 WAN/LAN ports of 1 or 10 Gigabit Ethernet (GbE), and two WAN QSFP ports of 40 GbE.
In addition to Brocade and its channel partners, Hitachi Data Systems is currently shipping the new Gen 6 Brocade director models, blades and fixed-port switch. Shimomura said Brocade's OEM partners set list prices for Brocade products, and no pricing is available from Brocade.
Brocade Fabric Vision
Brocade's Fabric Vision management technology, available at no charge with the X6 directors, includes new IO Insight monitoring capabilities to help users identify performance problems and maintain service levels. Brocade plans to add VM Insight in the first half of 2017 to extend visibility into the storage performance of individual virtual machines (VMs).
"Brocade's IO Insight and VM Insight capabilities resolve one of the key problems with earlier Fibre Channel networks -- limited visibility," Steven Hill, a San Francisco-based senior storage analyst at 451 Research, said via an email. "In the past, it used to require a system of physical taps and specialized equipment to visualize and diagnose problems within a Fibre Channel network."
Hill said Brocade worked with host bus adapter (HBA) vendors such as QLogic, which was acquired last month by Cavium, and Broadcom Emulex, which was acquired earlier this year by Avago, to enable direct performance monitoring and troubleshooting. He said Gen 6 FC provides a whole new level of insight into the interactions and performance within an FC network.
Importance of 32 Gbps FC for Brocade directors
Alan Weckel, a vice president at Dell'Oro Group, a market research firm in Redwood City, Calif., said 32 Gbps FC is important at the director level because it facilitates more bandwidth with fewer ports and offers more features over Gen 5. New features in the Gen 6 FC specification include forward error correction to improve reliability and N_Port ID virtualization to simplify deployment of virtual servers.
"As enterprises move over to flash in their SANs, 32 Gbps will be able to handle that increased bandwidth," Weckel wrote in an email.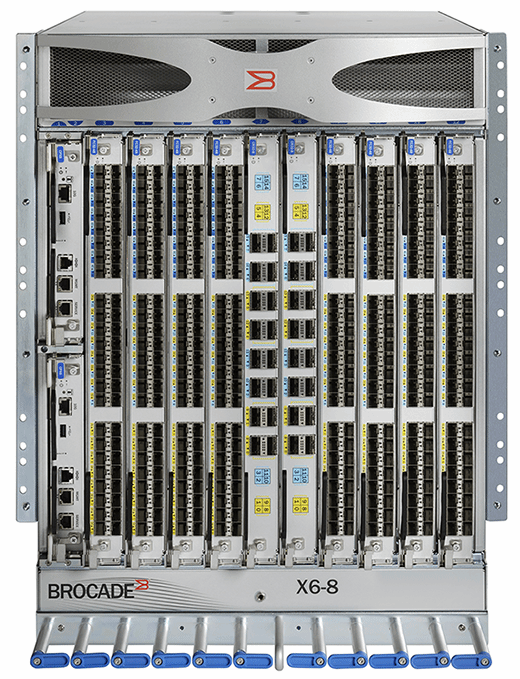 Weckel predicted Gen 6/32 Gbps FC would start to ramp up in the second half of this year and achieve stronger adoption in 2017. With the transition to 16 Gbps, the HBAs lagged the switches; but with the shift to 32 Gbps, the HBAs are already available, he said.
Storage targets tend to be the last pieces of equipment to adopt the higher speeds, so customers will be able to use 32 Gbps FC adapters only in servers now. Dennis Martin, president at Demartek LLC, an analyst organization that operates an on-site test lab in Golden, Colo., said 32 Gbps FC adoption also could be slow initially due to the high cost of the 32 Gbps optical transceivers.
Substantial performance difference
But Martin said users making the jump from 8 Gbps or 16 Gbps FC to 32 Gbps will see a significant performance difference. One Demartek test using 32 Gbps FC gear from Brocade and Emulex produced a reduction in query time for a Microsoft SQL Server 2014 data warehouse workload by almost half in comparison to 16 Gbps FC and to a quarter compared to 8 Gbps-connected servers. Latency dropped by approximately half for both the target storage and server initiator when comparing a Gen 6 HBA against a Gen 5 HBA, according to Demartek.
Martin said besides the bandwidth bump, better ASICS also contribute to higher throughput and lower latency for Gen 6 FC.
In addition to organizations using flash storage, those with large, high-speed data transfer needs, such as video producers, are expected to drive early adoption for 32 Gbps FC.
Cliff Grossner, a senior research director at IHS Markit Technology in Campbell, Calif., forecasted that, in the 2020 calendar year, 32 Gbps FC would represent 31% of all the FC ports shipments, or about 1.8 million of the 5.7 million total FC ports. He said, although Fibre Channel will decline a few percent per year until that time, "There is no Armageddon for Fibre Channel."
"Fibre Channel has a pretty important and loyal following in the marketplace," Grossner said. "The move to Gen 6 is definitely very timely and important."
Next Steps
Fibre Channel adoption is not slowing down
How to compare data-center class switch options
Fibre Channel holds strong against Ethernet