EMC Unity all-flash midrange array opens EMC World 2016
Along with its Unity all-flash array and Virtustream Storage Cloud, EMC announces copy data management, ViPR 3.0 and predictive analytics at EMC World.
LAS VEGAS -- [Updated 3:30 pm EST] EMC World 2016 opened today with the launch of a new EMC Unity midrange storage platform, a copy data management application and an update to ViPR storage management.
EMC also rolled out a Virtustream storage cloud and a cloud-based analytics system that works across its storage platforms.
EMC World 2016 will be the vendor's last as an independent company if Dell's proposed $67 billion acquisition of the storage giant closes as planned this year.
EMC adds another all-flash array
EMC Unity is the all-flash midrange system company executives teased before the show, although they did not provide details until today. EMC Unity is a unified block and file system that supports VMware Virtual Volumes (VVOLs) to integrate with virtual machines. It is also available as a hybrid system with hard disk drives.
A single EMC Unity array can hold 25 3.2 TB solid-state drives for 80 TB in a 2U box, and EMC claims Unity scan scale to 3 PB and 3,000 IOPS in a cluster. Like EMC's XtremIO, VMAX All Flash and DSSD D5, Unity was built from the ground up for flash storage. The system appears to be a replacement for EMC's VNX or VNXe midrange arrays, which were not designed for flash and were still only in technical preview for VVOLs.
Stefan Voss, with EMC technical marketing, demos the Unity dashboard and how it can keep users apprised of system health and allow them to provision storage capacity.
EMC said Unity is a true active-active controller architecture that supports snapshots, remote synchronous and asynchronous replication, native controller-based encryption, and a new scalable file system. As part of its flash design, Unity handles garbage collection without impacting performance.
EMC Unity will be available as a virtual appliance, called UnityVSA, including the file and block storage and data management features of the physical platform.
EMC Unity pricing starts at approximately $18,000 for an all-flash version and less than $10,000 for a hybrid version.
"We've been working on this for the last three years," said Jeremy Burton, EMC's president of products and marketing, in an interview with SearchStorage. "It starts at as little as $18,000, which is a big deal for us because, normally, we've been known for high-end boxes."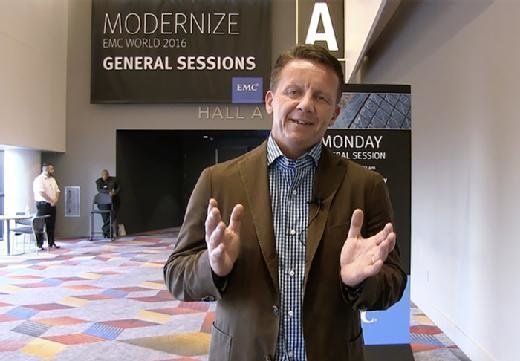 Burton said Unity has an architecture base similar to that of the VNXe, but it is designed to scale higher.
"It's nearest cousin is probably VNXe," he said of Unity. "But this is basically a new product and a new code base. The team that built it was the team that worked on VNXe, so think of that product [VNXe] architected for all-flash."
EMC joins copy data management bandwagon
EMC Enterprise Copy Data Management Demo
Watch Caitlin Gordon, director of product marketing at EMC, apply the fully customizable protection plans that are part of eCDM to protect copies of data.
Enterprise Copy Data Management (eCDM) is a new software application aimed at reducing data sprawl. The application will compete with Actifio, Catalogic Software, Cohesity, Hitachi Data System (Data Instance Manager), Rubrik and other vendors that have products designed to reduce the number of copies of data an organization needs to store.
EMC claims eCDM is non-disruptive and provides a holistic view of copy data while allowing self-service copy creation. The software will work with snapshots on EMC primary and backup arrays such as VMAX All Flash, XtremIO and Data Domain. EMC Enterprise Copy Data Analytics is a complementary analytics as a service designed to proactively optimize storage.
ViPR turns three
ViPR Controller 3.0 -- the latest release of the storage management and virtualization software that launched at EMC World 2013 -- includes application-centric workflows, native disaster recovery features and a software development kit (SDK) from its CoprHD open source initiative. The disaster recovery features support two backup sites. ViPR supports 50 EMC and third-party storage platforms.
"Basically, for any storage product out there, if there isn't an adapter already for it in the ViPR controller, it's very easy for folks to build an adapter," Burton said of the SDK.
Virtustream integrated with EMC storage
The Virtustream Storage Cloud allows customers to move data from EMC storage to the Virtustream cloud for long-term backup and cold storage. Virtustream is built for large object sizes. Customers can tier data from VMAX, XtremIO, and Unity primary storage, Data Domain disk backup library, and the Data Protection Suite of backup software to the Virtustream Storage Cloud.
EMC acquired Virtustream for $1.2 billion in May 2015. VSC uses EMC's object-based Elastic Cloud Storage (ECS) on the back end.
EMC has not released pricing for the Virtustream Storage Cloud. While private storage clouds for cold data such as Amazon Glacier and Google Cloud Storage Nearline compete mainly on price, Burton said EMC does not see VSC as a cost play. He said it is an alternative to tape vaulting. "We will not compete with Amazon S3," he said. "It will enable customers to migrate primary and backup storage to the public cloud, and that public cloud is built on ECS. The value proposition is you buy a backup system that tiers data off to the cloud as one system."
Cloud-driven predictive analytics
MyService360 is a cloud-based dashboard to provide near real-time visibility into the health of EMC storage systems. MyService360 replaces the My Support tab of EMC Online Support, and follows cloud-based predictive storage analytics from vendors such as FalconStor, Nimble Storage, Pure Storage, Tintri and Virtual Instruments (LoadDynamiX). MyService360 is designed to identify systems at risk, analyze the percentage of the global install base that is up to code, and recognize trends on service incidents.
MyService360 is built on a cloud-based EMC Internal Data Lake, and can be connected through EMC Secure Remote Services Virtual Edition for a two-way connection with the vendor's customer service.
"This will be essentially an object-storage back end to allow us to do tiering of primary storage and back up to the cloud," Burton said, adding the cloud service is built on EMC's Elastic Cloud Storage.
Carol Sliwa contributed to this story.