Scanrail - Fotolia
Veritas Enterprise Vault updated after Symantec sell off
Veritas Technologies updated Enterprise Vault and Data Insight with enhanced classification, review and workflow capabilities and beefed-up Box support.
In its first product launches since splitting from Symantec, Veritas Technologies this week updated its Enterprise...
Continue Reading This Article
Enjoy this article as well as all of our content, including E-Guides, news, tips and more.
Vault archiving and Data Insight file analysis software. The vendor added enhanced classification, review and workflow capabilities and extended support for Box's online file sharing service.
Symantec recently completed the sale of Veritas to The Carlyle Group on Jan. 29.
Veritas Enterprise Vault 12 automatically classifies and tags ingested content. It also lets customers reclassify previously archived information and control the deletion of data to ensure regulatory compliance.
Veritas Enterprise Vault 12 also adds algorithms to help users review and prioritize content to identify risky employee behavior and offers optical character recognition to extract text from images for indexing and classification purposes.
Earlier Enterprise Vault archiving software did not enable reclassification or data deletion. It did support classification through integration with Symantec's Data Loss Prevention (DLP) product, which handled emails only from Microsoft Exchange Server.
"We certainly will continue to work with Symantec DLP, but you can now do it with just Enterprise Vault. There's no need for a separate product," said Greg Muscarella, Veritas senior vice president and general manager of information intelligence.
Muscarella said a new algorithm-powered "intelligent review" gives financial institutions and other compliance-focused customers the ability to identify risky behavior by prioritizing the emails or communications that get reviewed first. Prior Enterprise Vault versions offered "more random sampling or other types of less intelligent review," he said.
"For the companies that have regulated communications, this is a big deal, if you think about the cost to actually staff a compliance organization and how many emails or documents they might be able to review in a day," Muscarella said. "We reduce the risk of [them] getting fines and increase the productivity of those compliance officers."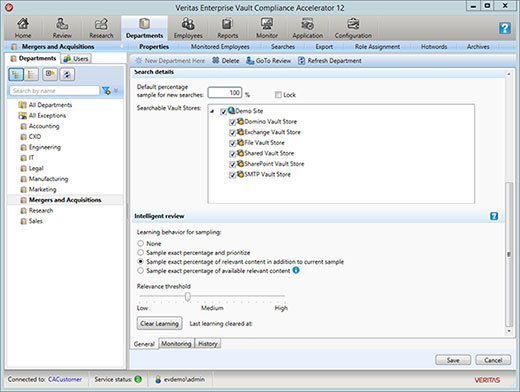 Sean Pike, program director at IDC, wrote in an email that the Enterprise Vault improvements are incremental "in that Veritas/Symantec has had a vision of greater data insight for a long time," and each product version gets a step closer to the ultimate goal.
"The challenge for Veritas and other products is that data intelligence/analytics is still in its infancy. Granted, we tried this 10 to 15 years ago with data loss prevention, but the technology is better prepared to provide real results today," Pike wrote. "By the time we get to Enterprise Vault 14 or 15, my guess is that will look and feel like a different product."
Data Insight 5.1 update
Veritas' Data Insight 5.1 file analysis product update enhances workflows in its self-service portal to make access and permissions changes as automated and repeatable as possible. The new version also improves the Box support that Veritas introduced in Data Insight 5.0 with newly added capabilities for activity tracking and permissions analysis.
Pike said Box support is an industry trend.
"This has become an absolute must," Pike wrote. "Companies aren't fighting against [bring your own device] BYOD/bring your own cloud [BYOC] anymore. They are fully embracing it to advance the business and improve mobility. That means that data can be anywhere at any time, and organizations may have a hard time gaining control. Some of that data may never even enter the four walls of the enterprise, leaving a big blind spot for company data."
Data Insight can plug into file-based storage from vendors such as NetApp and EMC, Microsoft's SharePoint, Box and others. The product supports standard and proprietary APIs, according to Muscarella.
Muscarella said Data Insight looks at file metadata, access policies and reads/writes to every single object. It provides information such as access times and file owners, inferred owners and users to help customers discover anomalies in behavior and identify potential breaches.
Veritas Enterprise Vault 12 is generally available, and Data Insight 5.1 will be generally available March 7. Data Insight and Enterprise Vault are part of Veritas' portfolio of information governance products, which also includes eDiscovery Platform, Enterprise Vault.cloud and Information Map.
"These things are meant to be used together to solve larger problems that companies have: What data do I actually have out there, and how should I be treating this data? Should I be locking it down? Should I be deleting it because by law or by regulation I'm supposed to delete it? Or, should I keep it?" Muscarella said.
Data Insight is licensed either per user or per TB of data scanned. Users can implement Veritas Enterprise Vault in modular fashion and license only the components they need. Most customers start with email and mailbox archiving as part of the Enterprise Vault Email Management license, according to Chris Talbott, senior product marketing manager at Veritas.