raywoo - Fotolia
News
Stay informed about the latest enterprise technology news and product updates.
Predictive storage analytics added in Load DynamiX upgrade
In hopes of appealing to more enterprises, Load DynamiX adds sensors and software features that capture I/O application workloads to analyze storage patterns.
Load DynamiX Inc. expanded its product line this week to include storage analytics to go along with its testing capabilities.
Load DynamiX Enterprise 5.0 includes new devices and software to acquire production storage workload information, analyze the workloads and create models.
Previous versions of Load DynamiX focused on simulating application workloads and validating storage performance before putting systems into production. It was used mainly by storage vendors to validate their systems and large enterprises that wanted to test products before buying. Version 5.0 can help customers understand their I/O performance requirements for production applications by analyzing I/O patterns. Load DynamiX 5.0 can also capture those I/O patterns and use them to duplicate a production environment in a test lab.
"This will re-position Load DynamiX into a storage analytics company," said Len Rosenthal, vice president of marketing at Load DynamiX. "A big issue for IT is, 'How do I figure out what application can I move to a new architecture?' The industry is going through a massive change now with new technologies such as flash, hyper-converged and object storage. People ask, 'How do I take advantage of these new technologies?'"
Rosenthal compared the new features to array-based storage analytics such as Nimble Storage's cloud-based InfoSight, but Load DynamiX gains information from any vendor's arrays.
Load DynamiX Enterprise uses new Workload Sensors and Storage Log Importer software to gather workload information. The sensors are hardware devices that capture network switch data and analyze the workloads in real time. They use switch port analyzer (SPAN) ports or optical TAPs on Fibre Channel and 10-Gigabit Ethernet switches. The switch workload data gets imported into a new Workload Analyzer module.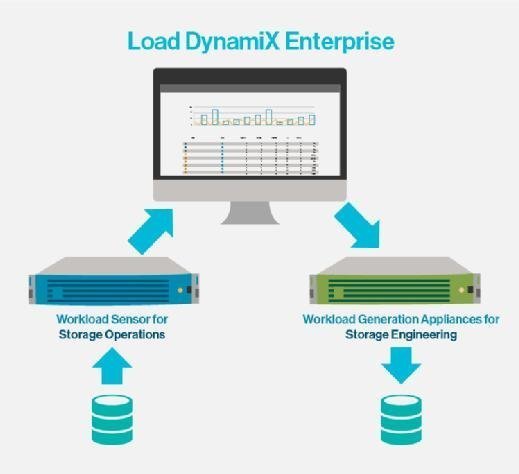 The Storage Log Importer gathers and profiles information about production array I/O workload data in real time. The Workload Analyzer processes data from the Workload Sensors and Storage Log Importer to create a workload profile for predictive use cases, such as development projects. The workload profile can be used to conduct what-if scenario analysis and troubleshoot performance problems. Workloads can be generated for block, file or object storage.
Load DynamiX 5.0 is expected to be available this month, with Storage Log Importer and Workload Analyzer.
Load DynamiX will have three types of sensors: an FC Workload Sensor for Fibre Channel, a 10G Workload Sensor for 10-Gigabit Ethernet, and a Unified Workload Sensor that splits its eight ports between Fibre Channel and Ethernet. Block storage -- FC and iSCSI -- support will be available with the release of version 5.0. SMB and NFS file support is planned for early 2016.
The sensors sit out of band and do not capture or store actual data, only statistics about the data.
Load DynamiX will continue to sell its FC, Ethernet and unified storage appliances to generate workloads for testing. Formerly known as SwiftTest, Load DynamiX started out selling to storage vendors, and it lists EMC, NetApp, Hewlett Packard Enterprise, Dell, Hitachi Data Systems, IBM and many smaller storage array vendors as customers. Its large enterprise customers include General Electric, AT&T, Cox Communications, LinkedIn and PayPal.
George Crump, president of Storage Switzerland IT analyst firm, said the storage analytics capability should increase Load DynamiX's appeal with enterprise customers. "This release changes it from 'Here's a product that you'll use when ready to do a bakeoff' to more of a day-to-day tool," Crump said. "The generation appliance is something you use when you're getting ready to buy a new product. Ideally, you want to rent that rather than buy it, unless you work for a big company that buys storage all the time. The Workload Analyzer can add value all the time."
Next Steps
Load DynamiX adds support for OpenStack Swift and Cinder
Load DynamiX customer GE pre-tests storage to cut back on downtime
Users look to array features rather than third-party storage management tools