Fotolia
News
Stay informed about the latest enterprise technology news and product updates.
Dell EMC ECS update focuses on security, management, search
Dell EMC updates on-premises ECS 3.3 object storage, formerly known as Elastic Cloud Storage, with new and improved capabilities in the areas of security, management and search.
Dell EMC bolstered the security, management and search capabilities in its ECS object storage that targets enterprise customers with exponentially growing volumes of unstructured data.
At a time when many IT organizations shift colder data to object storage in public clouds, Dell EMC ECS has more than 1,500 customers storing data on premises with ECS, formerly known as Elastic Cloud Storage. Varun Chhabra, vice president of product marketing, said customers use ECS primarily for archival purposes.
Chhabra said most of the new features in Dell EMC ECS 3.3 released last week are aimed at increasing security and regulatory compliance, particularly for finance and government customers. Dell EMC ECS 3.3 represents the first significant product update since the 3.2 release in March 2018.
Dell EMC ECS 3.3 security enhancements include support for third-party key management products that support the Key Management Interoperability Protocol (KMIP). Chhabra said ECS has its own key management capabilities, but many customers now standardize encryption across their infrastructures.
"Now that there's centralized key management, it's very important for customers to be able to just snap in new infrastructure solutions versus having to do something one-off that is specific or proprietary to that product," Chhabra said.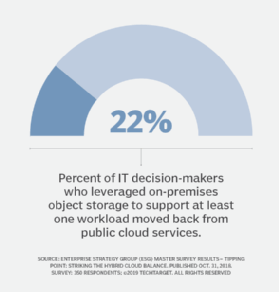 Another security enhancement in ECS 3.3 targets government customers in the defense sector. Dell EMC made improvements to comply with Defense Information Systems Agency (DISA) Security Technical Implementation Guide (STIG) to reduce vulnerabilities.
Dell EMC ECS 3.3 also adds write once read many (WORM) support for data ingested via the Network File System (NFS) to prevent files from being overwritten or deleted.
"Customers are starting to use ECS for NFS data," Chhabra said. "In many cases, it's archive data or data that's been tiered from a primary file storage platform, and this data is basically sitting on ECS for a long time."
Dell EMC ECS 3.3 management updates
On the management front, Dell EMC ECS 3.3 improves storage reclamation after garbage collection, warns customers when they're nearing capacity limits, reduces metadata overhead per object, and adds new customizable alerts.
Chhabra said customers wanted additional insight into the status of the system's garbage collection process, so they could get a better idea when storage capacity might be freed up for them to reclaim and use. He said ECS 3.3 would give them more accurate information.
Object archives, such as ECS, are where organizations have historically put compliance data and stored it on the premise that it will be here in case we need it. Now the new trend is organizations want to mine that data.

Scott Sinclairsenior analyst, Enterprise Strategy Group
Dell EMC ECS 3.3 also improves accuracy with respect to capacity monitoring, analyzing seven-day and 30-day usage trends to let customers know when they might want to add more hardware. Users can also customize alerts that warn them when they're nearing capacity limits or critical system events.
The ECS product update also enables faster and more accurate metadata search capabilities by allowing the use of a customer-specified prefix parameter in combination with other parameters. ECS also improves S3 LIST execution to speed the resolution of object data search queries.
"Object archives, such as ECS, are where organizations have historically put compliance data and stored it on the premise that it will be here in case we need it. Now the new trend is organizations want to mine that data to see if they can use it to build a business opportunity," said Scott Sinclair, a senior analyst at Enterprise Strategy Group. "One of the largest challenges with doing analytics or really gaining insight from giant pools of unstructured data is finding the right data. So, prefix search and faster S3 LIST execution is just giving developers more tools to find the data they need within the ECS context."
Sinclair said object stores offer high-capacity storage and also ensure that files won't change or get corrupted over a long period of time, making them an ideal choice for sensitive data. He said IT organizations often take a hybrid approach, storing some unstructured data in the public cloud and some on premises.
"This is a bigger, better, faster release for ECS, but there are new features in ECS 3.3 that align with macro IT trends," he said. "We've seen that security and compliance is definitely top of mind, and it's increasingly driving data to stay on premises rather than the cloud. So, on-premises archive solutions have seen this as an excellent opportunity to innovate and help organizations with their highly sensitive and compliance-level data."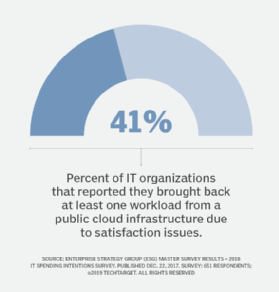 Chhabra said most customers use ECS to archive data, and a substantial number use it with brand new cloud-native applications built for Amazon's S3 protocol. He said some use ECS to store data they bring back from public cloud storage, often to reduce costs or comply with changing data regulations, and others tier backups to ECS from Data Domain.
Although ECS software-defined storage runs on any validated hardware, most customers purchase the turnkey appliance that packages the software onto Dell server hardware, Chhabra said. The appliance has a starting capacity of 60 TB for customers that want to start small. Users that take the software-defined approach and procure their own hardware tend to have the highest capacity deployments, Chhabra said.
Dell EMC also improved the cloud gateway tool that customers can use to ease migration from older Atmos and Centera environments to ECS. Chhabra said the tool supports not only moving data but unifies the storage infrastructure for customers that want to move data in both the new ECS and older Atmos system.