jules - Fotolia
News
Stay informed about the latest enterprise technology news and product updates.
Samsung adds Z-NAND data center SSD
Samsung's new lineup of data center SSDs designed for channel sales to SMBs includes high-performance Z-NAND add-in card, U.2 and M.2 NVMe PCIe models and 2.5-inch SATA drives.
Samsung's lineup of data center solid-state drives-- including a Z-NAND model -- introduced this week targets smaller organizations facing demanding workloads such as in-memory databases, artificial intelligence and IoT.
The fastest option in the Samsung data center SSD family -- the 983 ZET NVMe-based PCIe add-in card -- uses the company's latency-lowering Z-NAND flash chips. Earlier this year, Samsung announced its first Z-NAND-based enterprise SSD, the SZ985, designed for the OEM market. The new 983 ZET SSD targets SMBs, including system builders and integrators, that buy storage drives through channel partners.
The Samsung data center SSD lineup also adds the first NVMe-based PCIe SSDs designed for channel sales in 2.5-inch U.2 and 22-mm-by-110-mm M.2 form factors. At the other end of the performance spectrum, the new entry-level 2.5-inch 860 DCT 6 Gbps SATA SSD targets customers who want an alternative to client SSDs for data center applications, according to Richard Leonarz, director of product marketing for Samsung SSDs.
Rounding out the Samsung data center SSD product family is a 2.5-inch 883 DCT SATA SSD that uses denser 3D NAND technology, which Samsung calls V-NAND, than comparable predecessor models. Samsung's PM863 and PM863a SSDs use 32-layer and 48-layer V-NAND respectively, but the new 883 DCT SSD is equipped with triple-level cell (TLC) 64-layer V-NAND chips, as are the 860 DCT and 983 DCT models, Leonarz said.
Noticeably absent from the Samsung data center SSD product line is 12 Gbps SAS. Leonarz said research showed SAS SSDs trending flat to downward in terms of units sold. He said Samsung doesn't see a growth opportunity for SAS on the channel side of the business that sells to SMBs such as system builders and integrators. Samsung will continue to sell dual-ported enterprise SAS SSDs to OEMs.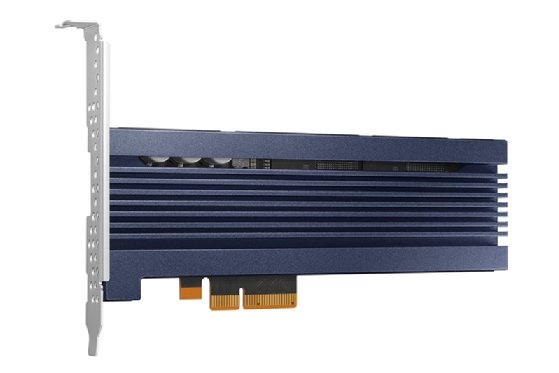 Z-NAND-based SSD uses SLC flash
The Z-NAND technology in the new 983 ZET SSD uses high-performance single-level cell (SLC) V-NAND 3D flash technology and builds in logic to drive latency down to lower levels than standard NVMe-based PCIe SSDs that store two or three bits of data per cell.
Samsung positions the Z-NAND flash technology it unveiled at the 2016 Flash Memory Summit as a lower-cost, high-performance alternative to new 3D XPoint nonvolatile memory that Intel and Micron co-developed. Intel launched 3D XPoint-based SSDs under the brand name Optane in March 2017, and later added Optane dual inline memory modules (DIMMs). Toshiba last month disclosed its plans for XL-Flash to compete against Optane SSDs.
Use cases for Samsung's Z-NAND NVMe-based PCIe SSDs include cache memory, database servers, real-time analytics, artificial intelligence and IoT applications that require high throughput and low latency.
"I don't expect to see millions of customers out there buying this. It's still going to be a niche type of solution," Leonarz said.
Samsung claimed its SZ985 NVMe-based PCIe add-in card could reduce latency by 5.5 times over top NVMe-based PCIe SSDs. Product data sheets list the SZ985's maximum performance at 750,000 IOPS for random reads and 170,000 IOPS for random writes, and data transfer rates of 3.2 gigabytes per second (GBps) for sequential reads and 3 GBps for sequential writes.
The new Z-NAND based 983 ZET NVMe-based PCIe add-in card is also capable of 750,000 IOPS for random reads, but the random write performance is lower at 75,000 IOPS. The data transfer rate for the 983 ZET is 3.4 GBps for sequential reads and 3 GBps for sequential writes. The 983 ZET's latency for sequential reads and writes is 15 microseconds, according to Samsung.
Both the SZ985 and new 983 ZET are half-height, half-length PCIe Gen 3 add-in cards. Capacity options for the 983 ZET will be 960 GB and 480 GB when the SSD ships later this month. SZ985 SSDs are currently available at 800 GB and 240 GB, although a recent product data sheet indicates 1.6 TB and 3.2 TB options will be available at an undetermined future date.
Samsung's SZ985 and 983 ZET SSDs offer significantly different endurance levels over the five-year warranty period. The SZ985 is rated at 30 drive writes per day (DWPD), whereas the new 983 ZET supports 10 DWPD with the 960 GB SSD and 8.5 DWPD with the 480 GB SSD.
Samsung data center SSD endurance
The rest of the new Samsung data center SSD lineup is rated at less than 1 DWPD. The entry-level SATA 860 DCT SATA SSD supports 0.20 DWPD for five years or 0.34 DWPD for three years. The 883 DCT SATA SSD and 983 DCT NVMe-based PCIe SSD are officially rated at 0.78 DWPD for five years, with a three-year option of 1.30 DWPD.
Samsung initially targeted content delivery networks with its 860 DCT SATA SSD, which is designed for read-intensive workloads. Sequential read/write performance is 550 megabytes per second (MBps) and 520 MBps, and random read/write performance is 98,000 IOPS and 19,000 IOPS, respectively, according to Samsung. Capacity options range from 960 GB to 3.84 TB.
"One of the biggest challenges we face whenever we talk to customers is that folks are using client drives and putting those into data center applications. That's been our biggest headache for a while, in that the drives were not designed for it. The idea of the 860 DCT came from meeting with various customers who were looking at a low-cost SSD solution in the data center," Leonarz said.
He said the 860 DCT SSDs provide consistent performance for round-the-clock operation with potentially thousands of users pinging the drives, unlike client SSDs that are meant for lighter use. The cost per GB for the 860 DCT is about 25 cents, according to Leonarz.
The 883 DCT SATA SSD is a step up, at about 30 cents per GB, with additional features such as power loss protection. The performance metrics are identical to the 860 DCT, with the exception of its higher random writes of 28,000 IOPS. The 883 DCT is better suited to mixed read/write workloads for applications in cloud data centers, file and web servers and streaming media, according to Samsung. Capacity options range from 240 GB to 3.84 TB.
The 983 DCT NVMe-PCIe SSD is geared for I/O-intensive workloads requiring low latency, such as database management systems, online transaction processing, data analytics and high performance computing applications. The 2.5-inch 983 DCT in the U.2 form factor is hot swappable, unlike the M.2 option. Capacity options are 960 GB and 1.92 TB for both form factors. Pricing for the 983 DCT is about 34 cents per GB, according to Samsung.
The 983 DCT's sequential read performance is 3,000 MBps for each of the U.2 and M.2 983 DCT options. The sequential write performance is 1,900 MBps for the 1.92 TB U.2 SSD, 1,050 MBps for the 960 GB U.2 SSD, 1,400 MBps for the 1.92 TB M.2 SSD, and 1,100 MBps for the 960 GB M.2 SSD. Random read/write performance for the 1.92 TB U.2 SSD is 540,000 IOPS and 50,000 IOPS, respectively. The read/write latency is 85 microseconds and 80 microseconds, respectively.
The 860 DCT, 883 DCT and 983 DCT SSDs are available now through the channel, and the 983 ZET is due later this month.