Sergey Nivens - Fotolia
IBM DS8882F converges array and mainframe in one rack
IBM skinny mainframes add a few pounds with the DS8882F all-flash array screwed into the IBM Z ZR1 and LinuxOne Rockhopper II 19-inch racks.
Talk about converged infrastructure -- IBM just embedded an all-flash array inside mainframe server racks.
IBM today launched a rack-mounted IBM DS8882F array for IBM Z ZR1 and LinuxOne Rockhopper II "skinny" mainframes that rolled out earlier in 2018. The 16U DS8882F is the smallest of IBM's high-end DS8880 enterprise storage family designed for mainframes. The new mainframes install in a standard 19-inch rack. The IBM DS8882F array inserts into the same rack and scales from 6.4 TB to 368.64 TB of raw capacity.
The IBM DS8882F is part of a large IBM storage rollout that features mostly software and cloud storage updates, including the following: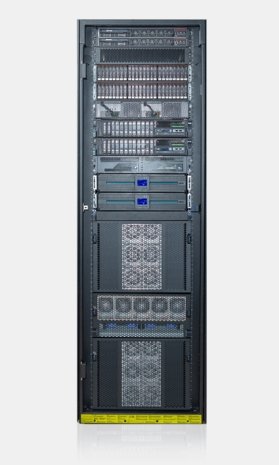 The products are part of IBM's third large storage rollout this year. It added an NVMe FlashSystem 9100 and Spectrum software in July, and cloud-based analytics and block-based deduplication in May.
Steve McDowell, senior technology analyst at Moor Insights & Strategy, said IBM has become the most aggressive of the large storage vendors when it comes to product delivery.
"IBM storage is marching to a cadence and putting out more new products faster than its competitors," McDowell said. "We're seeing announcements every quarter, and their products are extremely competitive."
IBM ended a string of 22 straight quarters of declining storage revenue in early 2017 and put together four quarters of growth until declining again in the first quarter of 2018. IBM's storage focus has been around its Spectrum software family and all-flash arrays.
IBM's focus on footprint
McDowell called the IBM DS8882F "a nice piece of hardware." "The zSeries is moving towards a more standard rack, and this fits right in there with almost 400 TB of raw capacity in a 19-inch rack," he said. "It's about capacity density and saving floor space. If I can put a zSeries and a rackmount of storage unit side by side, it makes a nice footprint in my data center."
"The days of an EMC VMAX spanning across your data center are gone. With flash, it's how many terabytes or petabytes I can put into half a rack and then co-locate all of that with my servers."
Eric Herzog, chief marketing officer for IBM storage, said reducing the footprint was the main driver of the array-in-the-mainframe.
"We created a mini-array that literally screws into the same 19-inch mainframe rack," Herzog said. "This frees up rack space and floor space, and gives you a smaller, lower-cost entry point."
Competing in a crowded market
IBM's DS8880 series competes with the Dell EMC PowerMax -- the latest version of the VMAX -- and the Hitachi Vantara Virtual Storage Platform as mainframe storage platforms.
IBM storage revenue rebounded to grow in the second quarter this year, but the market remains crowded.
IBM's Herzog said the storage market "is fiercely competitive in all areas, including software. It's a dog-eat-dog battle out there. Software is just as dog-eat-dog as the array business now, which is unusual."
The new products are expected to ship by the end of September.