 BACKGROUND IMAGE: iSTOCK/GETTY IMAGES
News
Stay informed about the latest enterprise technology news and product updates.
Users ponder public and private cloud storage, ViPR at EMC World 2014
Customers at EMC World 2014 divulge strategies for using private and public storage clouds, and wonder if they need ViPR software-defined storage.
LAS VEGAS -- Public or private cloud storage? Technology business leaders who need to share data while also protecting business-critical information say they balance both depending on how applications are used.
During a panel at EMC World 2014, movie producer Jon Landau of Lightstorm Entertainment, Consulting4Drive Principal Partner Tim Kellerman and Apollo Education Group CIO Michael Sajor discussed how they use the cloud to complement on-premises storage.
Landau, who produced Avatar with James Cameron, said the movie required 180 TB of storage -- mostly on EMC Isilon NAS arrays. The team is working on sequels that are expected to require 2 PB of storage, he said. Landau said his company is happy to share video in a public cloud, and can turn that into revenue. But it is crucial to keep files for its works in progress private.
"We need to keep the wizard behind the curtain," Landau said. "If people see the first pass of what Avatar looks like and criticize that, we don't have the ability to adapt to that. We have to protect our [intellectual property]. Once the movie is out, that's when we can go to a public cloud and share that and give people access. If we create a video gaming experience that we want to be two-way -- where a person has influence on game play for somebody else -- that's a perfect opportunity for a public cloud."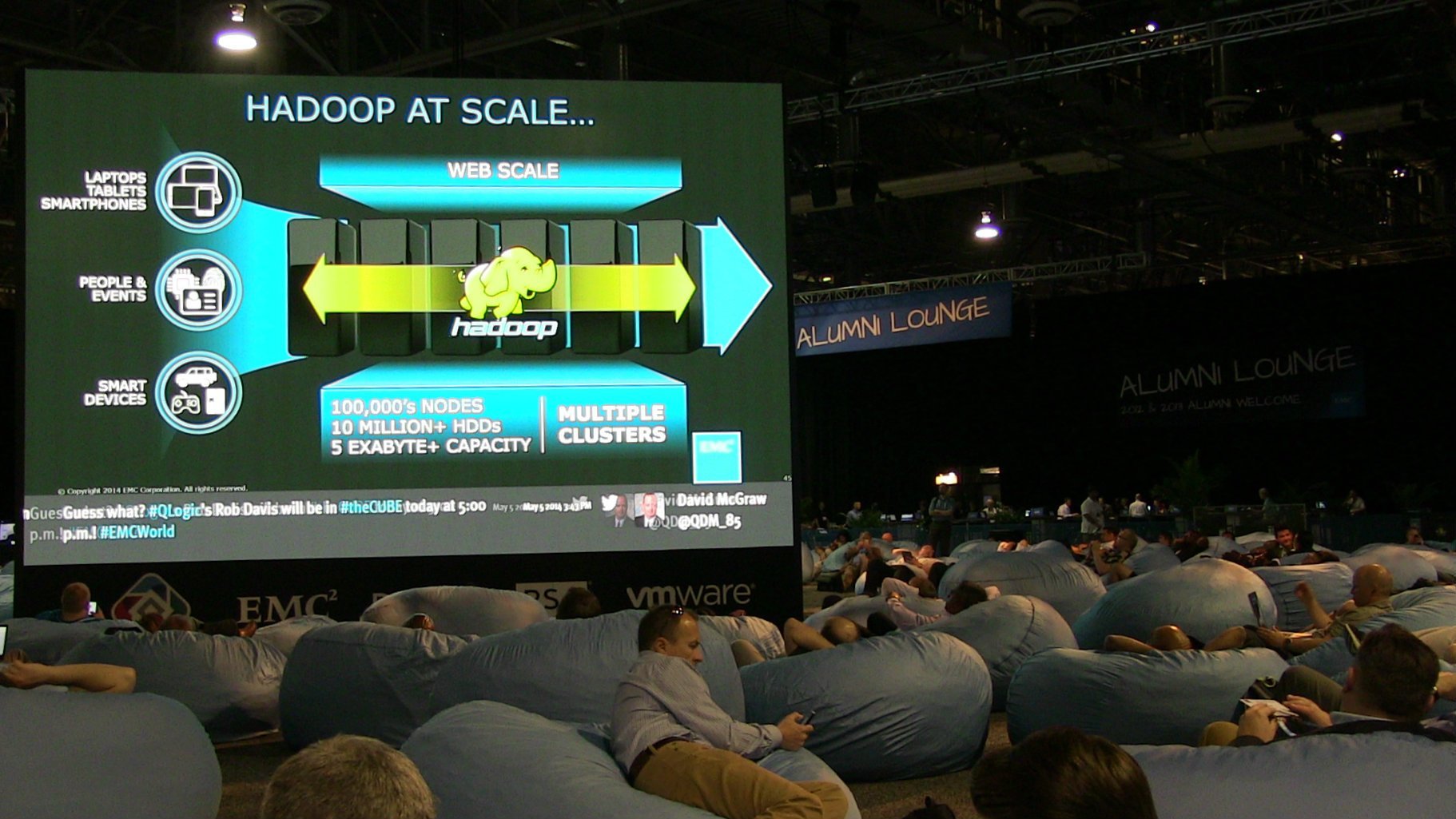 Attendees lounge in beanbags after EMC World day one
Lightstorm uses EMC's Vplex to set up a private cloud to share data with Weta Digital, the New Zealand-based company that does the visual special effects for Avatar.
Kellerman, of German-based automaker consulting firm Consult4Drive, said there is a use for private and public clouds in his business as well.
"All the automotive manufacturers understand that information is very privileged in order to build a business model on it," Kellerman said. "Right now, everybody's thinking about a private cloud for these purposes. All the manufacturers we work with are intimately trying to protect their information. The public part of an automotive cloud is the personal driver's profile and a fleet owner's profile."
Apollo Education Group, the parent company of the online University of Phoenix, builds its business on data that must be shared between students and instructors. At the same time, it stores students' private information.
"We'll be very careful about what goes public and what doesn't," Sajor said. "Student information will not be resident on a public cloud because that is sensitive and we take our students' privacy seriously. Other aspects are fine [for the public cloud]."
Sajor said his company built a new learning platform and tools on the public cloud and ramped to approximately 40,000 students before revising its strategy more toward a private cloud.
"We started to think carefully based on that experience," he said. "Is that the right place where reliability, stability and scalability are mandatory? We moved off that public cloud and we are now sitting with a VCE [Vblock] in our data center. We actually went the opposite way."
All three agreed that organizations need flexibility to move from public to private clouds or private to public clouds with ease.
"We start out being very conservative about what needs to be in the private cloud," Kellerman said. "As time moves on, we realize certain aspects no longer need to be private, and we would love the flexibility to change that around without changing the infrastructure or architecture."
Cloud ready for prime time, but ViPR still in the wings
While the panel obviously found the cloud ready for prime time, another set of EMC users said they consider software-defined storage still emerging. EMC launched ViPR 2.0 at the show, but not all EMC customers are ready for it.
Lotus F1 racing team CIO Michael Taylor said he is closely evaluating ViPR for his IT setup. Fellow panelists Friedrich Seifts, director of service systems for Major League Baseball (MLB), and Vodafone Head of Hosting Product Management Todd Stockwell said they are intrigued by the technology, but they don't need it yet.
"Historically, our virtualization focus has been on the server," Taylor said. "That's the easy bit. But if you stop there and don't virtualize other components like the network and storage, you really struggle to unlock the value of the software-defined data center."
"I think ViPR's exciting," said MLB's Seifts, who added that his Isilon systems fill his current storage needs. "I just don't know if ViPR would be essential or useful in our environment now."
Stockwell said Vodafone looks at "any emerging technology out there" and "ViPR is on the roadmap, but [it] is not a necessity for us at the moment."
Dave Raffo contributed to this story.