 BACKGROUND IMAGE: iSTOCK/GETTY IMAGES
News
Stay informed about the latest enterprise technology news and product updates.
EMC Federation strives to be 'aligned but loosely coupled'
EMC's four CEOs discuss how they work together and apart in a changing IT world.
LAS VEGAS -- Four CEOs gathered to meet reporters at EMC World, which is not unusual at large trade shows. In this case, the four CEOs work at the same company.
The way the EMC Federation operates has been a theme at EMC World 2014. The federation consists of EMC Information Infrastructure (primarily storage), VMware, and big data and cloud software spinoff Pivotal. So CEOs Joe Tucci of EMC Federation, David Goulden of EMC II, Pat Gelsinger of VMware and Paul Moritz of Pivotal gathered to discuss how the federation works. The goal is to for the three vendors to bring their technologies together when possible, yet be able to maintain separate strategies that may foster competition between them. In other words, the federation wants to act as a giant when that helps while keeping the parts nimble when necessary to keep up with a rapidly changing IT world.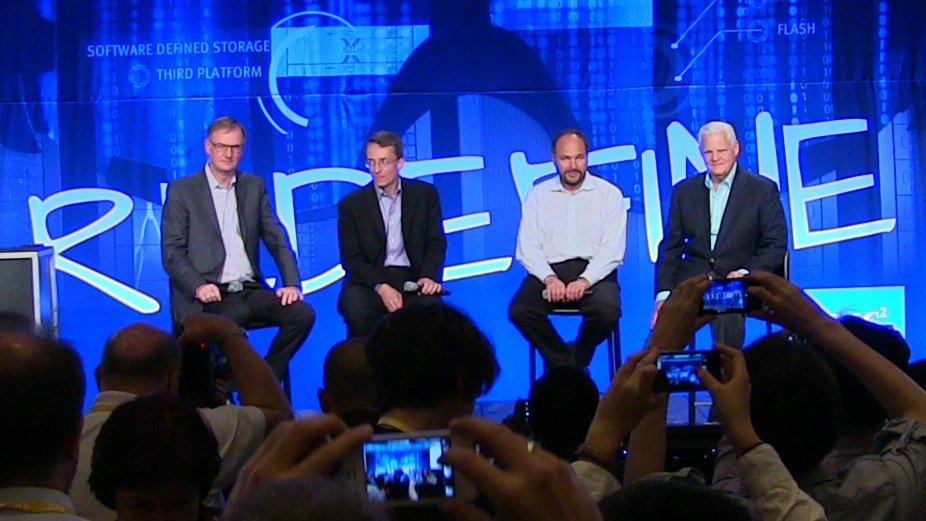 Left to right: David Goulden, Pat Gelsinger, Paul Maritz, Joe Tucci
"We're saying, 'Can we do the best of both worlds?'" Tucci said. "When a customer wants us to, can we come together seamlessly? When a customer desires a different course, we'll let them pick different parts of our technologies. You can pick a technology from Pivotal and use no VMware and maybe EMC. You can pick from Pivotal and use VMware and no EMC. You can use VMware with different storage. You can use EMC storage with OpenStack, Hyper-V or storage in several large public clouds. At a fine restaurant, you can order à la carte or from a prix fixe menu."
Gelsinger described the three companies as "strategically aligned but loosely coupled." That means they work together when possible, but one federation's partners are another's competitors.
"Paul works with Amazon. I view them as a clear competitor," Gelsinger said. "I work with NetApp. Clearly that's a competitor of David's, but they remain an important part of our ecosystem."
"We definitely have a coopetition model," Maritz said. "Each of the three companies is doing something that's competitive with the others. David's selling storage into Microsoft and Azure, Pat is working with other storage vendors, at Pivotal we're doing things to support other infrastructure stacks. That's reality. We'll never make the world into a complete end-to-end EMC Federation world. That's not reality."
Tucci admitted there is overlap -- some would call it competition -- between the federation companies at times. Customers may see VMware's VSAN and EMC's ScaleIO or even its physical storage arrays as products that do the same things for them. But Tucci said that is preferable to leaving gaps that would drive customers to other vendors.
"If you don't overlap, you leave a seam and that's where competitors come in," he said. "Overlap is good, but too much overlap is not healthy. So our strategic alignment is to have coopetition but not too much overlap."
The CEOs agreed cooperation among employees at the separate companies has increased in recent years. After EMC acquired VMware in 2004, the goal was to keep VMware independent because its virtual server business relied heavily on EMC competitors such as IBM and Hewlett-Packard. But VMware was a little too independent at times and communications between the companies suffered. The relationship has been much tighter since Maritz moved from EMC to replace VMware founder Diane Greene as CEO in 2008. Gelsinger was EMC's COO before he succeeded Maritz at VMware in 2012.
An audience member suggested part of the early acrimony was caused by cultural and geographic differences because EMC is based on the East Coast (Hopkinton, Massachusetts) and VMware is in Silicon Valley on the West Coast. The CEOs downplayed the role of geography, and Tucci pointed out thousands of employees have moved among the three companies so culture is also less of an issue now. Around 1,200 employees went from EMC and VMware to Pivotal when it was created in 2013.
"In the early days when we first acquired VMware, it was a principally East Coast company buying an entirely West Coast company," Goulden said. "Things were a little more challenging then. But I think of EMC and VMware as global companies now. EMC storage has more divisions on the West Coast than East Coast now. I don't think that's a factor in how people in the company get along."
Gelsinger said divisions such as hardware versus software and services versus infrastructure arise, but don't tear the federation apart.
"There will always be disagreements at the working level as things come up as a natural result of the passionate execution that the independent model allows us to pursue," he said. "If you forced everything into the same box, we would get mediocre performance as opposed to passionate execution."