News
Stay informed about the latest enterprise technology news and product updates.
EMC sees bright future for hybrid SSD, cloud models
When it comes to flash technology and storage clouds, EMC is counting on hybrid SSD and public-private cloud models to shine.
LAS VEGAS -- EMC executives say their strategy for flash and cloud storage are similar. They see hybrid SSD and clouds becoming prevalent and want to provide the flexibility to go in any direction. Or as CEO Joe Tucci put it, "Anybody who tells you it's a one-size-fits-all world is just missing the boat."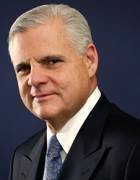 EMC CEO Joe Tucci
For flash storage, that means offering the technology in memory, the server, as solid-state drives (SSDs) alongside hard drives, flash appliances connected to the server and all-flash storage arrays. For cloud, it means supporting private and public clouds, and the ability to use both types together in a hybrid setup. EMC outlined their vision for hybrid SSD and hybrid cloud projects yesterday as EMC World 2012 kicked off.
However, the company didn't give many details on its "Project Thunder" PCIe-card-based solid state storage appliance or XtremIO all-flash array acquisition during keynotes and press sessions Monday. EMC COO Pat Gelsinger said Thunder is going into its customer betas and XtremIO -- now called "Project X" -- is entering pre-beta phase and will not be generally available until 2013.
Tucci and Gelsinger agreed the most popular configuration for hybrid SSD projects will be the use of SSDs and hard drives in EMC's storage platforms. "The majority of storage will be a hybrid array, partially flash and partially hard drive," Tucci said.
Gelsinger added: "Flash is a game-changer for storage. We're turning all of our arrays into hybrid arrays where a little flash goes a long way."
XtremIO, Thunder and Syncplicity acquisitions
Although there are a bunch of all-flash array startups, Gelsinger said EMC chose XtremIO because of its scale-out architecture, high performance and low latency. He also liked that XtremIO is based in Israel, where development is underway for the Thunder product. "Is it too early, should we wait a little longer?" Gelsinger said, addressing the fact that the product isn't shipping yet. "We wanted the pick of the litter, so we picked."
Tucci responded to statements made by David Flynn, the CEO of PCIe flash card startup Fusion-io, who said that EMC's VFCache requires customers to buy expensive SAN arrays and experience vendor lock-in to get server-side flash. That type of flash, Tucci said, is not for everyone.
"Any time you have the message out there that 'this is the best way to do storage or anything in IT,' it's foolish," he said. "There are certain applications where [server-side flash] works well. If we didn't think that, we never would've done VFCache. VFCache competes with Fusion-io. That is a very fast, very expensive form of storage. In many cases you want to keep that data around, but you don't want to keep it on an expensive Fusion-io card. You want to move it, and they don't do that very well."
He said one differentiator for EMC, when it comes to hybrid SSD implementations, is its FAST auto-tiering software that can move older data to less expensive storage.
Tucci expressed similar feelings about the cloud, telling EMC World 2012 attendees that it's a "silly question" to ask if private or public clouds will win out. "We believe there will be hundreds of thousands of private clouds and thousands of companies will stand up public clouds with [private clouds] for a hybrid cloud," he said. "They'll have a private cloud and when the peak workload time comes, instead of buying more equipment, you just put up a public cloud."
EMC added a piece to its cloud strategy late Monday when it announced the acquisition of enterprise cloud file-sharing service provider Syncplicity for an undisclosed price.
Storage analyst Arun Taneja of the Taneja Group said EMC is wise to keep its options open on flash and cloud because those technologies are still in the formative stages. "The world of flash is being created as we speak," he said. "EMC wants to cover all of its bases."
Taneja called the XtremIO acquisition "a pre-emptive strike" because the valuation of all-flash array startups will likely rise significantly although he doesn't think it will become an all-flash array world. "There are times you need all-flash but longer term, I think we'll find a mixed bag will be more prevalent," he said.