News
Stay informed about the latest enterprise technology news and product updates.
HDS repeats as enterprise arrays champ - page 2
Hitachi Data Systems repeats as winner of the second edition of the Diogenes Labs-Storage magazine Quality Awards for enterprise arrays.
Continued from Page 1
Product features
To assess product features, we asked respondents about their experiences with software functionality such as snapshots, mirroring and management features. HDS won this category with a 5.94, the highest category score in this year's survey. Whereas scores above 6.0 to individual statements in 2005 were good, they were more common than in the 2006 survey. HDS had four 6.0-plus scores in the product features section, including, "This product's snapshot features meet my needs" (6.07), "This product's mirroring meets my needs" (6.04), "This products remote replication meets my needs" (6.16) and "This product scales to meet my needs" (6.10).
We compared this category's scores for HDS, HP and Sun because all of these systems function identically; HP and Sun sell OEM versions of the HDS product. Although the scores were different, they did track together, albeit by an offset amount. That means that if the scores were placed on a graph, they would follow a similar track. Although one might expect them to be identical, it's likely that nonproduct factors (e.g., sales-force competence, technical support, professional services) impact a user's perception of the product's performance. These scores seem to support that hypothesis.
Initial product quality
The initial product quality section of the survey assesses not only how easy the product was to install and configure, but also the degree to which respondents were satisfied with any professional services provided by the vendor. The services component of enterprise-array product delivery tends to be quite high. In 2005, we used the statement "This product does not require professional services"; however, we felt the statement unfairly prejudiced responses against "high-touch" products. Indeed, many users prefer the high-touch engagement model. For this year's survey, we substituted the statement "I am satisfied with the level of service for this product."
EMC's score on this issue rose from 3.22 on last year's survey to 4.80. But users gave the company a low score of 4.12 for "This product requires little vendor intervention." Overall, EMC's score for the category rose from 4.46 to 4.83, but still landed it in last place for the category, just barely trailing Sun (4.84) and IBM (4.86) .
Brown-Forman's EMC Symmetric DMX-3 worked without a major hitch from day one. "Once the hardware rolled in the door," said the firm's Greenleaf, "it was pretty much ready to use."
While the other three products in this category were rated below 5.0, HDS and HP broke away from the pack with solid 5.80 and 5.58 scores, respectively. No product scored above 6.0 to any statement in this section, but HDS came close with a 5.96 for "This product offers good value for the money." HP rated second on this statement with a 5.15, followed by IBM (4.84), EMC (4.75) and Sun (4.56). Last year, three of HDS' six scores in this category topped 6.0.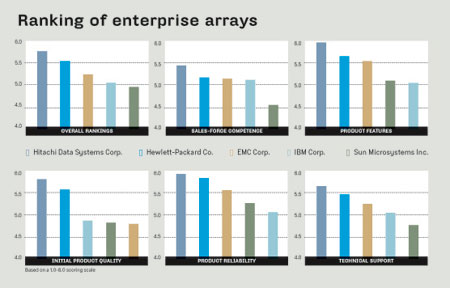 Product reliability
Our product reliability section confirmed that all of the products in this category perform well in the data center. Every product scored above 5.0, led by HDS (5.92) down to IBM (5.04) (see "Product reliability," p. 36). Nevertheless, the overall ratings in this category fell on a year-over-year basis. In 2005, scores ranged from 6.16 (HDS) to 5.41 (Sun). One area that captured our attention in nearly all of the product categories in previous awards is patch management. In most surveys, we've found this area to be among the lowest rated and a differentiator among vendors. This year, HP (6.04) bested HDS (5.97) for the statement "This product requires very few unplanned patches." However, HDS received higher marks (5.86) for "Patches can be applied non-disruptively" vs. HP's 5.76. The statement "This product meets my service-level requirements" received generally high scores, with HDS taking the top spot with a 5.97.
Despite his software woes, New Century Mortgage's Gangola is more than happy with his EMC array's reliability. "We've had phenomenal up time," said Gangola. "Overall, the fact that we're at four-nines-plus [means] the equipment has been pretty good."
Find out what respondents thought of sales competence and tech support on Page 3
Dig Deeper on Storage market research reports