News
Stay informed about the latest enterprise technology news and product updates.
HDS repeats as enterprise arrays champ
Hitachi Data Systems repeats as winner in the second edition of the Diogenes Labs-Storage magazine Quality Awards for enterprise arrays.
Hitachi Data Systems (HDS) has consolidated its claim as the top-rated high-end array vendor by repeating as the winner of the Diogenes Labs-Storage magazine Quality Awards, sweeping all five categories of enterprise arrays, though scores dropped overall from last year's.

Hewlett-Packard (HP) Co. moved up from its third-place finish in 2005 to a solid second, placing second in every category. EMC Corp., which was fifth last year, moved up two notches to third, while IBM Corp. remained in fourth. The biggest surprise was Sun Microsystems Inc., which was a strong second in 2005 but fell to last place this year. 3PAR Inc. was also included in the survey this year, but it didn't garner enough responses to be statistically valid for the award.

Dean Register, an IT integrator at a Midwestern energy company, recently replaced the company's IBM TotalStorage ESS 800 with an HDS TagmaStore Universal Storage Platform (USP) 1100. "Administratively, it [the IBM array] was relatively easy to use," said Register, but "the box did not scale very well; you couldn't load it down." The new TagmaStore is a different story. "The Tagma is a genuine industrial-strength box that was built for speed," he said.

The TagmaStore USP system was too new to be included in our 2005 survey. Although TagmaStore was included in this year's survey, it accounted for only 41% of the HDS-related responses. In contrast, EMC's new DMX systems constituted 59% of its respondents. IBM also had a very low rate of new system responses, with just 29% related to the newest DS systems and the balance for various generations of "Shark" arrays.

To assess user opinions of products, we examined two different items. The first item, head-to-head analysis, compares the scores a user gave when evaluating two or more different systems. In 2005, IBM and Sun had the highest win rates, coming out on top in 100% of their head-to-head comparisons. But 2006 wasn't as favorable for these vendors, as they trailed the field with 32% win rates. HDS had the highest win rate (63%). In the head-to-head comparison in 2005, EMC was last, but jumped to second place in 2006 with a 53% win rate. HP placed third with a 33% win rate, just barely above that of IBM and Sun.

We also asked respondents to tell us if, all things considered, they'd buy the same system again. "We're familiar with the EMC technology and we didn't really have any compelling reason to move away from it into HDS or IBM," said Steve Greenleaf, senior systems engineer for Brown-Forman Corp.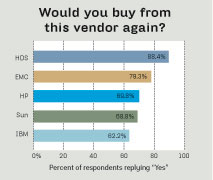 Apparently, other respondents shared this sentiment: in roughly two out of three cases or better, respondents indicated they would make the same decision again. Brand loyalty remains high in this category. HDS again led the group in this important indicator with 88.4% positive responses, followed by EMC (79.3%), HP (69.8%), Sun (68.8%) and IBM (62.2%) (see "Would you buy from this vendor again?" p. 38). Congratulations to HDS for retaining bragging rights for this important category for another year.
Overall scores drop
In 2005, HDS won with an aggregate score of 5.83, but fell to 5.76 this year. IBM declined to 5.05 (from 5.41), while Sun dropped below the 5.0 mark to 4.94 (from 5.52). HP and EMC, however, increased their aggregate scores to 5.54 and 5.27, respectively, from 5.47 and 5.19. Statements are scored on a 1.0-8.0 scale, with 4.5 as the mean.
Along with a number of readers, we were surprised with EMC's low scores on last year's survey given that it's the acknowledged market share leader. We hypothesized that EMC's user base is polarized, with some users truly liking EMC's high-end arrays and others less enthusiastic about them. As a result, we've added another layer of analysis called "top-two box" and "bottom-two box" analysis. Using this technique, we can see how many times a vendor was rated with the top-two and bottom-two responses.
In the end, our hypothesis played out. EMC had a high rate of top-two scores (51%), second only to HDS (59%). However, these high scores were offset by bottom-two scores of 8% for EMC vs. 5% for HDS. HP had the lowest rate of bottom-two scores with just 4%. Sun had the highest number of bottom-two scores with 11%.
Find out what survey respondents said about product features, initial product quality, and reliability on Page 2.