News
Stay informed about the latest enterprise technology news and product updates.
HDS wins enterprise NAS - page 2
Hitachi Data Systems places first for enterprise NAS, while NetApp continues to rule the midrange
Continued from NAS Quality Awards, page 1
Product reliability
The product reliability section assesses how well a product performs on an ongoing basis and how easy it is to maintain. We asked respondents about their experiences with regard to service levels, patch management and upgrade guidance. HDS led all products with a 6.84, while NetApp's FAS200 placed first in the midrange group and second overall with a 6.68. Hawaiian Airlines' Kekoa says his firm's EMC Celerra has been very reliable. "It's been awesome," he says. "We haven't had one hiccup with the NAS."
In other Quality Award surveys, patch applications and upgrade guidance were the two most problematic areas. This trend continued for NAS systems. In fact, NetApp's enterprise systems had a rare sub-6.0 score (a 5.3) for "Patches can be applied non-disruptively." That was NetApp's lowest rating for any statement in either the enterprise or midrange categories. Hitachi, however, was an exception to the rule. HDS scored a 7.0 for "This product meets my service level requirements" and a 7.05 for "This product experiences very little downtime." It even scored a 6.95 for "Patches can be applied non-disruptively," one of the highest scores we've seen for this statement. For the same statement, EMC's Celerra scored a 4.43; this is below the median of 4.5, which means that the overall user impression of Celerra patch management was negative.
20/20 hindsight
At the end of our survey, we asked respondents to tell us if, all things considered, they would purchase the same product again. This question shouldn't be confused with buying intentions because it's possible (and often the case) for users to buy based on the philosophy of sticking with "the devil you know." Rather, this question asks people how they would act if the slate were wiped clean and they knew what they know today.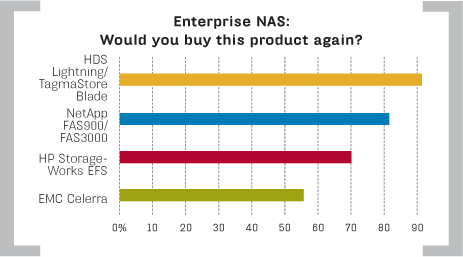 HDS led all products with 90.5% of its users saying they'd buy another NAS product from the company. This is the highest "buy again" percentage for any product in all of our Quality Awards to date. NetApp wasn't far behind with an 87.8% response for its midrange FAS200product, and an 81.4% for its enterprise FAS900/FAS3000 product.
Tech support
Similar to our other Quality Award surveys, tech support didn't stand out as either a strong positive or a negative. All of the vendor finalists had acceptable or higher scores, with NetApp's FAS200 midrange system leading all products with a 6.62. Among enterprise products, HDS scored a 6.44, and had the most notable score of 7.00 for the statement "Vendor provides support as contractually specified." Even though Dell PowerVault 7xxN, EMC Celerra NS Series and the HP ProLiant DL server had scores below 5.5 (5.34, 5.26 and 5.26, respectively), no one "bottomed out" on any item.
The fact that support scores didn't diverge significantly is good news for both users and vendors, as it indicates a generally high level of satisfaction and underscores the importance of solid support for ongoing operations. For example, Steve Mays, chief technology officer at X2 Technologies Inc., a consulting firm in San Rafael, CA, has three Dell PowerVault 745N systems in his shop and recommends them to his clients because he finds them so easy to implement. One of the reasons he sticks with Dell is their responsiveness to support issues. "We've called Dell and said a drive died and literally later on that day a courier showed up with the drive," says Mays.
"The local CEs [custom engineers] and SEs [system engineers] are great," says CGI-AMS' Georgeson about the help he gets for his HDS NAS implementation. But he also acknowledges that Hitachi sometimes seems a little shorthanded when it comes to NAS support. "They need some more people," he says.
Sales competence
Sales competence measures the vendor's sales effectiveness in meeting customer needs. The efforts of a sales team not only sets expectations, but can become the foundation of the customer-vendor relationship. When Hawaiian Airlines in Honolulu was shopping for a NAS system, Kevin Kekoa, manager of operations and systems engineering, felt NetApp wasn't very persistent in pursuit of his business, which left the door open for EMC Corp. "[EMC] offered a model that was two levels above what NetApp was offering for the same amount," says Kekoa. That kind of aggressive salesmanship paid off, and today the company is solidly an EMC shop.
Among enterprise systems, sales competence had the smallest differences among scores of any category, with HDS at the top (6.30) and Hewlett-Packard (HP) Co. at the low end (5.67). The scores in this category didn't reveal any real strength or weakness, as all vendors except Dell Inc. (5.32) in the midrange category fell within (or very close to) the normal 5.5 to 6.5 scoring range. NetApp's midrange score (6.52) was the highest among all vendors in the sales competence category, but the lowest top score of the five categories.
We asked respondents how well their sales rep understood their industry, how flexible and knowledgeable reps are and how easy it is to negotiate with their rep. In almost all cases, the highest marks were given for "My sales rep is knowledgeable." With only one exception, the lowest sales competence marks for both categories were for "My sales rep keeps my interests foremost." While users feel their rep is competent, vendors would be well advised to adopt a more cooperative philosophy to get an edge in the sales cycle.
What about head-to-head comparisons? Click here to read all about it.