News
Stay informed about the latest enterprise technology news and product updates.
HDS wins enterprise NAS
After sweeping Storage magazine's Quality Awards for SAN products, Hitachi Data Systems also places first for enterprise NAS, while NetApp continues to rule the midrange.
After seeing the results of the Diogenes labs–Storage magazine Quality Award for NAS, Hitachi Data Systems (HDS) Corp. users can be forgiven if they indulge in an "I told you so" moment. HDS not only won the enterprise NAS category, but in a previous Quality Award survey captured the top spot for its enterprise SAN array (See also, "HDS sweeps quality awards", Aug.8). And it accomplished this twin feat by outpolling much more established competition in each survey.
Network Appliance (NetApp) Inc. is generally the first company that comes to mind when people think of NAS, and the company has parlayed that popularity into solid results in our survey. NetApp was the clear winner in the midrange NAS category and placed a close second to HDS in the enterprise category. With three NetApp boxes installed and another planned as a SAN array replacement, Brian Mitchell particularly likes NetApp's management capabilities. "I'm really pleased with it," says Mitchell, a systems administrator at Atlanta-based TRX Inc., a provider of transaction processing and data integration services to the travel industry. "Basically, it allows me to manage the data, not the devices."
Our results strongly suggest that, as rated by Storage readers, NetApp has the most compelling total NAS product line from top to bottom. This is especially true for standalone NAS because our survey included gateways and NAS blades. In fact, the HDS system in the survey was a NAS blade for Lightning and TagmaStore systems. Hitachi's high-availability features sold Bruce Georgeson, an IT consultant at CGI-AMS, a Phoenix-based consulting firm. "If you configure it right and follow their recommendations," he says, "it's one of the few NAS appliances that have true five-nines."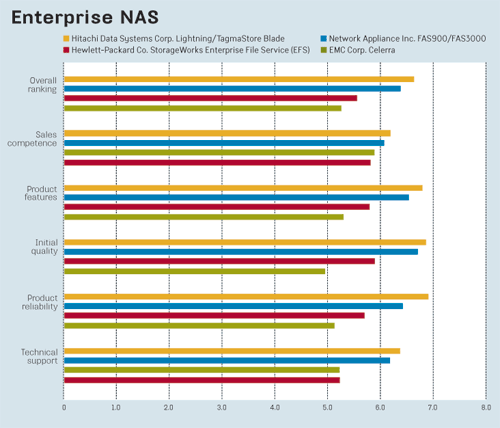 Product features
Our survey didn't compare products on a feature-by-feature basis, but rather on how well the product met the respondent's needs. This evaluates expectations vs. reality and is therefore related to sales competence. We asked respondents for their assessment regarding the product's manageability, software functionality (e.g., mirroring, replication), scalability and interoperability. HDS had the highest product feature score among enterprise products (6.75), while NetApp led the midrange with a 6.77. We also asked respondents to rate the statement "Overall, this product meets my needs." In this regard, NetApp's enterprise products lead the field with a 6.85.
TRX's Mitchell has both NetApp FAS900 and FAS3000 series systems in his shop, and particularly likes how the common operating system makes it easy to administer the boxes regardless of their roles in his environment. "All that is the [NetApp] Data Ontap model," notes Mitchell. "I don't have to learn this tool over here for this array and that tool for the VTL [virtual tape library]—it's all together."
In the midrange, NetApp's product features were very highly rated by users. In fact, the NetApp product received scores higher than 7.0 for three statements in this category. They were "This product's snapshot features meet my needs" (7.11), "This product's mirroring features meet my needs" (7.03) and "This product's remote replication meets my needs" (7.03). No other product had as many 7.0-plus scores in the features category. HDS' highest score for any statement was for "This product's capacity scales to meet my needs." This score was significantly higher than NetApp's 6.45 for the same statement regarding its enterprise products. The only score significantly outside the norm on the low end was EMC Celerra NS Series' score of 4.73 for the statement "This product is interoperable with other vendor's products."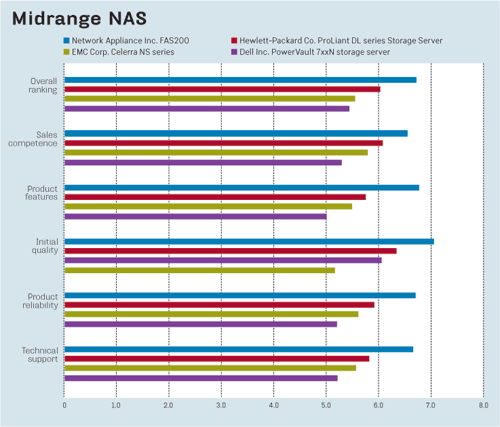 Initial quality
We expected to see fairly high scores in this category. While our hypothesis held true for the leaders, this category had the widest range of scores. For example, NetApp's midrange FAS200 systems scored 7.03 (the only product score to exceed 7.0 in any category), while EMC's Celerra systems received a 4.97, the only score below 5.0 in any category. HDS led the enterprise products with a 6.82. "There may be a few configuration issues to hammer out at the start," says CGI-AMS' Georgeson about his firm's HDS NAS blade implementation, "but the interface is nice and it has all kinds of options like quotas and defining users and groups."
We asked respondents to rate the products with regard to installation defects, ease of configuration and ease of use, among others. NetApp's midrange products received a 7.0 or higher on every item except for the statement, "I am satisfied with the amount of professional services needed for this product." Perceived overall value is an important indicator of overall product satisfaction and NetApp showed its strength there, too. NetApp's midrange product received the highest rating (7.06) in the initial quality category for the statement "This product offers good value for the money." Among enterprise products, Hitachi had the highest score (6.74) vs. NetApp (6.40) for the "value" question. When it came to the statement, "This product is easy to use," NetApp took top honors in both the enterprise and midrange categories (6.89 and 7.00, respectively).
But if these users had to buy the same products again, would they? Click here to find out.