News
Stay informed about the latest enterprise technology news and product updates.
Six network storage predictions for '06
Storage expert Marc Staimer gives his predictions on what the new year will bring for iSCSI, data protection and other storage technologies.

---
The year 2005 has rapidly come to a close. It's time once again to look into the proverbial crystal ball and make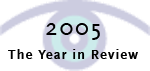 my predictions on what you might expect to see from the network storage industry in 2006. Here are my six market segments predictions for '06.
Fibre Channel

Fibre Channel (FC) SAN switches and directors will all be offered at 4 Gbps in 2006.


All new PCIe and PCI-X 2.0 servers with FC will be shipping with 4Gb/s HBAs in 2006.


Expect switch/director pricing per port to decline in the second half of 2006 as iSCSI market growth starts to accelerate.


HBA port pricing will also continue to decline; however, at a much slower rate than switches/directors. System vendors have very high margins on HBAs that they really don't want to lose.


10 Gbps FC will be available on most of the directors and some switches. It will primarily be used as switch/director trunking. Both copper (CX4) and optical transceivers/cables will be available.
ISCSI
10 Gbps copper Ethernet iSCSI will appear on storage targets in 2006 as high density (more servers per storage array) shared modular storage.


Copper connections will be available in CX4 (15 meters), Cat5 (5 meters), Cat6e (55 to 100 meters) and Cat7 (100 meters).


The iSCSI SAN will become acceptable for enterprise and SMB accounts in 2006, and begin to erode the FC market. The primary reason being the very high aggregation points of 10 Gbps copper Ethernet iSCSI.


Most servers will continue to utilize 1 Gbps Ethernet and "freeware" iSCSI drivers. Hardware TOEs will primarily be utilized on storage targets.
Related information
Forecast for 2006: Pain
NAS
2006 will see pervasive implementations of "global name space" (file storage virtualization) and clustered file servers. These technologies have too much user benefit to be ignored.


NAS performance in some implementations will rival block especially with databases.


Many enterprise users tired of block storage and SAN complexity will embrace NAS simplicity.
Data protection
Continuous data protection (CDP) will become a "table stakes" feature of most replication and backup software. Actual usefulness of the CDP technology will vary by vendor implementation.


Backup to disk will gain a lot more traction.


Encryption of backup data or replicated data (whether on disk or tape) will become much more prevalent.
Network optimization
WAN optimization for data center replication (DRO) will become a standard option in 2006.


Distributed WAN optimization will become more application specific.


Since WAFS is driven by server upgrade or consolidation events, it stands to reason that it will see significant growth in late 2006 and especially 2007, because of Microsoft's release of Vista in the second half of 2006.
SAN block storage virtualization

No longer a stepchild of block storage with major offerings available from all of the Tier 1 storage vendors and many Tier 2s, 2006 should see significant implementations and growth of this technology. This very useful block storage simplification technology should achieve mainstream status in 2006.
Have a Happy New Year!
---
About the author: Marc Staimer is president and CDS of Dragon Slayer Consulting in Beaverton, Oregon. He is widely known as one of the leading storage market analysts in the network storage and storage management industries. His consulting practice of six+ years provides consulting to the end-user and vendor communities.