News
Stay informed about the latest enterprise technology news and product updates.
Purchasing Intentions Survey: Larger SANs drive storage growth, part two
Storage magazine's exclusive Purchasing Intentions Survey survey suggests that storage managers are moving away from many small SANs to fewer, larger SANs.
Growing in tiers
Continue Reading This Article
Enjoy this article as well as all of our content, including E-Guides, news, tips and more.
Respondents indicate they're buying an average of 30 TB of disk this year, which is 100% more than 24 months ago. With data volumes doubling every 12 to 24 months, this would suggest that growth is outpacing efforts to make more efficient use of storage.
Instead, storage managers are being selective as to which storage they buy. Their largest chunk of capacity buying overall is in the midrange (42%), with high-end storage now accounting for only 23% of purchases. Even in large companies (with more than $1 billion in annual revenue), midrange had a similar 41% of capacity, with high-end storage at 37% (see Midsized storage is top choice of many shops).
The use of different storage technologies at various but connected levels within the enterprise has taken root and is reflected in a number of significant trends:
Data protection has moved into a multitier mode, with disk moving increasingly into the short-term backup/restore function and tape assuming the longer term archive and comprehensive DR functions.
Networks are becoming multiprotocol, with iSCSI taking on backup and non-critical app traffic.
File storage increasingly involves the notion of a NAS head or other intelligent device, such as a shared file system server, that addresses SAN storage.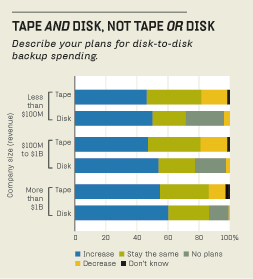 The trend toward disk-based backup is undeniable, but users appear to be struggling with implementation. For the past two years, the majority of respondents indicated they were increasing their spending on disk-to-disk backup, but that percentage has crept up only slightly (from 51% to 55%) in that time. Perhaps more telling is that 25% of respondents haven't picked a disk-to-disk technology and 24% haven't picked a primary vendor.
At the same time, storage managers have solidified their intent to use tape in the data protection process. While the number of people increasing their spending on tape had dipped below 40% in recent years, that number shot up to 48% this fall. In larger companies (more than $1 billion in revenue), 55% are increasing tape spending while 60% are increasing disk spending, suggesting that the "either/or" approach has been rejected. Tape will be a part of the mix for 90% of those using disk-to-disk backup.
With DR spending strong (52% and increasing) and compliance requirements looming, storage managers are leveraging their tape infrastructures. Tape was tapped by 51% of those surveyed to meet compliance-related data retention requirements. While that was down from 54% a year ago, it still far outpaces disk-to-disk backup at 33%, with nothing else coming close to this figure (see "Tape leads for compliance").
But there's another change that shows users aren't simply reverting to past patterns: the growth of wide-area storage network links. A full 46% of respondents are increasing wide-area storage network expenditures, with another 25% maintaining spending levels. Those investing in wide-area technology are overwhelmingly being driven by their DR plan (60%). DR spending is increasing for 52% of respondents, while another 37% are maintaining DR spending levels.
Tape is a popular option for DR, with 42% of respondents citing it as their primary DR storage expenditure. But 45% cite remote copy or replication as their main DR approach. In a short period of time, storage managers have turned from tapes and trucks to data lines and disks as their DR front line of defense.
As they connect the dots between locations, storage managers are getting a host of other capabilities that come along for the ride: the ability to transmit data between centers for other purposes, notably automating remote site backup. Combined with the trend toward large, centralized fabrics, we're beginning to see the precursors to enterprise-wide SANs.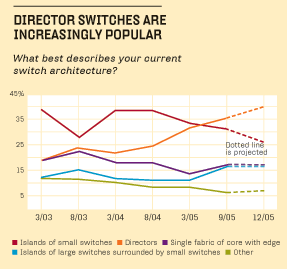 EMC, Cisco gain
After punishing EMC Corp. for late technology, high prices and bad sales tactics in 2002, storage managers are increasingly turning to them as a primary vendor. EMC has widened its mindshare lead over the field in the latest Storage magazine Purchasing Intentions Survey in both disk and storage management software.
Traditionally, users have rewarded vendors that introduce new technology. Hitachi Data Systems' introduction of TagmaStore bought them a little bump, but IBM Corp.'s DS series seems to have had little effect. Still to be seen is whether Hewlett-Packard Co.'s recent signs of life will be reflected in greater mindshare among users. In the switch market, the story is simple: Cisco Systems Inc. is riding the growing popularity of large switches into a leadership position in the market. The big loser: Brocade Communications Systems Inc., whose problems with product development in prior years, coupled with an inability to convince some shops that its director products are on a par with those of McData Corp. and Cisco, have led to steadily declining mindshare as a market leader.
Respondents to Storage magazine's Purchasing Intentions Survey have consistently cited product features and functions as their number one factor in choosing a primary vendor. That suggests that no vendor should get too comfortable on the throne.
About this survey: Our survey was conducted in September 2005 by e-mail. Results are based on answers from 524 respondents, all of whom had specific purchasing authority for the product categories they were queried on.
---
About the author: Mark Schlack is Vice President of Editorial for the Storage Media Group.
Dig Deeper on Storage market research reports